Latin America Growing Crypto Hotbed, Per Venture Launch's Strategy
The emerging manager is said to see dollar signs in the region's emerging and fast-growing digital economy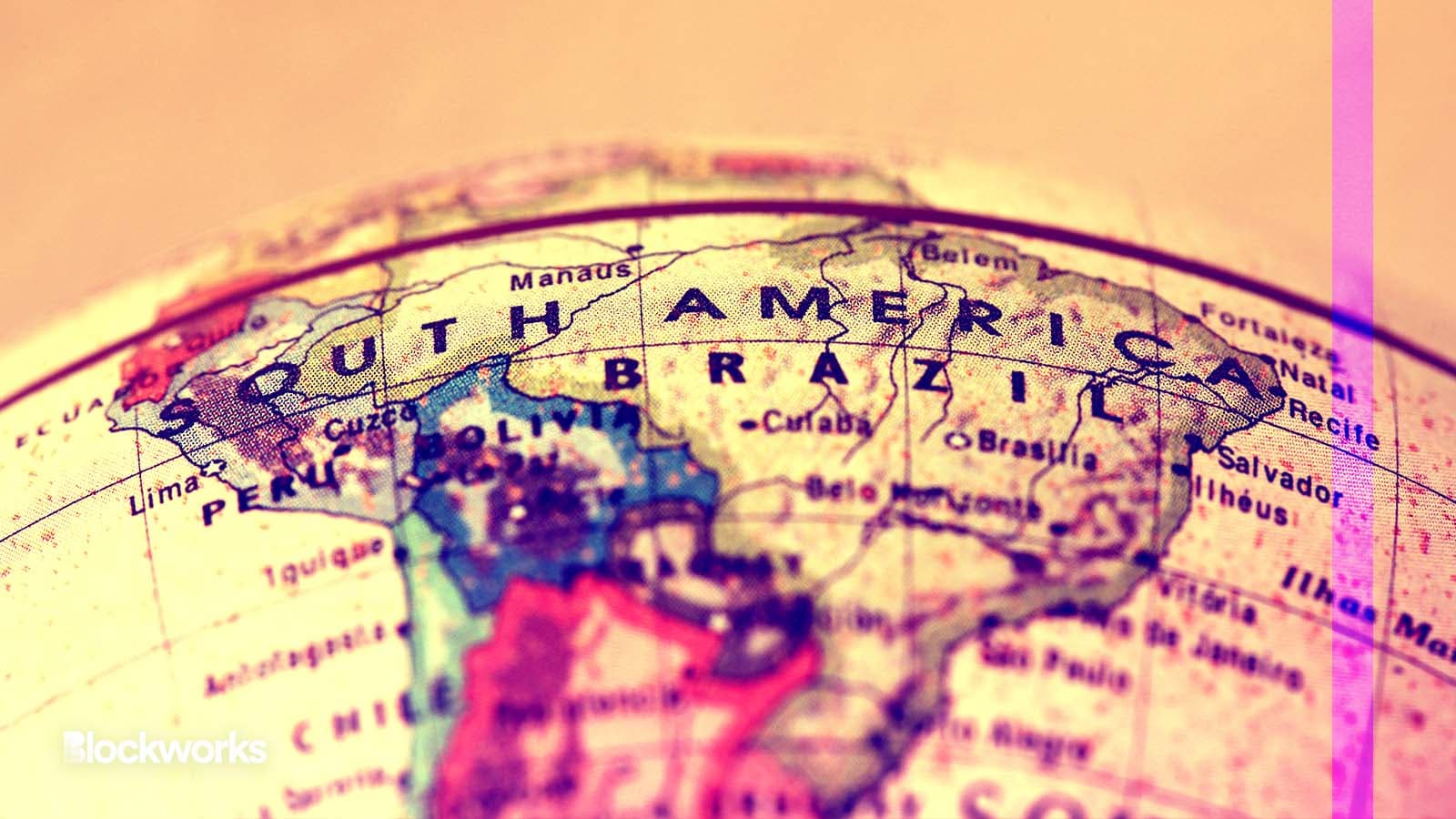 Janaka Dharmasena/Shutterstock.com modified by Blockworks
A new venture capital firm keying in on Latin American crypto blockchain founders is in the works, according to two sources familiar with the matter and marketing materials obtained by Blockworks. 
Emerging asset manager Aztlan Capital is co-led by Lightshift Capital alum Armando Aguilar — a prominent, and fairly sizable, digital asset investment manager that predominantly focuses on blockchain venture capital plays. Aguilar is joined, as managing partner, by Jack Saracco, who has founded a couple of blockchain startups in the region.
Saracco, who is based in Argentina, is also an alum of Silicon Valley's well-known venture incubator, Y Combinator. Aguilar, who declined to comment on behalf of the startup, is based in Puerto Rico. Both, per sources, work on the investment and incubation side of the business. 
Aztlan, which plans to hold a first capital close from limited partners by the end of the first quarter, sees abundant opportunity throughout Latin America when it comes to capitalizing on promising startups that have largely lacked attention from institutional US backers, according to both sources. The same is true for other crypto hotbeds, including Southeast Asia and parts of Europe.
The general sentiment is not a new development in digital assets: Investing in startups in south and Central America typically necessitates "boots on the ground" for conducting proper due diligence, one source said. And it's somewhat rare for buy-side venture players based elsewhere to have an outpost in the region or make routine enough visits to justify writing checks with much regularity. 
Mercedes Bidart, the chief executive of digital assets-focused Quipu Bank, said Latin America's emerging disruptive technologies have rendered the region a prime place for crypto funds to deploy capital. Bidart, in an interview, was speaking generally, not about Aztlan specifically. 
"Latin America is one of the regions where there's some crypto funds emerging that are not just looking to Latin America, [but also emerging economies]," Bidart told Blockworks.
There were 205 million or so — or a whopping 43% — residents of the region lacking bank accounts in 2021, according to CB Insights data that is still one of the more comprehensive such accounts on the market. That's good for a disproportionate 12% of the world's unbanked population, per the same study. 
Crypto investors with dry powder to spare — a rare segment these days — are paying closer and closer attention to Latin America, which they view as chock-full of alpha waiting to be tapped. The opportunity, in their view, is that a window of opportunity is closing as others catch on to its digital assets growth potential.
A number of studies over the last couple of years have accordingly found that blockchain usage is growing exponentially. And that's not to mention governments tapping bitcoin as legal tender. 
The thesis of Aztlan and others, often goes something like this: The region's residents — commonly beset with soaring inflation and a lack of the same banking solutions that the likes of US citizens may take for granted — are "increasingly turning to decentralized networks," a source said, via cell phones and improving internet infrastructure, generally. 
And a preponderance of investor capital and partnerships in the area, per sources detailing the new launch's view, has historically been concentrated on later-stage venture plays. "Those that didn't have access to infrastructure when it comes to traditional finance services can form the base for crypto," one source said. 
Here's how Aztlan is playing out, broadly speaking, its own twist on that thesis, per sources: 
Through the lens of "relatively cheap" valuations among Latin American blockchain-based or focused startups, the firm plans to write checks to early-stage (including pre-seed and seed rounds), often employing an incubation model in doing so. 
Tap a crypto-native network composed of like-minded venture capitalists, layer-1 developers and similar partners to drum up Latin American dealflow.
Focused on growth sectors within digital assets: infrastructure, Web3, DeFi, the metaverse and custody, as well as L-1s, L-2s and multi-chain solutions. 
Fundraise from peer venture firms, plus private equity entities. The pitch is that Aztlan's strategy provides more liquidity than their own.
Part of that liquidity proposition: the firm, in addition to pure-play venture tickets, is set to invest in liquid cryptoassets via a strategy designed to drive yield — including engaging in tandem trades of two digital assets carried out via stablecoins. 
Aztlan's flagship fund has a seven-year time horizon, with investors able to first redeem after three years, then again three years after that. It carries a $1 million investment minimum for institutional limited partners and imposes a 3% management fee, plus a baseline 20% performance cut under a 5% hurdle rate. 
The firm is set to soon reach out to prospective limited partners, sources said, and is in the process of finalizing partnerships with a number of crypto counterparties.
---
Don't miss the next big story – join our free daily newsletter.