Rihanna NFTs Enable Holders To Earn When This Song Plays
A crypto startup sold 300 NFTs for $210 each, offering holders a chance to hold a fraction of the song's streaming royalties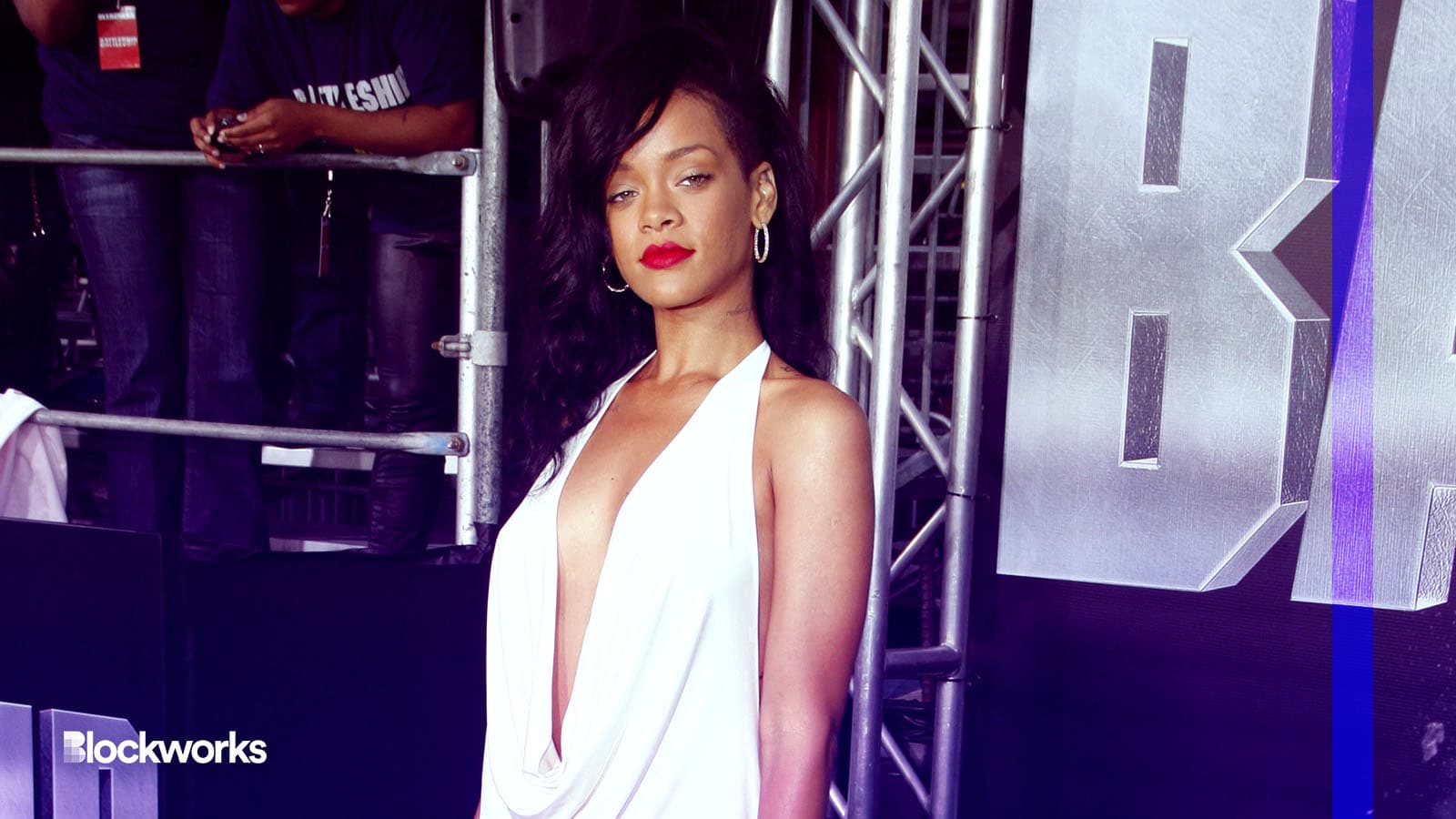 Tinseltown/Shutterstock modified by Blockworks
Royalties of singer Rihanna's smash hit song "Bitch better have my money" are being sold as non-fungible tokens, and the collection sold out within minutes of the announcement.
The song's producer Jamil "Deputy" Pierre collaborated with European crypto startup AnotherBlock to sell a fraction of his own streaming rights to the song via 300 NFTs. 
Each of the NFTs were being sold at $210, giving each collector ownership of 0.0033% of the streaming royalties to the song. Etherscan data shows transfers made of the token.
As all NFTs were sold rapidly, AnotherBlock was able to snap up $63,000 in revenue immediately. Holders will receive their first royalty payouts on Feb. 16, the company tweeted on Thursday.
Andreas Bigert, head of community and growth at AnotherBlock, said he owns a piece of the streaming rights to the Rihanna song and will receive royalties when it is streamed "for life."  
"Bitch better have my money" is set to become the startup's biggest NFT drop, barely six months after its first in August, according to a press release. The value of AnotherBlock's music rights catalog has jumped by some 16% since its first launch.
The song has streamed over 673 million times on Spotify, and collectors can expect to pocket returns of between 6.1% and 6.8% in the first year, according to figures seen on AnotherBlock's website. 
The drop came ahead of Rihanna's performance at the Super Bowl half-time show this Sunday. She reportedly told a press conference she hasn't been on stage for seven years.
NFTs are becoming extremely popular in the music business, as royalties are one of the best use cases of digital collectibles. Several artists now working on their own NFT collections. The Chainsmokers and Diplo are among musicians that have tokenized their music.
Other platforms selling song rights as NFTs that are gaining in popularity include Royal, Sound.xyz and Catalog.
---
Don't miss the next big story – join our free daily newsletter.