The SEC May Have Served a Foreign National; Can They Do That?
The SEC may have served a Mainnet speaker a subpoena in New York Monday, Blockworks looked into what jurisdiction US regulators may have over foreign nationals.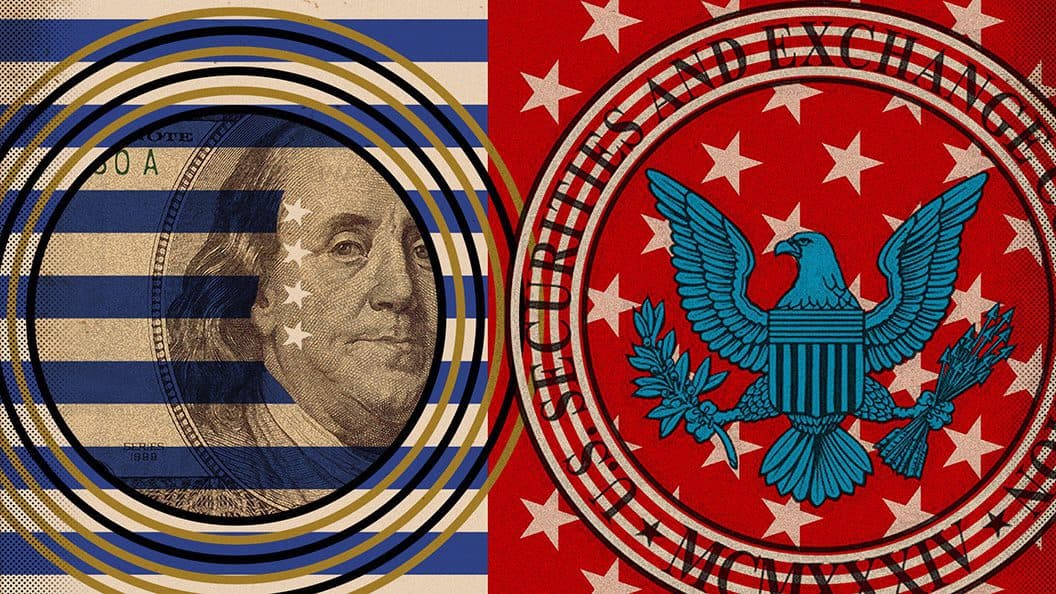 Blockworks exclusive art by Axel Rangel
key takeaways
An attendee at Mainnet in New York City claimed he saw US SEC officials serve a panelist moments before taking the stage
No speakers have come forward and confirmed the subpoena, but speculation that the person served lives outside of the US has grown
Mainnet 2021, New York City — On the opening day of Messari's Mainnet conference in New York City Monday morning, rumors swirled that the United States Securities and Exchange Commission had entered the Marriott Marquis and served a panel speaker — possibly a foreign national — with a subpoena. 
The talk was sparked by a Tweet from an attendee, Indiegogo founder Slava Rubin, claiming he saw SEC officials serve the panelist moments before taking the stage. Rubin did not respond to Blockworks' request for comment. 
"I should give you a preface that we do not know who was served yet, and to the extent that it's a client of ours, we're going to not comment," said Daniel Payne, fintech and blockchain attorney at Murphy and McGonigle. 
Ryan Selkis, Messari founder and CEO, made his opinion clear in a Tweet shortly after. He also announced his plans to run for US Senate in his home state in 2024 in response to the current tumultuous regulatory environment. 
No speakers have come forward and confirmed the subpoena, but speculation that the person served lives outside of the US has grown, along with discussions over how much power an American governing body may have over foreign nationals and businesses. 
"Whilst the SEC's regulatory perimeter is not infinite, it is nonetheless quite broad, and exercises authority over securities transactions that occur in or are directed towards the US," said Preston J. Byrne, partner at Anderson Kill.
Regulation S, as Byrne mentioned, is a series of rules that clarifies how securities offered outside of the US do not need to be registered with the SEC. 
"If you've got a foreign company issuing securities or trading securities that are all offshore and the purchasers of those securities are all offshore, then the SEC should not really have any hook to go after them, but if any kind of a prong of a securities transaction touches the US, then the SEC generally views itself as having jurisdiction — not just over that part of the transaction, whatever the transaction as a whole, and they can reach overseas," said Payne. 
Not a new concept
How SEC rulings can be enforced overseas and on foreign nationals can get complicated, Payne said, but serving someone that lives outside of the US on US soil is not a new concept. 
"There are laws that legislate how people in companies overseas have to be served with subpoenas," he said. "It's a lot easier to do when they step in the US, so that is certainly a strategy that government authorities used." 
When serving foreign nationals, government officials more commonly opt to go through attorneys, but this is not always the case. Serving a subpoena directly, especially in a public place surrounded by members of an industry that the SEC is knowingly going after, may have been a way to set an example, Payne said. 
Regulatory crackdowns have escalated in recent weeks as regulators across the US have signaled a desire for further oversight over digital assets. Alongside the SEC's moves, Federal Reserve Chairman Jerome Powell has said that stablecoins in particular pose a threat and exist within an "underdeveloped regulatory framework.
The situation has intensified conversations in the crypto community over how regulating bodies should classify digital assets. There is debate over whether or not a cryptocurrency should be considered a security at all and this would not be the first time industry leaders viewed an SEC action as an overstep. 
"Chair Gensler has signaled that under his guidance the SEC may take a more aggressive approach in bringing enforcement actions to ensure that companies are abiding by the US securities laws in their use, distribution and trading of digital assets that the SEC views as securities," said Payne. "But what we have not gotten from the SEC is a definitive black and white rule to use and apply to determine whether any given digital asset is a security." 
Pre-crypto era concepts
However, Ross Feingold, a Taipei-based lawyer, and political risk consultant said regulators are deriving their authority in the crypto space from many of the same laws and regulations and court decisions, that have applied for decades to the regulation of securities (and commodities) offerings.
"When it comes to determining what is a security, a public offering, a US person, etc., the concepts from the pre-crypto era broadly apply to the crypto space," he said in an email to Blockworks.
He added that generally, under the Supreme Court's "Morrison test" from a 2010 case, the Exchange Act of 1934 does not provide a cause of action to plaintiffs who sue in connection with a foreign securities transaction.
"Subsequently the Dodd-Frank act gave federal courts jurisdiction over claims by the SEC or Department of Justice involving conduct within the United States that constitutes significant steps in furtherance of a violation, even if the securities transaction occurs outside the United States and involves only foreign investors, or conduct occurring outside the United States that has a foreseeable substantial effect within the United States," he said.
In an interview with the Washington Post today, Gensler once again compared the digital asset space to the Wild West. He said, "We've got a lot of casinos here in the Wild West and stablecoins are the poker chips at the casino gaming tables," adding, "I think there is just a lot of warning signs and flashing lights that we might have a spill in aisle three and I'd rather get ahead of it."
This story was updated on September 21, 2021, at 1:28 pm ET.
---
Are you a UK or EU reader that can't get enough investor-focused content on digital assets?Join us in London on November 15th and 16th for the Digital Asset Summit (DAS) London. Use code ARTICLE for £75 off your ticket. Buy it now.
---