UK Denies Crypto Companies the US Lets Operate 
The vast majority – 85% – of crypto firms who attempt to register with a UK financial regulator are denied, the agency said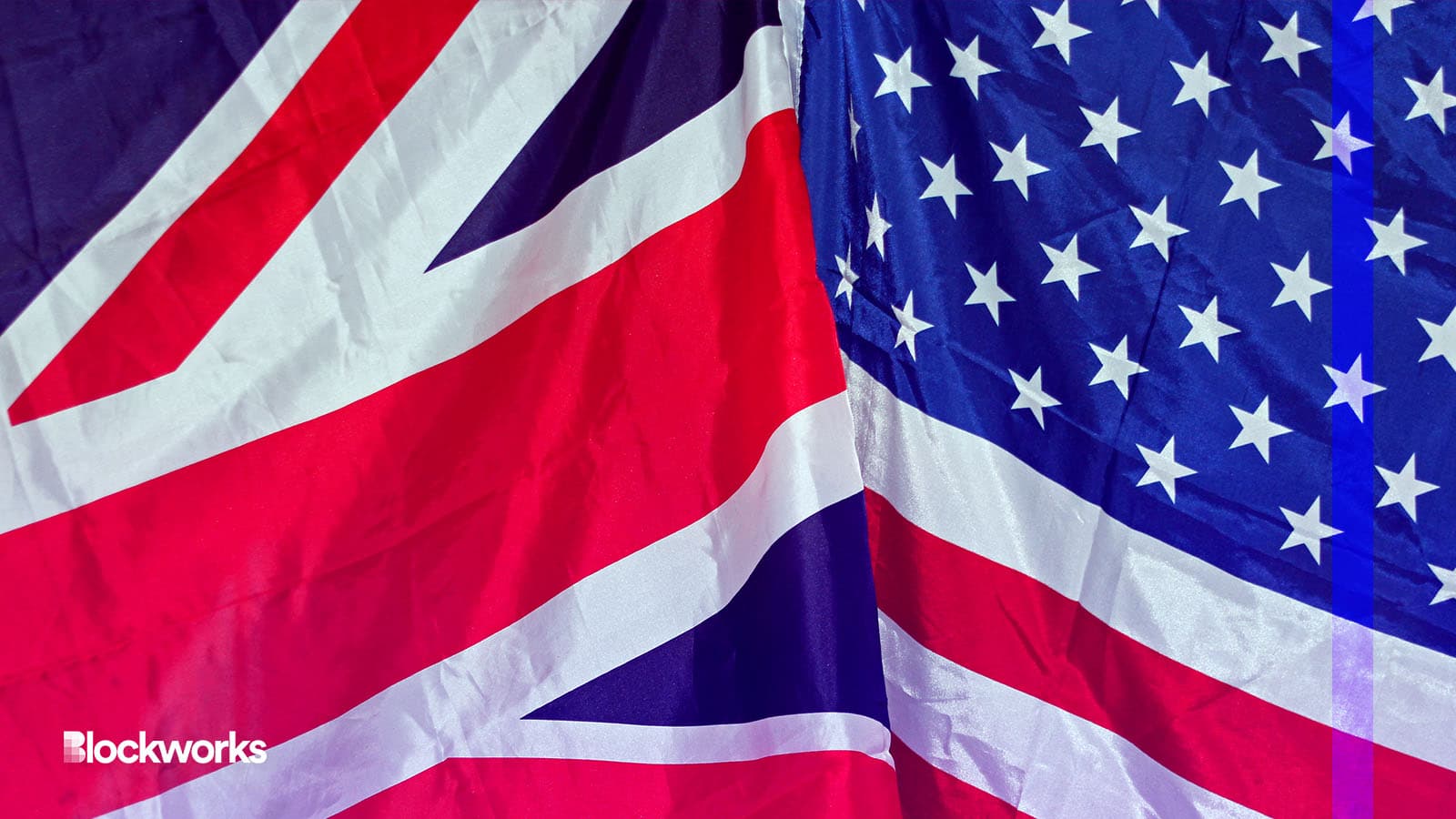 Bell Photography 423/Shutterstock.com modified by Blockworks
Crypto companies with US operations — including Wirex and B2C2 — withdrew their applications to register with a United Kingdom financial watchdog in recent months after the standards for acceptance were raised. 
The vast majority of crypto firms that have attempted to register with the UK's Financial Conduct Authority (FCA) have been denied, the agency reported this week. There are now 41 companies listed on the FCA's cryptoasset firm registry, according to the agency — or about 15% of applicants. 
An FCA executive, Sarah Pritchard, in a letter earlier this month said 85% of the firms vying for the regulator's approval "were unable to demonstrate they met the required, minimum standards."
Added Pritchard: "As part of the registration process we identified significant failures in relation to key controls such as customer due diligence, risk assessments, transaction and ongoing monitoring [and] governance." 
Wirex issued the following statement to Blockworks:

"In the UK, Wirex Limited is authorised by the Financial Conduct Authority (FRN: 902025) under the Electronic Money Regulations 2017 for the issuing of electronic fiat money and payment instruments and we do not provide crypto services through Wirex Limited. All crypto activity is facilitated through Wirex Digital, which is registered by the Croatian authorities (ref 78679748083) for the provision of exchange services between virtual currencies and fiat currencies and/or the provision of custodian wallet services.  Wirex believe that the license application process adopted by the UK regulators is fully aligned to their stated objectives of which one is to protect UK consumers. The regulatory landscape in the UK is being reviewed post-Brexit and specifically for crypto regulation, the UK Government has set-up a Treasury Select Committee Inquiry into Crypto Assets regulation facilitated by the trade body, Crypto UK. Wirex are members of Crypto UK and, like many other firms, have summited written evidence to Crypto UK on suggestions in which we believe the UK regulatory landscape can be improved."
The FCA also had doubts that the people leading some of the denied crypto firms lacked the experience and knowledge needed to effectively and safely run the business. 
"It is difficult to judge whether leading personnel in firms 'lack appropriate knowledge, skills and experience' when it is judged against a lack of transparency and an absence of benchmarks and guidance from the FCA," said Alexander Carter-Silk, cryptocurrency solicitor at Keystone Law. "There is no clear explanation as to what is applicable to crypto asset businesses, possibly because the FCA is fearful of the new technology." 
Earlier this year, the UK set a deadline that any crypto entity hoping to conduct business in the country had to register with the FCA by April 2022. 
By March, just 27 of the 100-plus companies under consideration had been approved. A total of 58 firms withdrew or were denied by March 15 of the same year, the regulator said, and a "small number" of companies were found to be allegedly involved in criminal activities, the FCA said. 
Wintermute Trading, Galaxy Digital's UK branch and Fidelity Digital Assets are among the firms that were able to make the cut. 
In the US, states have some control over which crypto services can be offered by which companies. For example, New York's BitLicense law has prevented several companies from conducting business in the state, including Binance.US and Kraken. 
Companies hoping to operate in the UK have expressed frustration with the current system, which some leaders say puts too much emphasis on scrutinizing individual firms versus creating a set of standards. 
"Former chancellor Philip Hammond has declared that the UK needs to take measured risk in order for the UK to excel as a leader in cryptocurrencies, but for that the community needs measurements to abide by," said Katharine Wooller, business unit director at digital asset protection firm Coincover.
"If we want to get ahead as a global leader in digital assets, we need to stop assessing firms, and start working with them to develop a regulatory framework."
Updated 2/10/23 at 6:05pm ET: Added comment from Wirex.
---
Don't miss the next big story – join our free daily newsletter.