VanEck Files for Bitcoin Strategy ETF
Firm applies for fund that would invest in bitcoin futures while its pure bitcoin offering awaits SEC approval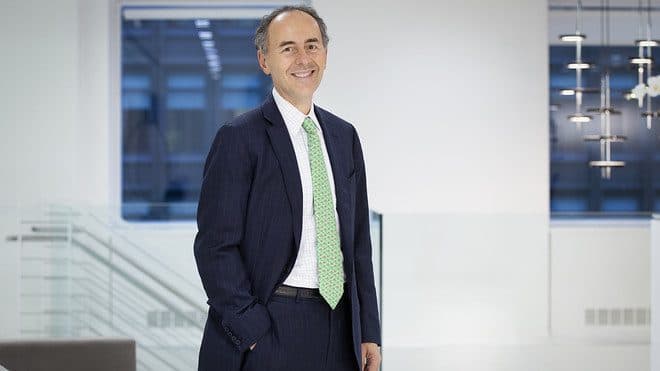 VanEck CEO Jan Van Eck | Source: VanEck
key takeaways
VanEck seeks approval for bitcoin futures ETF after its application to launch one in 2017 was denied by the SEC
The filing follows SEC chairman's comments about bitcoin futures ETFs and similar applications from Invesco and ProShares
VanEck is once again seeking to launch an ETF that will invest in bitcoin futures while its other proposed offering that would directly invest in the cryptocurrency awaits regulatory approval.
The New York-based firm filed for the VanEck Bitcoin Strategy ETF, according to an Aug. 9 SEC disclosure. The document does not indicate a ticker or expense ratio for the proposed product. 
The ETF would be actively managed and invest in bitcoin futures contracts as well as pooled investment vehicles and exchange-traded products that provide exposure to bitcoin, according to the preliminary prospectus. The fund would not invest in bitcoin or other digital assets directly.  
A firm spokesperson did not immediately respond to Blockworks' request for comment.
VanEck, which currently has 59 ETFs trading in the US with about $63 billion in assets under management, according to ETF.com, is no stranger to bitcoin futures ETFs.
The firm was the first to file for a bitcoin futures ETF in 2017 but withdrew its application after the SEC told VanEck "it is the Commission's policy to not review a registration statement for a fund where the underlying instruments in which the fund intends to primarily invest are not yet available," according to a letter by Matthew Babinsky, who is now assistant general counsel at VanEck.
Gabor Gurbacs, director of VanEck's digital assets strategy, told Blockworks via email that the firm is committed to bring to market a bitcoin ETF, noting that the futures markets have significantly matured in the last few years.
Though the SEC has not yet ruled on about a dozen ETFs that would directly invest in bitcoin, the agency's chairman, Gary Gensler, implied last week that ETFs that invest in bitcoin futures on the Chicago Mercantile Exchange, may be more likely to be approved. 
"I look forward to the staff's review of such filings, particularly if those are limited to these CME-traded bitcoin futures," Gensler noted during the virtual Aspen Security Forum on Aug. 3.
Lara Crigger, managing editor of ETF Trends, noted that CME bitcoin futures are most likely attractive to the SEC because they are based on the average prices across an aggregate of five exchanges with the highest volume rather than the spot price of bitcoin on any one exchange. Bitcoin futures are cash-settled and are regulated by the Commodity Futures Trading Commission, she added, which likely increases the SEC's comfort level.
But there are drawbacks to using futures as a means of exposure, Crigger added, including contango – a situation where the futures price of a commodity is higher than the spot price –  as well as position limits, tax differences, changes in the risk-return profile.
"Bitcoin futures are not a one-to-one means of accessing the underlying spot market, which is what investors really are seeking," she said. "So I'm not sure a bitcoin futures ETF is going to meet the demand."
Industry watchers have said Gensler's comments could spur a wave of bitcoin futures fund filings as various ETF issuers seek to be among the first to market with products that offer crypto exposure.
Just days later, Invesco and ProShares each filed for actively managed ETFs that would invest in bitcoin futures contracts. Like the proposed VanEck fund, these could also invest in bitcoin ETFs listed outside of the US, such as those in Canada.
The SEC in June had once again postponed its decision to approve or deny VanEck's application to launch an ETF that would directly invest in bitcoin.
Some industry professionals have said they don't expect the SEC to greenlight a bitcoin ETF this year as the agency hopes to work out concerns around market manipulation, hacks and theft in space.
Want more investor-focused content on digital assets? Join us September 13th and 14th for the Digital Asset Summit (DAS) in NYC. Use code ARTICLE for $75 off your ticket. Buy it now.