Rising Rates Could be a Game-changer for Euro Stablecoins Like Circle's EUROC
EUROC is the newest euro-pegged stablecoin and experts believe it can gain traction, eventually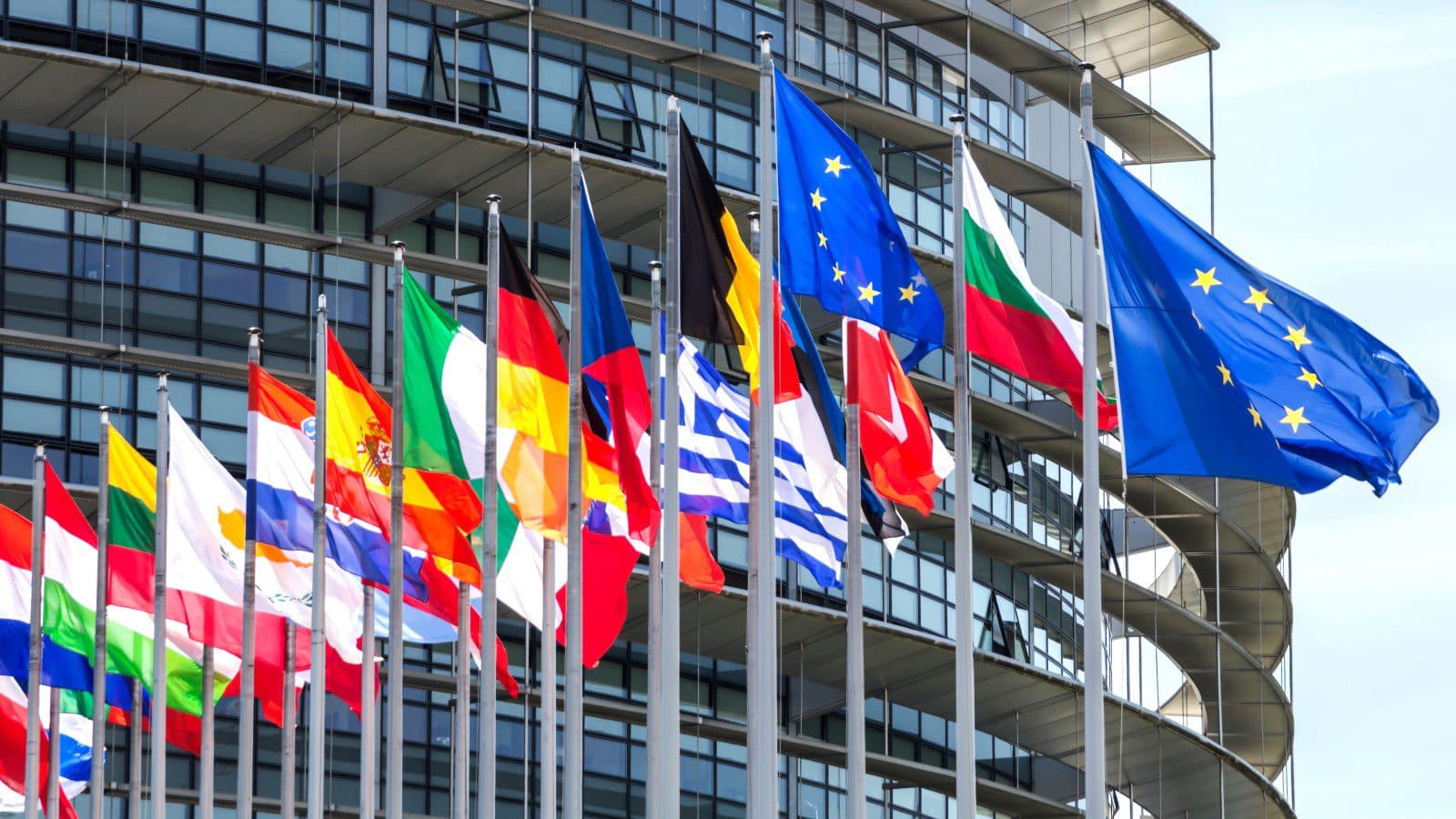 key takeaways
The euro is the second-largest currency in the world, but has no major stablecoin nowadays
Negative interest rates have held euro stablecoins back, but the ECB's move to raise interest rates may accellerate adoption
Stablecoins are predominantly US-dollar pegged projects, but the euro is coming for its slice of the pie. Circle's announcement of EUROC (Euro Coin) last week gave experts some confidence there will be a major euro-pegged stablecoin in the near future, even if it's not clear when. 
"So far we're not seeing any euro stablecoin of relevance: very low liquidity and adoption," Fabian Scholz, co-founder and CEO of Kudona, a German-based and Lithuanian-licensed cryptocurrency exchange, told Blockworks. 
The euro, shared by 19 European Union member states, is the second-largest currency in the world, just behind the US dollar. Despite its global market share at around 19% across various indicators of international currency use, the euro has an insignificant representation in stablecoins. 
While the crypto ecosystem has seen capital leaving in this bear market, dollar-pegged stablecoins managed to increase their dominance as investors looked for shelter in these turbulent weeks. Notwithstanding blowups like TerraUSD (UST), stablecoins are seen as a vehicle to park value without having to cash out to fiat currency, which often incurs fees.
Until now, only a few stablecoins have been pegged to the euro, such as Tether's EURt — a sister stablecoin to the largest dollar-backed issue, USDT — or Stasis' EURS. Far from the scale of dollar-pegged stablecoins, EURt has a market cap of roughly $218.4 million and EURS' market cap sits around $130.1 million, according to CoinGecko.
According to a report published last week by the European Central Bank about the euro's international role, the share of the euro in crypto markets is "extremely small," at 0.2%. The Eurozone's central bank recognizes that "stablecoins pegged to the euro have started to gain popularity, although the market remains in its infancy," but warns that "stablecoins should not be regarded as a new class of safe asset but rather as a less volatile but risky cryptoasset."
Nevertheless, Patrick Hansen, EU policy expert and Crypto Venture Advisor at Presight Capital, believes there is a rising demand for a stablecoin denominated in euro which makes up to 40% of global SWIFT payments and 20% of FX global reserves. 
"A widely-used and liquid euro stablecoin can enable and improve a wide range of interesting use cases for European investors and businesses: from a more efficient on/off ramp to crypto/DeFi, to remittance and B2B payments, a frictionless crypto FX market and much more," Hansen told Blockworks. 
Kudona's Scholz predicts that big crypto players such as Circle or Binance "might be able to change that, but they'll need a couple of months if not two or three years of adoption to increase liquidity and adoption on the DeFi side." 
That would be a game-changer for European investors, as they are exposed to FX (foreign exchange) risks against the dollar. So far in 2022, the eurozone's currency lost 11% of its value against the dollar, and some analysts predict the two currencies will reach parity later this year.
For the moment, euro-based stablecoins are less liquid and "tend to be sold similarly to other risky assets rather than behaving like a vehicle in digital transactions and trading," according to the ECB's research. At the same time, the institution admits that a euro stablecoin could support the currency's international profile. 
Monetary policy normalization may accelerate adoption
A crucial question for an issuer of a euro-based stablecoin lies exactly in ECB's purview. With its deposit facility rate at -0.5%, the European Central Bank makes it difficult to maintain a euro-pegged stablecoin with full reserves as issuers have to pay negative interest on bank deposits. 
In a tweet in April, before Circle's announcement, Hansen calculated that the company could have to pay €250 million in interest on its euro reserves locked at the bank if it created a euro-pegged stablecoin with a market cap of €50 billion. 
On EUROC's website, Circle addresses the issue: "Circle assumes the interest rate risk on Euro Coin reserves, just as we do with USDC," the company wrote.
But negative rates are about to become a thing of the past. The ECB announced it will raise its benchmark interest rate in July as well as in September. The deposit facility will follow suit, leaving negative territory and making it easier to sustain large amounts of euro reserves at the bank. 
"This will undoubtedly be a key change and enabler for Euro-stablecoin issuers," predicts Hansen. 
Will regulation hurt or benefit euro-pegged stablecoins?
The ECB's rate hikes come at a crossroads moment for European regulation towards crypto. The European Union is close to reaching a deal on Markets in Crypto-Assets (MiCA), a landmark law that will shape crypto innovation in the Old Continent. 
"It will without any doubt have a considerable impact on the Euro-stablecoin market, and I don't expect most Euro stablecoin issuers to be able to navigate the complex MiCA requirements to the EU's supervisor's satisfaction," said Hansen, adding however that "those who do, will benefit from greater institutional trust and adoption." 
Market players are still waiting to see MiCA's final version. "It's not set in stone yet, so we need to see its final draft," said Scholz, whose company will be affected by the regulation. 
However, the devil might be in the details. "The question is then what kind of regulation do you have and how does it get implemented and affect businesses. If it's well-thought-out, it allows for innovation to continue without being too constrained," said Scholz, who not only shares a name with, but is in fact nephew to Germany's chancellor Olaf Scholz.
Even the ECB, which is part of the financial supervisors in the eurozone, has its eye on a likely greater adoption of a euro stablecoin in the future.
"Potential risks triggered by more widespread stablecoin adoption can be managed through the existing Eurosystem's oversight framework," the ECB concludes, pointing to the expected MiCA regulation and international cooperation on the regulation of cryptoassets.
And in the meantime, as President Christine Lagarde recently said, legislators may need to get to work on MiCA 2.0.
---
Get the day's top crypto news and insights delivered to your email every evening. Subscribe to Blockworks' free newsletter now.
Want alpha sent directly to your inbox? Get degen trade ideas, governance updates, token performance, can't-miss tweets and more from Blockworks Research's Daily Debrief.
Can't wait? Get our news the fastest way possible. Join us on Telegram and follow us on Google News.
---