Animoca Brands and Brinc To Invest up to $30M in Play-to-Earn Ecosystem
The announcement comes exactly two months after Brinc closed a $130 million funding raise led by Animoca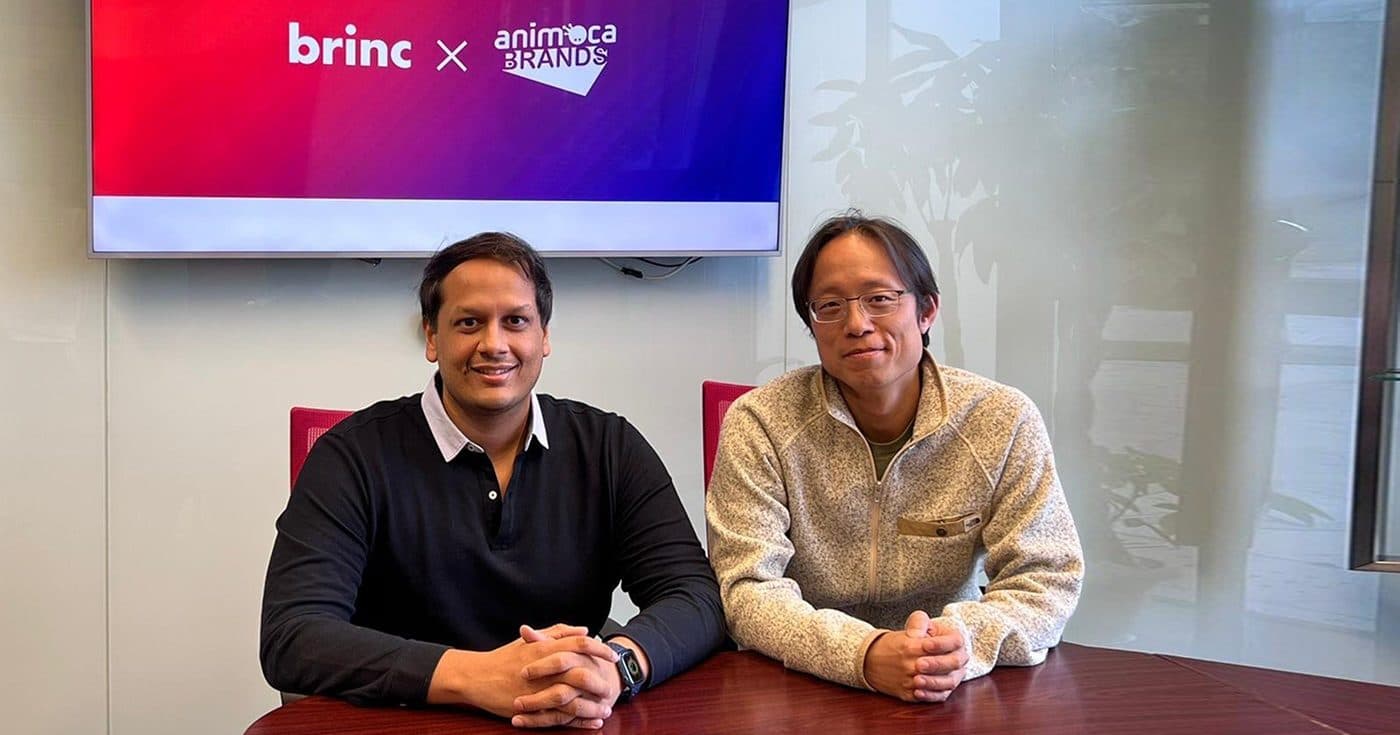 Brinc Founder and CEO Manav Gupta (left) with Animoca Brands Chairman and co-founder Yat Siu (right) | Source: Brinc
key takeaways
A Guild Accelerator Program will provide up to $500,000 for each early-stage startup selected
Crypto-focused gaming grew exponentially over the last 12 months, and market players expect it to continue this year and further crypto adoption
The Sandbox's parent company, Animoca Brands, has partnered with venture accelerator Brinc to launch its Guild Accelerator Program and expand the global play-to-earn ecosystem.
The two companies will provide a total investment of up to $30 million over the next two years in increments of $500,000 or less for each early-stage group accepted into its program.
The program aims to help millions of people globally generate income by participating in the play-to-earn (P2E) gaming world through crypto gaming.
Priority will go to applicants committed to sustainability, including projects that "support and give back to player/scholar communities, place emphasis on energy-efficient proof-of-stake protocols and side chains, and have lower overall physical footprints," according to the announcement.
Brinc closed a $130 million funding raise led by Animoca Brands two months ago, aiming to focus on expanding its accelerator programs.
"Web3-enabled guilds provide an on-ramp for the future of earning in a way that Web2 and traditional industries never could," Manav Gupta, founder and CEO of Brinc, said in the release. "Guilds can help transform education, skill development, agriculture, R&D and almost any industry where access to tools and assets historically prevented anyone with time to innovate, up-skill and thus earn a living."
Animoca incubates and backs NFT, blockchain gaming and metaverse projects as well as supports development on blockchains including Flow and Polygon. It has previously backed over 150 NFT- and metaverse-related companies, including OpenSea, Dapper Labs, Axie Infinity and Yield Guild Games. Last month, the firm raised $358 million to build out the open metaverse.
"As the world enters a new era of work and play, the play-to-earn guilds space has enormous potential for growth," Yat Siu, the co-founder and chairman of Animoca Brands, said in a statement. 
In general, crypto-focused gaming grew exponentially over the last 12 months, and market players expect it to continue this year and further crypto adoption.
The popular P2E game Axie Infinity initially anticipated an "aggressive target" of 250,000 users by the end of the year but finished 2021 over 1,000% higher at 2.9 million community members, Blockworks previously reported. By the end of 2021, the game's total revenue reached about $1.3 billion, compared to $18.8 million six months earlier.
Separately, capital flowed into the P2E gaming space over the past few months with initiatives like Mechanism Capital's $100 million fund and a joint fund, also $100 million, announced by GameStop and Immutable for gaming NFTs (non-fungible tokens).
Animoca Brands and Brinc were not available for comment Monday.
---
Don't miss the next big story – join our free daily newsletter.