Did BlackRock have inside info on bitcoin ETF? Bitwise CIO says probably not
Spot bitcoin ETF approval "could come at any point," Bitwise's Matt Hougan says, adding he is eyeing Q4 or early 2024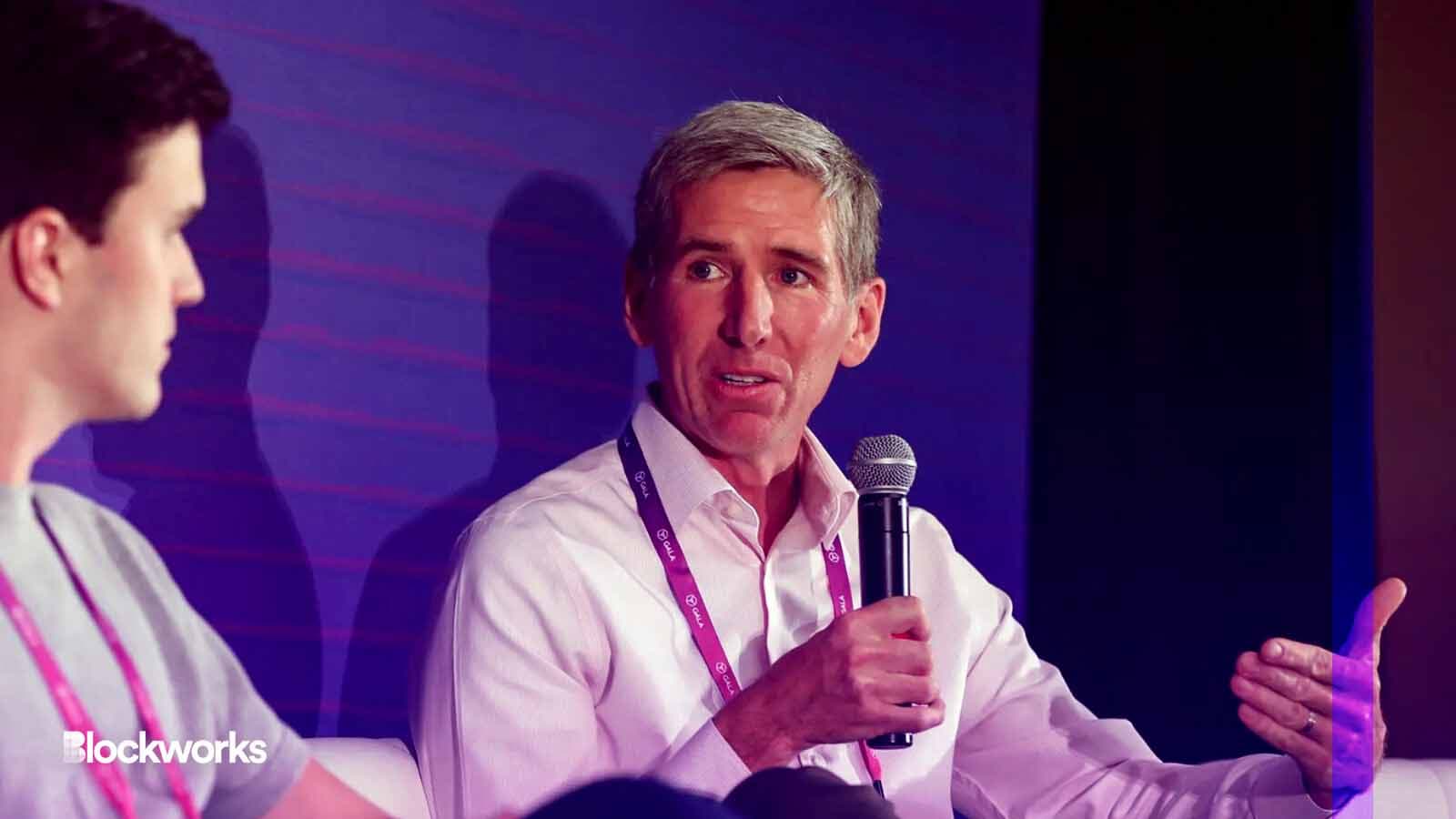 Matt Hougan, CIO of Bitwise | Ben Solomon for Blockworks
The chief investment officer of crypto fund group Bitwise isn't exactly sure why BlackRock chose to file for a bitcoin ETF in June — a non-optimal time, according to some, amid regulatory uncertainty and enforcement actions. 
But he doesn't think the world's largest asset manager knows something others don't.  
Ric Edelman, founder of the Digital Assets Council of Financial Professionals (DACFP), floated a theory during a Tuesday webinar with Bitwise CIO Matt Hougan: "a back-room" conversation between the Securities and Exchange Commission and BlackRock as pressure has mounted on the securities regulator and its leader Gary Gensler. 
Gensler, who has perhaps "boxed himself into a corner" and has struggled to justify his opposition to crypto, Edelman posed hypothetically, informed the ETF giant that the commission could look favorably upon its spot bitcoin ETF filing?
Such conjecture has made its rounds on Twitter.
"I love a good conspiracy theory as much as anyone, but the short answer is no; I don't think BlackRock had any inside information," Bitwise CIO Matt Hougan told Edelman. "I think the SEC acts fairly and honorably in these situations, and I don't think they're making those sorts of political judgments."
BlackRock declined to comment "due to filing restrictions." An SEC spokesperson said it could not comment on a specific company.
Bitwise was one of a handful of asset managers to re-file for a spot bitcoin ETF proposal in June after BlackRock's filing seemingly came "out of the blue," Edelman noted. 
Others with similar products in front of the SEC include Ark Invest and 21Shares, as well as Fidelity, Invesco, WisdomTree, VanEck and Valkyrie.
Although BlackRock had not submitted an application for a spot bitcoin ETF in the past, other issuers in this recent round of filings have made prior attempts without success.
"Maybe those of us who have been in this race for a while are beaten down after 10 years of not getting across the finish line," Hougan said. "You could argue that from a new perspective…you would look at this SEC differently."
Despite the SEC's prior rejections of a spot product, BlackRock may view the SEC's approval of bitcoin futures ETFs in 2021 as a step toward spot approval in the next 240 days, Hougan said — the time the SEC has to rule on the proposals. 
And though BlackRock CEO Larry Fink has recently garnered more attention for his change of stance on crypto, his firm has been dipping its toes into the segment for a while now, Hougan pointed out.
Read more: BlackRock's Fink wants to 'democratize' crypto
BlackRock revealed in January 2021 filings that its Strategic Income Opportunities Fund (BASIX) and its Global Allocation Fund (MDLOX) could invest in cash-settled bitcoin futures.
The company partnered with Coinbase last August, a month in which it also launched a private bitcoin trust for US institutional investors.
"They haven't been a 'no' on crypto; They've been walking and they just started to run," the Bitwise CIO said. "BlackRock didn't wake up one day and go from zero to 100. They maybe went from 30 to 60." 
Timing of potential approval, and its impact?
The US securities regulator is set to rule on the planned spot bitcoin ETF by Ark Invest and 21Shares by Aug. 13. Alternatively, it could request an extension for further consideration prior to that date.
Read more: Start your engines: Deadlines to watch for in the bitcoin ETF race
Bloomberg Intelligence analyst Eric Balchunas said on Bloomberg TV Monday he expects the SEC to delay the decision. Ark Invest CEO Cathie Wood said during the interview with Balchunas that "you're probably right that August 13 will come and go."
Wood added: "I think the SEC, if it's going to approve a bitcoin ETF, will approve more than one at once."
Hougan said Tuesday the best situation for investors would be for the SEC to allow more than one "high-quality" bitcoin ETFs to launch at the same time. He added that a spot bitcoin ETF approval "could come at any point," but believes it is more likely during the end of the fourth quarter or in the first quarter of 2024.
Galaxy Digital CEO Mike Novogratz said during his company's earnings call on Tuesday that signals are pointing to a possible spot bitcoin ETF approval within the next six months.
"Even if this current batch didn't garner approval, I don't think we'd be kicking the can infinitely down the road, and therefore I don't think it'd be a huge setback to bitcoin or crypto," Hougan said.
Approval, meanwhile, would be a "long-term bullish catalyst" for bitcoin's price rather than something that spurs "jagged trading," Hougan said.  
Edelman said he predicts bitcoin's price could be around $150,000 by mid-2025 on the back of a spot bitcoin ETF approval, as well as the upcoming halving. 
"I'm down with that," Hougan said. "I think we're in a multi-year bull market…and I think we will set new all-time highs that are significantly above the previous all-time high, which was $68,000." 
---
Don't miss the next big story – join our free daily newsletter.