JPMorgan analysts: ETH could have more upside than BTC
CME ether futures have seen a steep upward flow trajectory underpinning this year's ether bull market.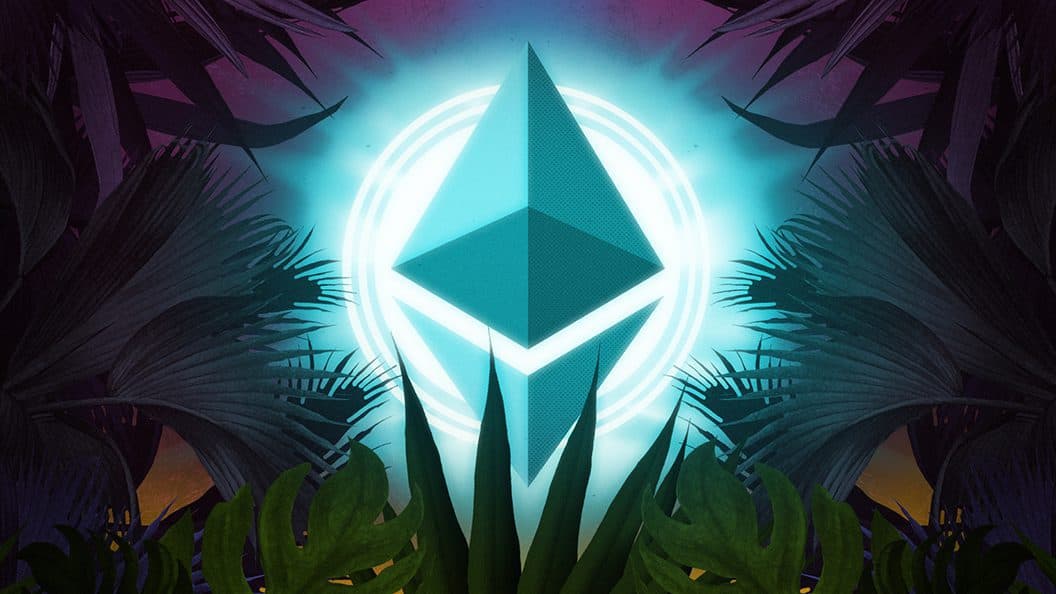 Blockworks exclusive art by Axel Rangel
key takeaways
Eventual normalization of monetary policy and investors' greater focus on ESG could hurt bitcoin's outlook
Stiff competition from similar layer-1s like Solana is a disadvantage for Ethereum that bitcoin does not endure
Ethereum (ETH) could continue to benefit from the sharp growth of decentralized finance, while the eventual normalization of monetary policy could put downward pressure on bitcoin's "digital gold" proposition, according to recent research from JPMorgan. 
Ethereum's all-time price high this week of more than $4,600 came as CME Group announced plans to launch micro ether futures next month and Facebook's upcoming name change to Meta. The latter announcement boosted ether, given that several metaverse platforms are already based on the Ethereum platform.
The crypto asset's price was $4,500, as of 2 pm ET on Friday, according to CoinGecko, up 0.4% in the last 24 hours.
"There is little doubt that momentum traders have amplified the recent rise in [ether] prices, but we find no evidence on our metrics as yet that momentum signals are in overbought territory," according to a Nov. 3 note by JPMorgan analysts, led by Nikolaos Panigirtzoglou. 
Since its launch in February, CME ether futures have seen a steep upward flow trajectory underpinning this year's ether bull market, analysts said, as the number of contracts has risen to 6,500, representing about $1.5 billion. The micro futures offering is expected to bring participation from a broader set of investors.
Though Ethereum's blockchain dominance in the smart contract, DeFi and NFT spaces has increased its appeal to both institutional and retail investors as the leading application cryptocurrency, it faces stiff competition from other blockchains, a separate JPMorgan report published last week states. These competitors include the Binance Smart Chain (BSC), Polkadot (DOT), Cardano (ADA), Terra (LUNA) and Solana (SOL). 
Ethereum versus bitcoin
Digital currency prime broker Genesis noted in its third quarter report that though demand for Ethereum outpaced demand for bitcoin during Q3, layer-1s such as SOL, LUNA, Avalanche (AVAX) and Fantom (FTM) reduced Ethereum's market share. 
"This [competition] creates the risk that the substantial increase in the Ethereum network activity over the coming years embedded in the current price of $4100 might not materialize," JPMorgan analysts explained.
Meanwhile, bitcoin is unique in terms of investors viewing it as digital gold, and faces no competition from other cryptocurrencies, the research notes. 
The rise in bond yields, however, and the eventual normalization of monetary policy is putting downward pressure on bitcoin as a form of digital gold, the same way higher real yields have been putting downward pressure on traditional gold, the analysts said.
Tapering of monthly bond purchases at a reduction of $15 billion a month will soon begin due to the "substantial further progress" of the economy, Federal Reserve Chairman Jerome Powell said on Wednesday. He noted that the central bank elected to keep interest rates near zero.
"With [ether] deriving its value from its applications, ranging from DeFi to gaming to NFTs and stablecoins, it appears less susceptible than bitcoin to higher real yields," the JPMorgan report states.
In addition, the analysts pointed out that investors' focus on environmental, social and governance, or ESG, issues has shifted attention away from the energy-intensive bitcoin blockchain to the Ethereum blockchain, which is expected to become more energy-efficient by the end of 2022 with Ethereum 2.0.
Yassine Elmandjra, a blockchain and crypto-asset analyst for Ark Invest, said in a tweet that Ethereum's market capitalization would ultimately grow larger than bitcoin's.
Bitcoin's price was 61,175 as of 2 pm ET on Friday, CoinGecko data showed — a 0.3% decrease from a day ago. Its market capitalization is nearly $1.2 trillion, which is a bit more than double the market cap of Ethereum. 
"In a scenario where the volatility of bitcoin subsides next year to about twice the volatility of gold," the analysts said, "a bitcoin price target of $73,000 seems reasonable for 2022."