EU Negotiators Want To Hammer Out Crypto Bill This Month
MiCA, the European landmark crypto law, is nearing the finish line in the EU's long negotiation process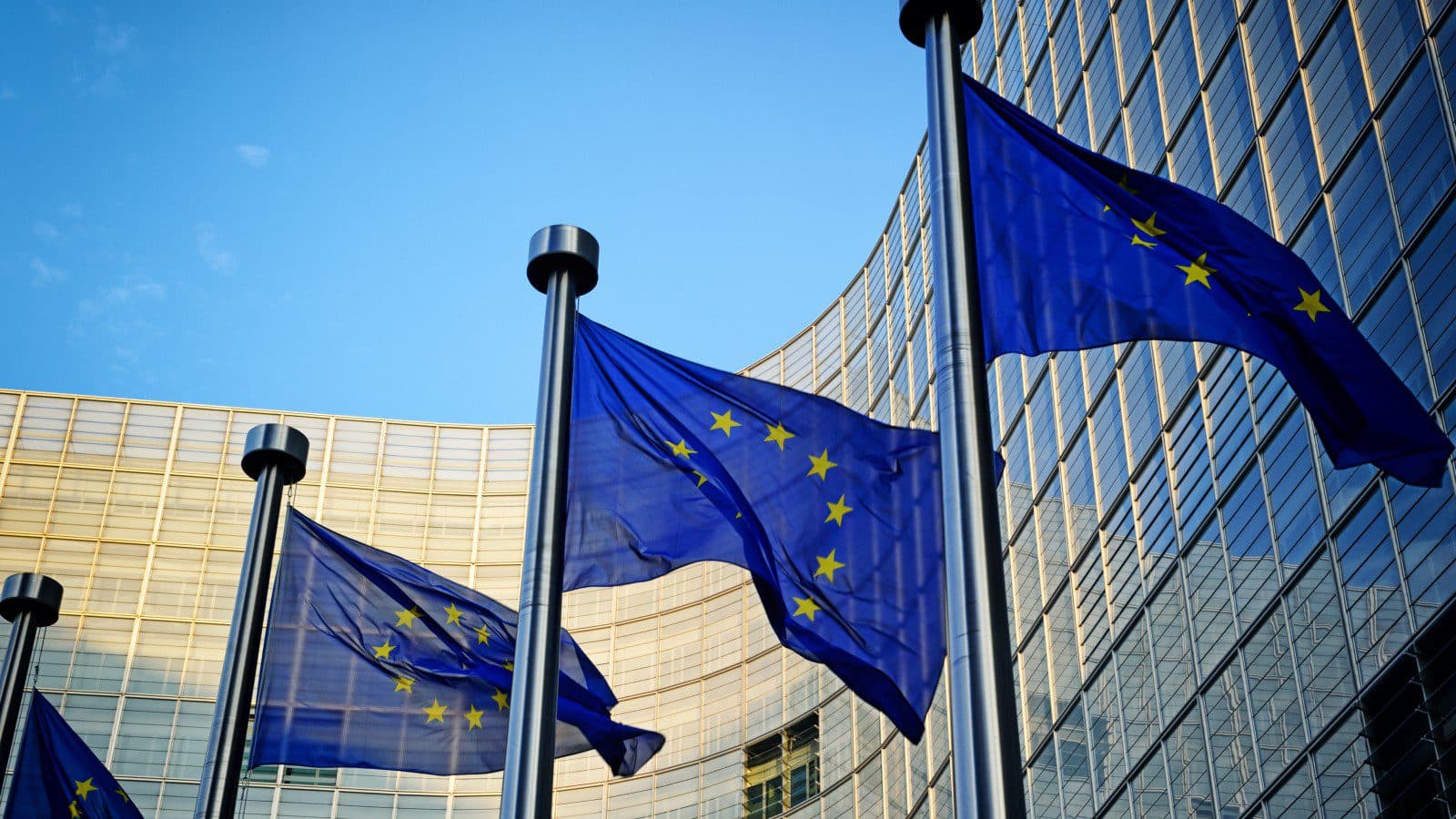 EU flags in front of European Commission in Brussels | Source: Shutterstock
key takeaways
Policymakers are optimistic about a deal in late June, but some areas of the bill are still being debated
Environmental impact and anti-money laundering rules have been a source of contention
European Union policymakers held another meeting yesterday in an attempt to reach an agreement on the Markets in Crypto-Assets (MiCA) bill that will shape crypto development in the European common market.
France, which currently holds the EU presidency, aims to close a deal by the end of this month, Bloomberg reported last Friday. MiCA has been an ongoing discussion since the European Commission first presented a proposal to the European Parliament in 2020.
The rise of crypto markets' relevance in 2021 accelerated this discussion, and France wants to achieve this milestone while they hold the presidency, which ends this month — the Czech Republic will take over the role in July.
After today's meeting, another "trilogue" — EU's last mile with members of the Parliament (MEPs), EU's presidency and European Commission officials — will happen on June 30. 
The rush is real in Brussels, according to Mairead McGuinness, European commissioner for financial services and financial stability. 
"I really would like to see a political compromise on our MiCA…under the French presidency", she told MEPs in a hearing this Tuesday, later adding that the legislation is "so urgent, given recent developments."
The euro's stability and investor protection were the main priorities for EU policymakers in the aftermath of problems such as the TerraUSD stablecoin collapse, which, McGuinness said, "has certainly raised a lot of questions and concerns at many levels." She also mentioned Celsius' pausing all transfers and withdrawals earlier this week. 
MiCA will set common rules for cryptocurrency regulation in all 27 EU member states, putting European regulators at the helm of digital assets supervision across the union with the help of national authorities.
However, some issues in the legislative package have yet to be settled. According to Bloomberg, EU countries and the EU Parliament still disagree on whether to include non-fungible tokens (NFTs) in MiCA, how to regulate big stablecoins, the division of supervisory responsibilities, and the introduction of a ceiling to limit stablecoins usage as a payment method to prevent currency substitution.
Crypto's environmental impact is yet another issue to be agreed upon. Blockchain for Europe, which represents international industry players at the EU level, claimed today that the Greens and the Socialists, two of the biggest Parliament groups, are trying to introduce amendments that will oblige all cryptoasset service providers (CASPs) to publicly disclose "info on adverse environmental impact of consensus mechanism used to issue each cryptoasset."
"These proposed amendments do not answer the question of what happens if either a CASP or a token issuer cannot deliver on the ask. Further, it seems likely that a non-compliant actor would be banned at EU level," the organization said. 
Another remaining question is whether anti-money laundering rules will be included in the MiCA package or if this will be addressed in other legislation.
---
Don't miss the next big story – join our free daily newsletter.