ProShares' Bitcoin Futures-based ETF to Begin Trading Tuesday
The product will be the first bitcoin-linked ETF in the US, as physically backed products still wait for green light.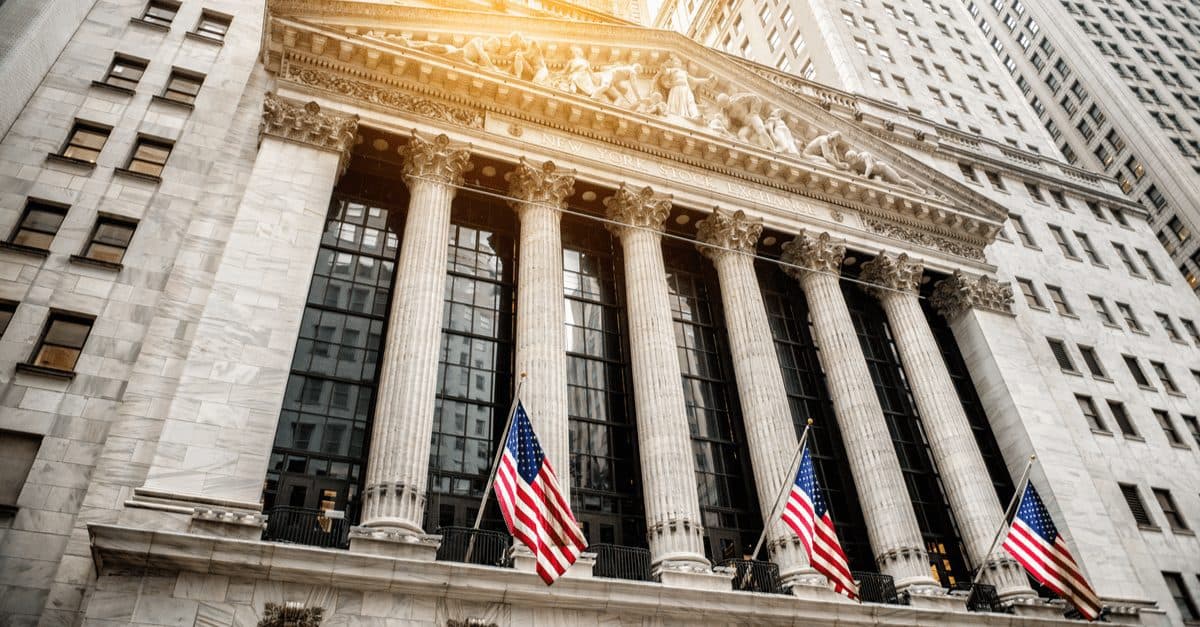 New York Stock Exchange; Source: Shutterstock
key takeaways
Front-month bitcoin futures contracts have historically had high correlation to spot bitcoin market
Industry watchers split on how much demand exists for futures-based bitcoin products as the SEC has not yet allowed physically backed offerings in the wrapper
ProShares plans to launch a futures-based ETF — the first bitcoin-linked ETF in the US — on Tuesday, firm executives said, marking what the company called a milestone for the nascent asset class. 
The ProShares Bitcoin Strategy ETF (BITO) is actively managed and is set to invest in bitcoin futures contracts traded on the Chicago Mercantile Exchange (CME), according to the initial disclosure. Though the first filing indicated that the fund may also invest in Canadian ETFs, an amended prospectus filed Friday afternoon took out that portion.
The offering, which will be listed on NYSE, has an expense ratio of 95 basis points. 
Although ETFs that invest in bitcoin directly still await the green light from regulators, the expected listing of a bitcoin futures-based ETF can offer investors exposure to bitcoin returns through a brokerage account.
The announcement comes after Bitwise Asset Management published research as part of a filing for a bitcoin ETF last week showing that the CME bitcoin futures market leads price discovery compared to both spot bitcoin markets and offshore bitcoin derivatives exchanges.
"There's lots of evidence that futures prices are a better place for discovery than spot and of course the regulated nature of the futures marketplace in terms of both the protections from manipulation and the clearinghouse for settlement," ProShares Global Investment Strategist Simeon Hyman told Blockworks. "You put those belts along with the suspender of an ETF, and we think it's a real robust solution."
BITO is focused on investing in front-month contracts, Hyman added, which have historically had high correlation to spot bitcoin.
ProShares' affiliate company, ProFunds, launched the first bitcoin-linked mutual fund in the US in July. Hyman, who noted that the futures-based mutual fund has returned 52% since inception through October 15, said the firm believes these products can coexist. 
"We do think the use cases are similar but not entirely overlapping for both and there's really an opportunity for a real convenient way to include this in their portfolios to now have a very effective solution," he said.
What's the demand?
Some question how well bitcoin futures ETFs will be received. Industry professionals have noted the downsides to such products, including roll costs and contango — a situation when the futures price is above the expected future spot price. 
Nate Geraci, president of The ETF Store, said that though he views futures-based ETFs as "suboptimal products," there is significant pent-up demand among investors wishing to access bitcoin price exposure through traditional financial services plumbing.
"I expect these ETFs to experience sizable inflows and rocket up the leaderboard of top ETF launches this year," he told Blockworks.
But Noelle Acheson, head of market insights at Genesis Global Trading, is not as bullish on investor interest in bitcoin futures ETFs, arguing that the demand for bitcoin futures ETFs will likely be disappointing. 
"These could be of interest to a limited audience of institutions that can't hold spot or derivatives directly, as well as retail investors that prefer the familiarity and convenience of ETFs," she said. "Most investors, however, are more likely to continue to access BTC exposure through spot or derivatives, or through any of the many listed securities or international funds that offer spot BTC exposure."
Acheson added that disappointment from the bitcoin futures ETF listing could provoke a correction, noting that the market fell sharply after the listing of bitcoin futures contracts on the CME in December 2017 and the listing of Coinbase on Nasdaq in April. 
"However, even if there is some sell-off, it is unlikely to be as deep or lasting as the previous examples because of where we are in the market cycle," Acheson explained. "In both previous cases, the market was already frothy and showing signs of exhaustion — that is not the case this time around."
Who will be next?
Similar futures-based bitcoin products proposed by Valkyrie and Invesco, which were filed just after the ProShares offering, could also launch this week. Valkyrie filed an 8-A with the SEC on Friday, a form companies must complete before offering securities on an exchange. 
Ed Lopez, head of ETF product for fund manager VanEck, told Blockworks on Friday that he hopes the firm will launch its proposed bitcoin strategy ETF by the end of the month.    
"The competition will be exceedingly fierce among bitcoin ETF issuers, with relentless fee cuts and aggressive marketing tactics becoming the status quo," Geraci said.
He added that investors may have to wait awhile for a physically backed bitcoin ETF, as the SEC likely wants to ensure futures-based ETFs don't experience any hiccups before allowing a spot offering.
The SEC did not immediately respond to Blockworks' request for comment.  
Grayscale Investments executives have expressed plans to convert the Grayscale Bitcoin Trust (GBTC) to an ETF. David LaValle, the firm's head of ETFs, previously said the company was urging the SEC to allow such a conversion at the same time that bitcoin futures ETFs were allowed to begin trading so as to maintain a "level playing field."
Jennifer Rosenthal, the firm's communications director, elaborated in a Twitter post Monday morning:
ProShares declined to comment on whether it would look to also launch a spot bitcoin ETF.
"BITO will continue the legacy of ETFs that provide investors convenient, liquid access to an asset class," ProShares CEO Michael Sapir said in a statement. "1993 is remembered for the first equity ETF, 2002 for the first bond ETF, and 2004 for the first gold ETF. 2021 will be remembered for the first cryptocurrency-linked ETF."
---
Are you a UK or EU reader that can't get enough investor-focused content on digital assets? Join us in London on November 15th and 16th for the Digital Asset Summit (DAS) London. Use code ARTICLE for £75 off your ticket. Buy it now.
---