Sam Bankman-Fried's trial begins: Live updates
Day one of the trial entails jury selection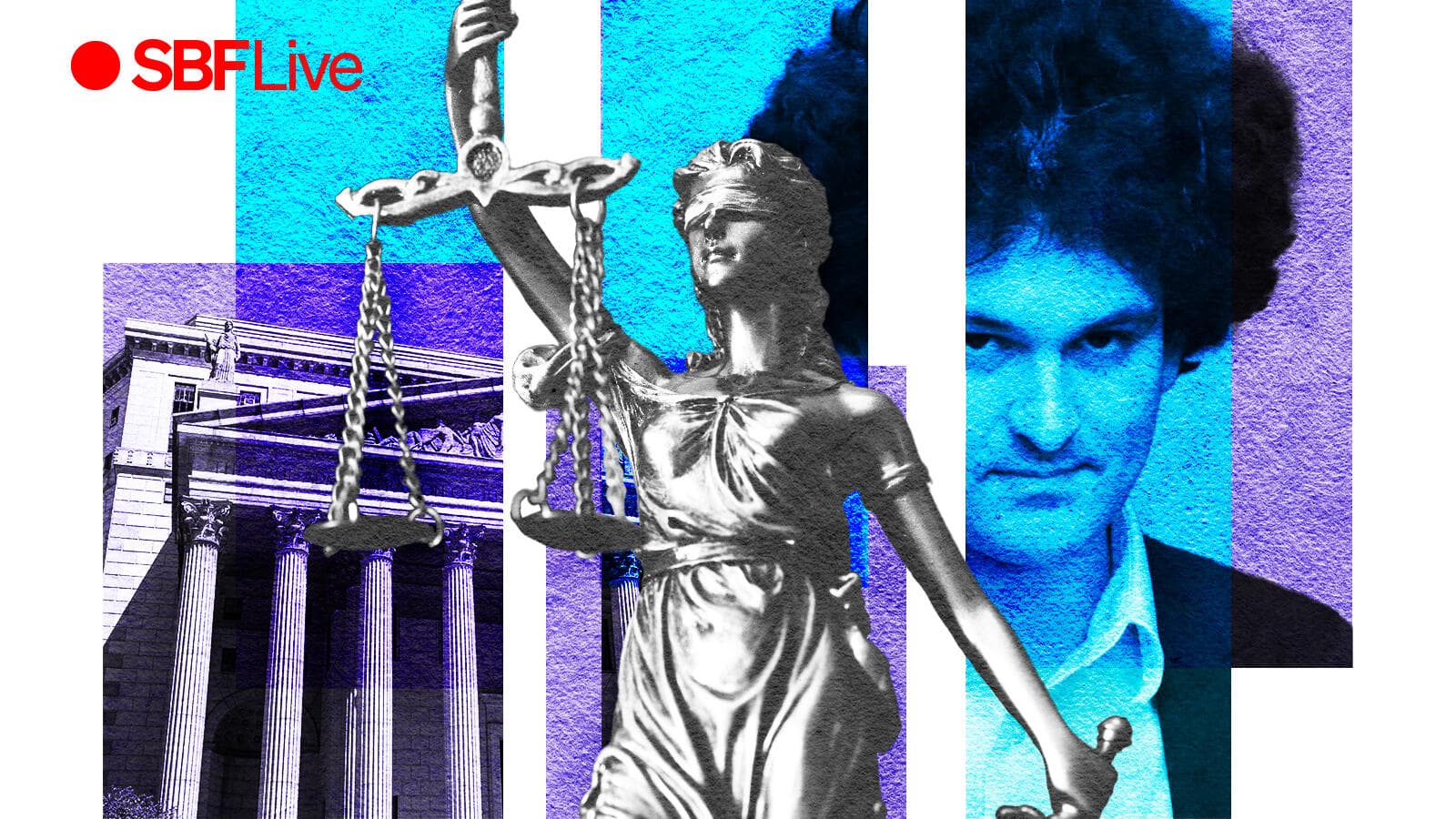 The trial of former FTX CEO Sam Bankman-Fried begins today in New York. The former crypto executive is being tried on multiple fraud charges during a trial expected to last six weeks.
Day one begins with jury selection. Blockworks reporters Casey Wagner and James Cirrone have decamped to the Manhattan courthouse to provide live updates.
---
5:23 pm ET: Trial has wrapped for the day, though it seems that the wind was not strong enough for the jury selection to be finalized. 
Roughly 18 jurors will be handpicked from a group of 50 tomorrow morning, with a start time of 9:30 am ET. With an expected daily end time of 4:30 pm, it's not too long of a day. 
"We now have a sufficient number" of individuals to select a jury from, Kaplan noted at the end of day one.
Eight separate people cited the 60 Minutes interview of Michael Lewis over his new book, "Going Infinite," which is, of course, about Sam Bankman-Fried. Presumably anticipating the media frenzy that will ensnare the rest of the trial, Judge Kaplan ordered jurors to undergo an electronic quarantine.
We didn't say it, but the jurors did: Multiple potential jurors mentioned Bernie Madoff — you know, the fraudster who operated the largest Ponzi scheme in American history — during their screening questions. 
As the trial formally gets underway Wednesday morning, the prosecution's opening statements are slated to be around 20 to 25 minutes long. The defense will get roughly 30 to 40 minutes for their opening statement.
1:06 pm ET: Add in a dash of luck and a "strong wind at our back" and maybe, just maybe, jury selection will be finalized by end of day Tuesday, Judge Kaplan said. With opening statements set to start bright and early Wednesday morning, multiple parties in the court room are hoping to get the 12 jurors picked out as soon as possible.
During the morning proceedings — as many jurors line up their excuses in an attempt to get out of the trial for "one of the biggest financial frauds in American history" — prosecutors revealed that a plea deal was never offered to Bankman-Fried.
Bankman-Fried pleaded not guilty to the fraud charges.
12:39 pm ET: Judge Kaplan began the jury selection by stating the obvious: SBF stands accused of defrauding FTX customers and investors as well as misleading lenders to Alameda Research, FTX's former sister company. 
Kaplan said that there will be 12 jurors with six alternatives. According to Cirrone, roughly 22 potential jurors have been excused.
Excluding one person, whose firm allegedly invested in both FTX and Alameda, none of the first jury pool had prior dealings with SBF, FTX or Alameda. 
The court recessed for lunch and will begin jury selection again at 1:20 pm ET with new potential jurors taking the seats of those who were dismissed during the first half of the day.
11:35 am ET: The ex-FTX exec is present, brought in from the Metropolitan Detention Center, where he's been held since he was jailed in August.
Bankman-Fried's $250 million bond was revoked after Judge Lewis Kaplan sided with the government. The prosecution alleged that SBF leaked diary entries from his ex-colleague — as well as ex-girlfriend's — diary to a New York Times reporter in an attempt to discredit her testimony ahead of trial. 
Even though the trial is underway, both the defense and the government continue to squabble over testimonies. Bankman-Fried's lawyers filed a letter with the judge on Monday arguing to exclude some witness testimonies. 
In late September, Judge Kaplan ruled that seven of SBF's witnesses would not be able to testify, siding with a government motion to block the witnesses from taking the stand. However, a few of the witnesses would be able to testify in response to the prosecutor's witnesses. The defense's team would need to file for approval, and the government is able to object. 
Outside of the witnesses, both the defense and the US government have engaged in back and forth around the discovery plan. In August, the government said it received millions of documents from SBF's Google accounts. 
As part of a push to seek release for SBF, the defense complained about the amount of discovery provided. Defense attorneys noted that these deliveries came after court-ordered deadlines — which prosecutors blamed on Google — and decried the process as "fundamentally unfair."
Bankman-Fried previously pleaded not guilty to seven fraud and conspiracy charges, which were handed down on Aug. 14.
This is a developing story.
Blockworks reporters Casey Wagner and James Cirrone are covering Sam Bankman-Fried's trial from the courtroom in New York. Follow for instant trial updates on their X accounts.
---
Don't miss the next big story – join our free daily newsletter.