SEC Ruling on Teucrium's Bitcoin Futures ETF Could Impact Spot Funds
Analysts say the regulator's decision on the product could strengthen arguments for approving spot ETFs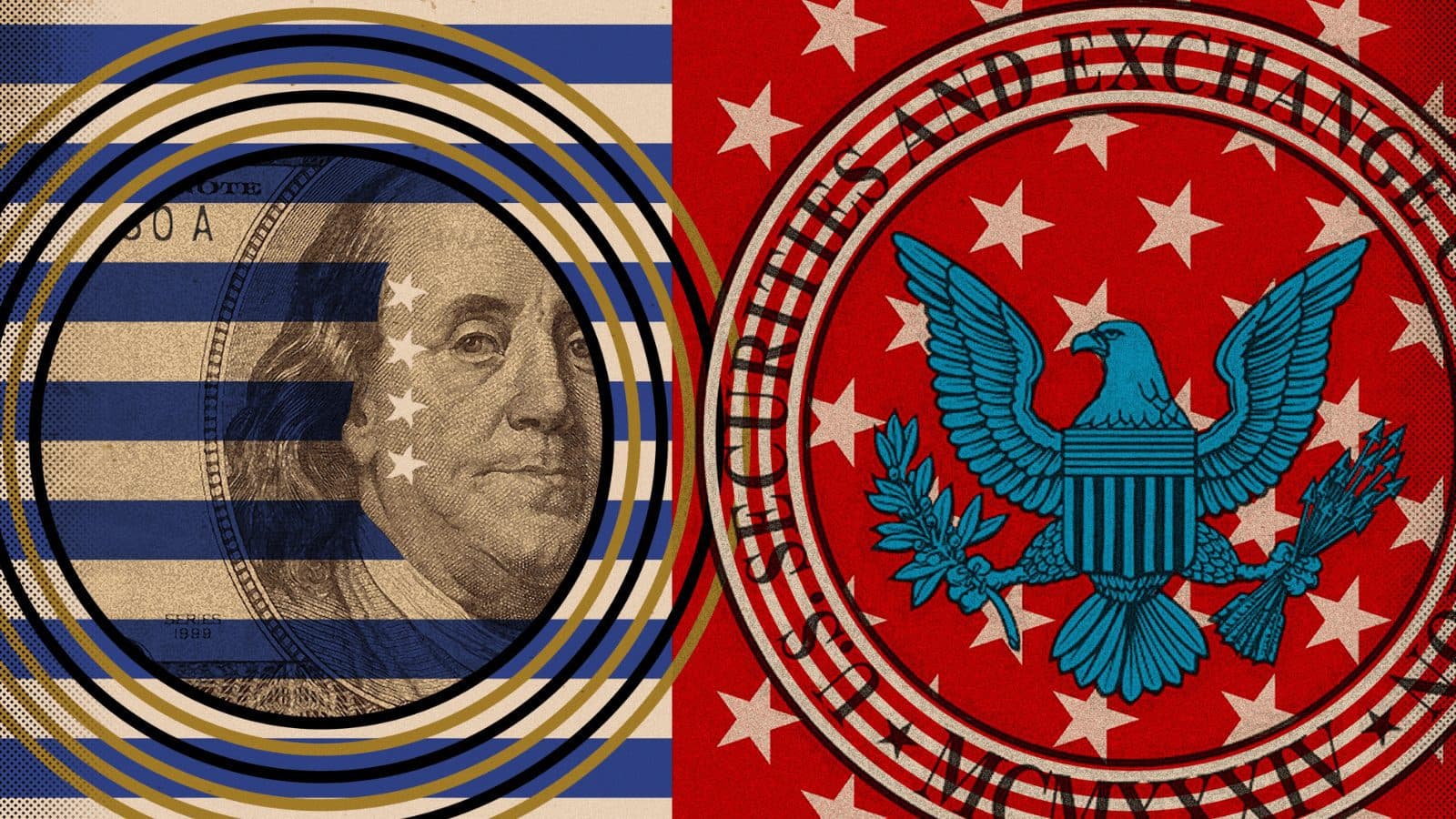 Blockworks exclusive art by axel rangel
key takeaways
The Teucrium Bitcoin Futures Fund was filed under the Securities Act of 1933 — the regulation under which spot bitcoin ETFs are filed
Previous approved bitcoin futures ETFs were filed under the Investment Company Act of 1940
The Securities and Exchange Commission is expected to rule on a bitcoin futures ETF proposed by fund group Teucrium this week, and the agency's decision could have implications for proposed spot bitcoin funds.
The SEC delayed its decision on the planned Teucrium Bitcoin Futures Fund in January, noting at the time that it would rule on the product by April 8.
The regulator's decision on the Teucrium fund "could expose the agency to rulemaking violations and strengthen arguments for spot ETFs," according to Bloomberg Intelligence analysts. 
ProShares and Valkyrie Investments launched bitcoin ETFs in October after gaining SEC approval. Those funds, filed under the Investment Company Act of 1940, were exempt from the 19b-4 process, Bloomberg Intelligence ETF Analyst James Seyffart said during a Jan. 4 ETF Prime podcast, which he said puts the onus on the applicant to allay the concerns of the SEC's Division of Trading and Markets.
The Teucrium Bitcoin Futures Fund (BCFU), however, was filed under the Securities Act of 1933 — the regulation under which spot bitcoin ETFs are filed. The SEC has denied proposed spot bitcoin ETFs in recent months, citing that bitcoin markets lack surveillance and may be subject to manipulation.
"The SEC's view of the market in previous responses indicated it would deny Teucrium's fund, but we believe that's unlikely now, as rejections could open the agency to Administrative Procedure Act violations," Seyffart and Bloomberg Intelligence analyst Eric Balchunas wrote in a research note. "Conversely, if Teucrium's funds are approved, the SEC will have to thread a needle explaining why the CME bitcoin futures market isn't of significant size but is good enough for ETFs."
SEC Chair Gary Gensler said in August that the Investment Company Act of 1940 provides "significant investor protections."
Commonly known as the '40 Act, its focus is on disclosure to the investing public of information about the fund and its investment objectives, as well as on investment company structure and operations, the SEC's website states.
Fund group WisdomTree amended its Bitcoin Trust in December to include certain requirements of the '40 Act to the proposed product, such as using US Bank as a qualified custodian and disclosing its portfolio holdings and net asset value per share daily.
Teucrium believes the 1933 Act provides "appropriate investor protections such that disparate regulatory treatment of BCFU versus bitcoin ETFs is not justified," W. Thomas Conner, a VedderPrice lawyer representing Teucrium, said in a Sept. 1 letter to the SEC. 
A Teucrium spokesperson declined to comment.
"The reason folks are interested is that previous comments by Gensler were so clear in mentioning the '40 Act as the appropriate place for a bitcoin futures product to live," Dave Nadig, chief investment officer and director of research at ETF Trends and ETF Database, told Blockworks. "I am pretty skeptical they'll just let the Teucrium filing go through, and I don't really see a huge demand for it if it did."
Sumit Roy, crypto editor and analyst at ETF.com, said the decision on Teucrium's proposed product may have implications for what fund structures the SEC looks favorably upon, but won't do anything to change the odds of a spot bitcoin ETF coming to market. 
"That has less to do with fund structure and more to do with bringing the cryptocurrency industry into the SEC's regulatory fold," Roy said. "There are positive movements on that front, but a spot bitcoin ETF is still a ways away, regardless of what happens with this particular bitcoin futures ETF."
Seyffart and Balchunas said in a research note last month that they don't expect the SEC to approve a spot bitcoin ETF until the middle of 2023.
The agency most recently rejected a bitcoin ETF application from fund groups Ark Invest and 21Shares, according to a March 31 filing.
A spokesperson for Ark Invest did not immediately return a request for comment
---
Don't miss the next big story – join our free daily newsletter.