The Investor's Guide to Music NFTs
An introduction to music NFTs and how to invest in them, as well as resources for further research.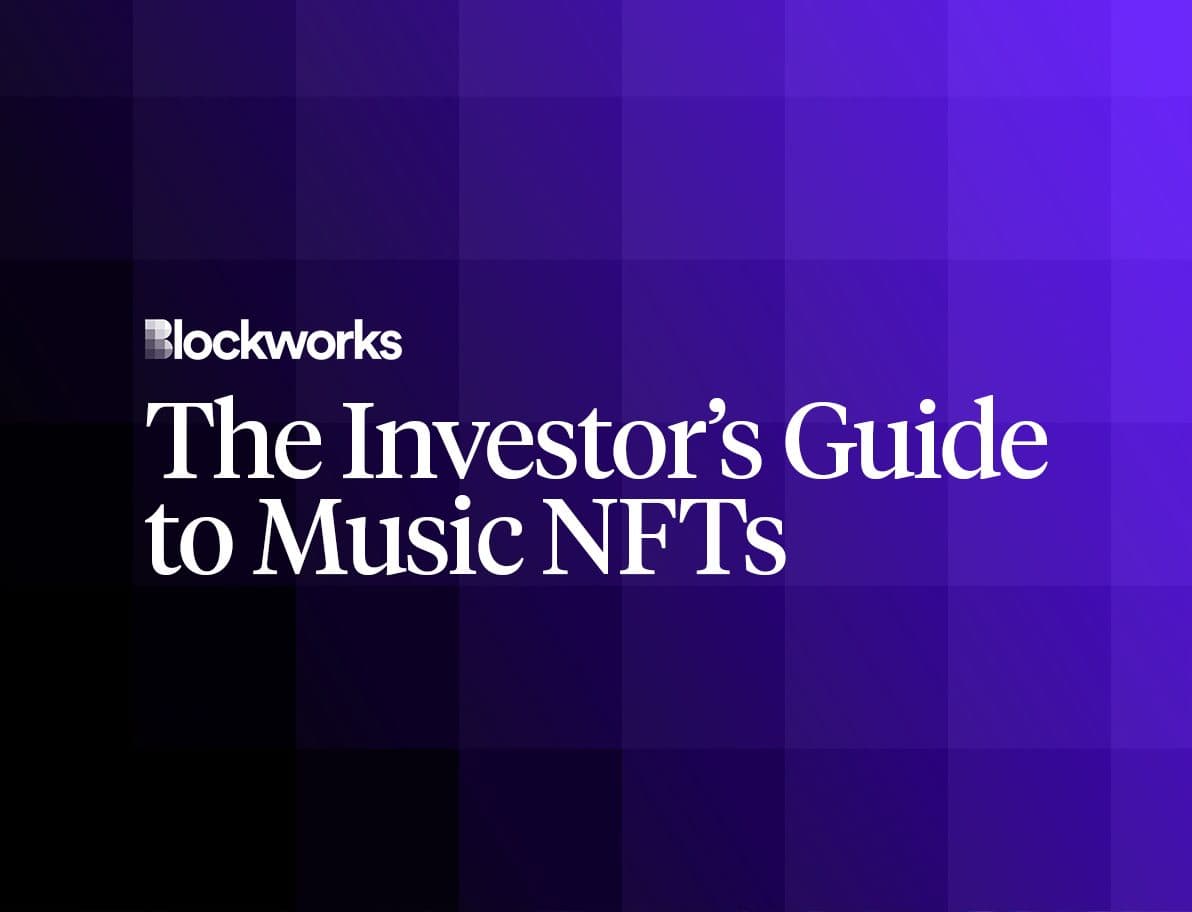 The Investor's Guide to Music NFTs by Blockworks
What are music NFTs, and how can one invest in them?
Want more like the Guide to Music NFTs? Scroll to the bottom for further reading and a list of other Blockworks Investor's Guides.
A quick primer on NFTs
Before we can get to investing in music NFTs specifically, we'll need to be clear on what NFTs are. If you're already familiar, feel free to skip to the next header.
Blockchains enable two primary types of transactable records (called "tokens") — fungible and non-fungible. 
Fungible means any two tokens are indistinguishable from one another and can therefore be exchanged with true one-to-one value. Most cryptocurrencies fall under this categorization. For example, there are no meaningful differences between my 1 BTC and your 1 BTC. So, if we dropped them in a bowl of BTC, shook it up, and fished them back out, it wouldn't really matter if we got our original ones back or not.

Non-fungible means tokens are intentionally marked with unique identifiers, so they can be distinguished from every other token in existence. You can imagine a use case by considering a bowl of Cheetos, rather than BTC. If I have one Cheeto and you have one Cheeto, but I've gone and licked mine, and yours looks exactly like the Harambe-shaped Cheeto that sold for $100k, you'll want to make sure you retrieve yours from the bowl.

That's all you need to know to understand this Guide to Music NFTs.  For deeper reading on NFTs in general, check out the Investor's Guide to NFTs.
The case for music NFTs
When hype takes hold of a market, as it has in the art NFT space, the best way to cut through the noise is to remember what lies at the core of the product/technology in question. Ask yourself, what can NFTs offer this industry, that community, this system?
NFTs are currently being memed as 'digital ownership'. But that's not all they are. Nearly anything that can use unique identifiers can use NFT tech. Not only for digital ownership, but digital access, digital community and digital identity.
Citizens of the metaverse can use NFTs for real estate, clothing and personalization. DAOs can use NFTs to mark specific roles for members to occupy, or even just to signal group membership in a personal way.
Collectors can expand their collections without worrying about rust, dust or storage. Venues can issue collectible admission tickets as NFTs. Art connoisseurs can digitally own pieces by their favorite artists. 
And music, as both an art form and a business, is being completely reimagined by NFTs, perhaps more than any of these examples.
Merchandising
PleasrDAO recently bought the only physical copy of the Wu-Tang Clan album "Once Upon a Time in Shaolin," recognizing it as the "ultimate protest against middlemen and rent-seekers of musicians and artists."
Music NFTs can do digitally what PleasrDAO did with the album. Digital album artwork, favorite lyrics and audio clips, even behind-the-scenes content or unedited sound bytes can be minted with unique identification to give collectors a new way to connect with the artist and express their interest.
On the business side, artists and venues can issue NFT concert tickets, which become collectible and tradable items, in addition to granting concert access. Transaction fees can be built into the smart contracts beneath the NFTs to pay artists a royalty each time one of their NFTs are bought or sold.
Ownership
Music NFTs give fans the opportunity to really own the music they love. Sound clips and digital artwork can come with streaming rights and smart-contract-disbursed royalty payments. One example of this in action is Royal, a music NFT marketplace that allows users to purchase shares of songs and earn royalties on the music they've invested in.
By purchasing unique non-fungible tokens, fans can support artists and artists can in turn include fans in the ownership of what they create. NFTs are turning the music industry into a collaborative symbiosis between artist and fan rather than an exploitative contractual system between label and artist. 
Distribution
Artists have historically gotten the short ends of deals in music distribution, with upwards of 50% of revenues often going to agents, lawyers and distributors. The uses for music NFTs described above vastly expand revenue sources for artists, and provide opportunities for even small artists to break away from label constraints.
This liberation is already in progress, with projects like Audius creating decentralized streaming platforms to distribute music without legacy systems. As Blockworks' Morgan Chittum reports:
Music NFTs, whether as merchandise, royalty portions or artist access, also provide a crowdfunding opportunity. Fans can invest in an upcoming album and receive NFT assets in return, so artists can produce work without relying on label funding. Fans then gain direct access to streaming, own early-stage collectible merchandise and, in some cases, even control a portion of streaming rights. 
How to invest in music NFTs
Music NFTs are creating a new, purer paradigm for the music industry that's better for fans and artists alike. The best investments are the ones that make the world a more enjoyable place without sacrificing profit, and the ethical investor understands that profit follows people in an ethically-conscious society.

So music NFTs make for an impactful investment vehicle, and the good news is, you're early. As of now, there are three primary ways to invest in music NFTs; funding NFT marketplaces, starting NFT collections and leveraging NFT funds. Let's take a look at each below.
NFT marketplaces
Earlier this year, Coinbase announced that they're launching an NFT marketplace, OpenSea hit $3B in monthly volume, even Visa is arming NFT creators. NFT marketplaces are popping up quickly, and the music industry is starting to follow suit.

There are already plenty of NFT marketplaces to choose from, many of which are publicly traded companies or organizations with native cryptocurrencies one can invest in.
Music NFT marketplaces differ from art NFT marketplaces in that they are created specifically to foster the relationship between artists and fans and not just to facilitate sales, so music platforms tend to vary culturally. OddKey by Steve Aoki and Todd McFarlane, or the previously-mentioned Royal, funded by a16z, are frontrunners in the movement.
NFT collections
Investors who want a personal touch to their portfolio can start an NFT collection by purchasing NFTs from artists they support.
While investing in a marketplace is similar to (and sometimes directly the same as) investing in a stock, starting a music NFT collection is akin to purchasing art. Aesthetic value, personal interest and collectibility must all be weighed according to one's individual priorities. 
NFT funds
As TradFi integrates Web3, NFT indexes are beginning to surface as risk-conscious alternatives. If a personal music NFT collection assumes too much risk, investors can look to offerings like the Bitwise NFT index fund for exposure.

Conversely, NFT collectors in certain parts of the world can use their personal NFT collections as loan collateral, for quick access to capital to offset the sometimes slower liquidity of NFTs.
Final considerations
Music is art, and NFTs are reimagining cultural and artistic expression. Investing in music NFTs isn't just a game of numbers; it inherently requires an assessment of the societal ethos, one's personal interests and pop culture.

Best practices for investing in music NFTs are simple – find a trend, artist or piece that resonates with you, then decide what mix of marketplaces, personal collections and funds fits your risk tolerance. Remember that in the decentralization of Web3, collaboration and community always win.
Finally, enjoy the process, and never stop learning.
Further reading
More on music NFTs
Here's How NFTs Could Disrupt a Heavily Centralized Music Industry
Steve Aoki, Todd McFarlane to Launch NFT Marketplace
NFT Music Platform Royal Secures $55m in Series-A Funding From a16z
More on NFTs
Exclusive: Why One Investor Bought an NFT of Wikipedia's First Edit for $750k
Coinbase Plans to Launch NFT Marketplace
Coinbase Wallet to Bring NFTs to Your Browser Extension
TikTok's Venture into NFTs, the Hype and Alleged Mess
ConsenSys Acquires Treums Team NFT Platform
Visa Partners with Former MLB Player to Arm NFT Creators
NFT Platform Nameless Raises $15m, Bringing Valuation to $75m
The Incarcerated Silk Road Founder's NFT Collection and the DAO Trying to Save Him
Nexo to Launch NFT-Backed Lending, Bitwise Debuts an NFT Index Fund
Sotheby's Reports $100m in NFT Sales, Attracts Younger Tech-Savvy Collectors
OpenSea Hits $3B in Monthly NFT Volume
Why Investors are Paying Millions for Virtual Land in the Metaverse
The content of this webpage is not investment advice and does not constitute any offer or solicitation to offer or recommendation of any company, product or idea. It is for general educational purposes only and does not take into account your individual needs, investment objectives or specific financial circumstances.