Crypto Insiders Ready for Final Stock Trades of a Brutal Year
A few major plays from prominent crypto bigwigs have pushed the total value of insider stock buys this year far beyond sales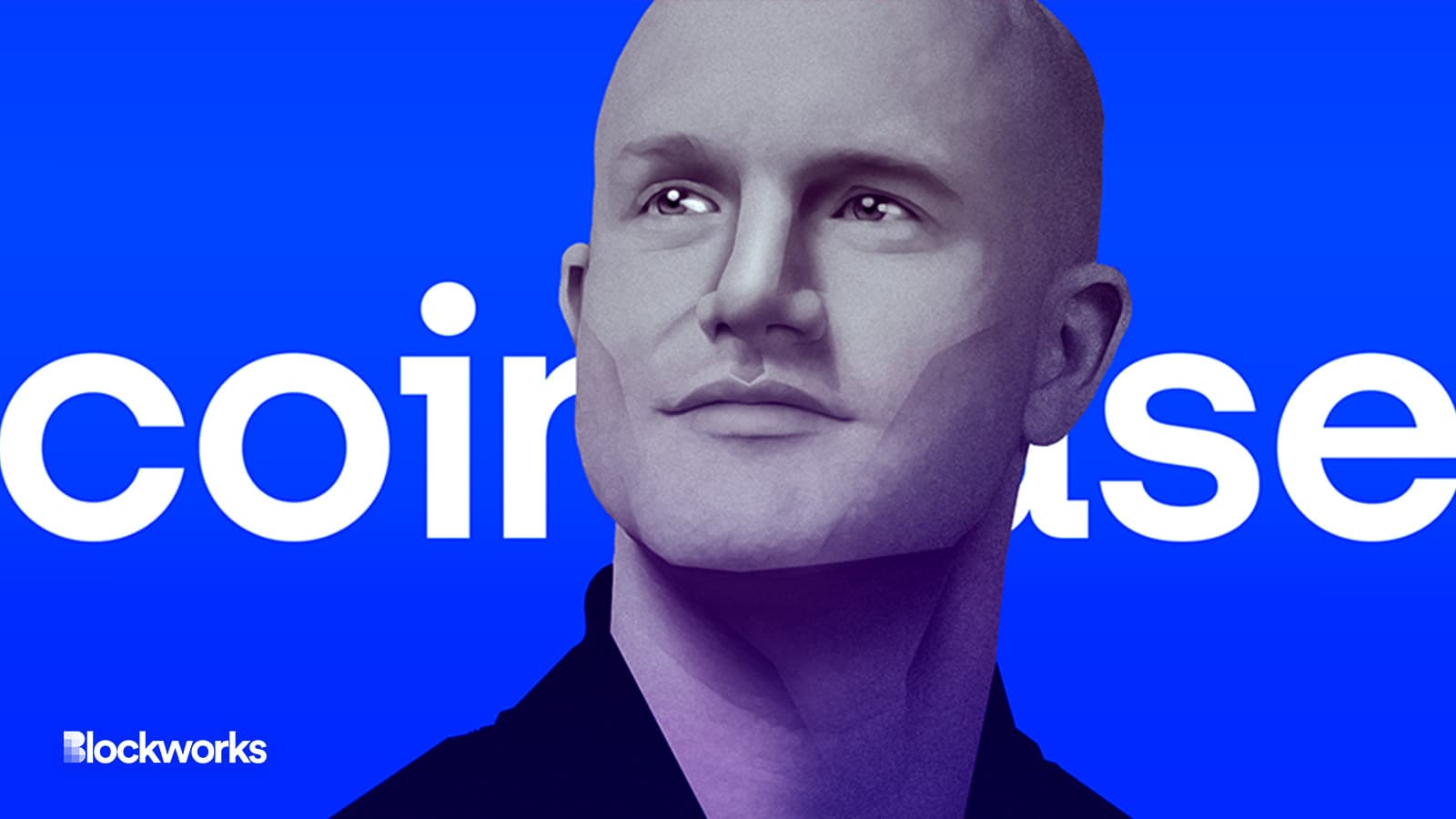 Coinbase CEO Brian Armstrong | Blockworks exclusive art by Axel Rangel modified by Blockworks
Insiders at public crypto companies are busy squaring away their final stock plays for the year, with execs at Coinbase, Marathon, Bakkt and others executing nearly $13 million in trades over the past month.
Most of those trades were sales.
Coinbase's executives led the charge by altogether selling $10.6 million in company stock since this time last month. Brian Armstrong, Coinbase's long-serving CEO, offloaded more than $1.32 million in shares between Nov. 21 and Dec. 12, for an average price of $44.43.
Armstrong in October pledged to sell 2% of his Coinbase stock to fund life extension and other scientific research. The top US crypto exchange's shares now trade 22% below Armstrong's most recent sale price, having recorded consecutive record lows this month as crypto stocks continue to take a battering alongside digital asset prices.
Coinbase Chief Financial Officer Alesia Haas cashed in even more, having sold more than $9.1 million in shares for $43.70 on average — representing 86% of all Coinbase insider stock sales over the past month.
General Counsel Paul Grewal and Chief Accounting Officer Jennifer Jones each sold smaller sums, worth about $80,700 and $95,400, respectively.
Bitcoin mining executives at Riot Blockchain and Cipher Mining also shifted stock. Riot Chief Compliance Officer Chad Everett Harris sold more than 75,500 shares for $4.15 a piece on average, bringing in $313,600. 
Cipher CEO Tyler Page got rid of far fewer company shares worth under $29,000, per OpenInsider data compiled by Blockworks, which references SEC filings.
Institutional crypto services platform Bakkt saw its own sales: VPC Impact Acquisition Holdings, a Victory Park Capital affiliate and 10% owner, jettisoned $124,000 in stock over the past month, bringing its total Bakkt sales for the year to nearly $1.8 million.
And while not a pure-play crypto stock, discount brokerage Robinhood clocked $1.76 million in insider sales across the same period. 
Bhatt Baiju, chief creative officer, sold the most with $861,000, followed by CEO Vlad Tenev ($780,000) and General Counsel Martin Gallagher Jr. ($122,000).
Most trades in this report were made according to pre-lodged trading plans filed with the SEC.
Crypto insiders have altogether bought more stock than they've sold
Insiders at just two public crypto companies Blockworks analyzed — Coinbase and Marathon — bought stock over the past month. Shopify CEO Tobias Lütke, who joined the Coinbase board in January, gathered an additional $1.52 million stake over the past month. 
Lütke has bought almost $7.2 million in Coinbase stock this year, split across regular weekly buys worth $396,000 on average. Lütke has overall collected 115,804 shares for $61.46 on average this year. 
Coinbase currently trades for $35.05, meaning Lütke is down 43% on his Coinbase buying strategy in 2022.
Marathon board number Kevin DeNuccio, who became a director at the leading mining firm last January, bought 70,000 company shares for $4.84 on average, representing a $339,000 trade. Marathon stock is now trading 20% below that price point.
In fact, the data shows insiders across the 12 public crypto firms analyzed have spent just under $98.2 million on their own companies' stock over the past year — double what they've sold.
Coinbase insiders have bought the most by far with $84 million, led by co-founder Fred Ehrsam with $76.8 million all by himself. 
Ehrsam sold 1.5 million Coinbase shares in the months following the firm's direct listing last April, fetching $328.18 on average to generate $492.3 million. Coinbase stock would need to surge 800% to reclaim that price.
Execs at bitcoin mining firms Terawulf ($10.85 million), Stronghold ($1 million), and Marathon ($556,000) also bet on their own companies, while those at software intelligence unit MicroStrategy acquired $1.5 million in shares between May and June.
Struggling bitcoin miner Core Scientific saw more sales than any other stock, with co-founder and Chief Vision Officer Darin Feinstein unloading $18.3 million in company shares across late May and early June for an average price of $3.05.
Core Scientific stock has sunk 92% since Feinstein's sales. The firm warned investors it was close to bankruptcy last month and would fail to meet debt obligations.
Updated Dec. 19, 2022 at 2:38 pm ET: Added context about Ehrsam's trades.
---
Get the day's top crypto news and insights delivered to your email every evening. Subscribe to Blockworks' free newsletter now.
Want alpha sent directly to your inbox? Get degen trade ideas, governance updates, token performance, can't-miss tweets and more from Blockworks Research's Daily Debrief.
Can't wait? Get our news the fastest way possible. Join us on Telegram and follow us on Google News.
---