Stablecoin shakeup sees DAI flip BUSD
The percentage of stablecoins in the total crypto market capitalization has seen a sharp rise in the past two months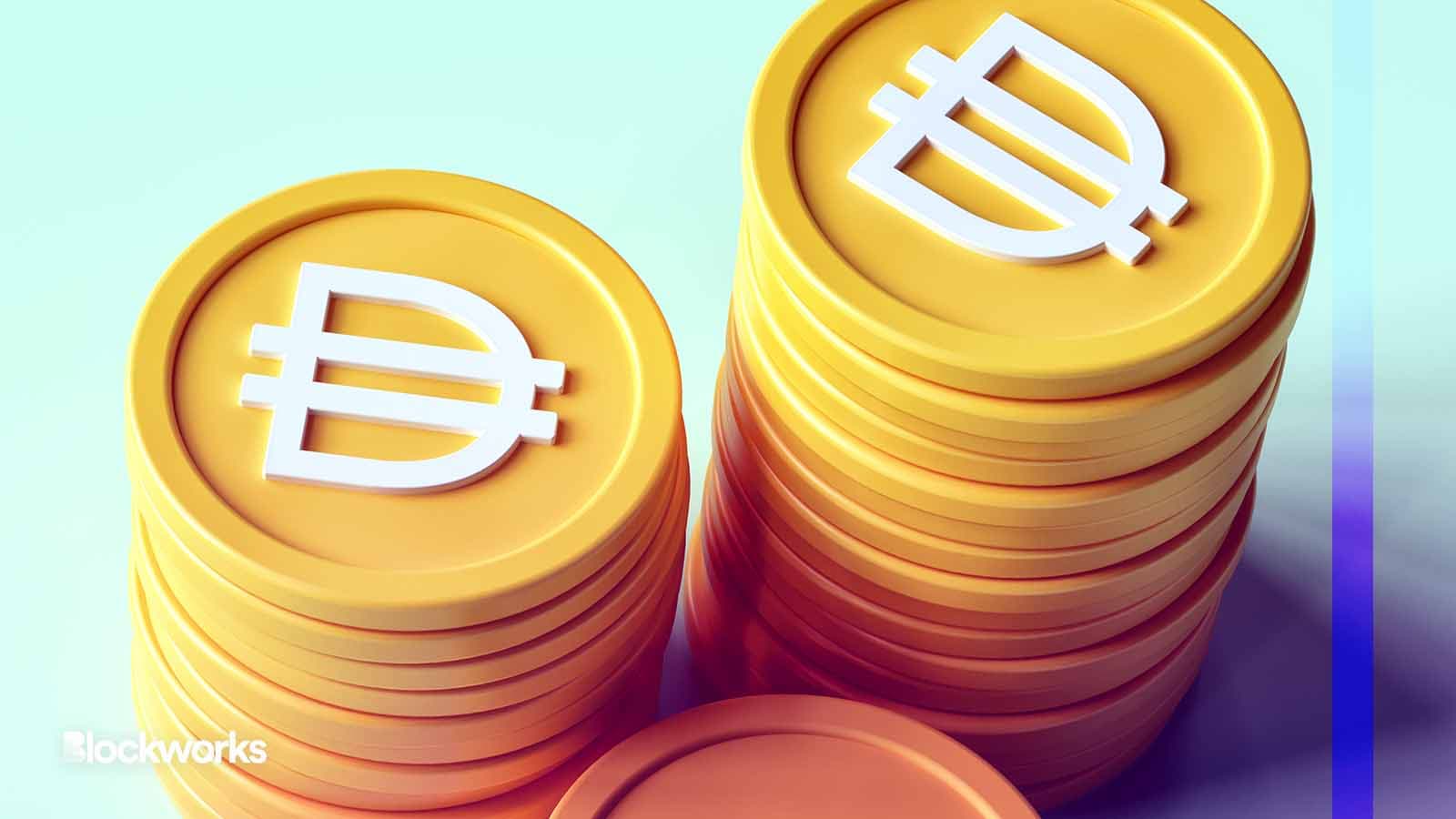 dRender/Shutterstock modified by Blockworks
The crypto market stabilized Friday, buoyed by news of BlackRock's entrance into the bitcoin ETF race and weakness in the US dollar.
The percentage of stablecoins in the total crypto market capitalization has seen a sharp rise in the past two months, accelerating over recent weeks to its highest point since January 2022.
In crypto, when most people refer to "the flippening," it is, of course, a reference to the relative market cap of bitcoin and ether. But there was a stablecoin flippening Friday, as the market cap of DAI exceeded that of BUSD for the first time since February 2021.
MakerDAO passed an executive proposal, Thursday, which included an increase to the DAI Savings Rate (DSR) from 1% to 3.49%. The new interest rate is tied to a base rate that incorporates three-month US Treasury bills as a reference.
The change will also affect interest rates across lending markets for Maker's home-grown version of Aave, Spark Protocol, which launched last month.
The proposal further modified the stability fee for Rocketpool staked ether (rETH) to match that of its larger rival Lido (stETH). Forum discussion of the proposal noted an improvement in on-chain liquidity for rETH among the factors meriting the change.
"We believe this collateral is strategically important for the future of Maker and the ambition to achieve sufficient collateralization with decentralized assets as it has great potential to be one of the largest in the Endgame Ecosystem," Maker's Risk Core Unit Team wrote.
Endgame is Maker's decentralization game plan, which divides decision-making across various specialized sub-DAOs.
The proposal is subject to a waiting period and will take effect no sooner than June 19 at 8 am ET.
The market cap for DAI now sits at $4.59 billion and remains in a downward trend, according to protocol tracking site daistats, making it the third-largest stablecoin behind Circle's USD Coin (USDC) at $28.21 billion.
Tether (USDT) now accounts for more than two-thirds of the stablecoin market, a level of dominance it has not enjoyed since April 2021. That has come primarily at the expense of USDC and Binance USD (BUSD) — which is being phased out by issuer Paxos.
The US dollar index (DXY), which tends to be inversely correlated to crypto asset prices, is down about -1.25% from the start of the week. Bitcoin was off about -0.6% for the week as of 12:30 pm ET, but has bounced about 4% from Thursday lows at just under $24,800.
The top crypto asset has been in a downtrend from its mid-April 2023 peak by roughly -17%, but remains solidly up on the year by 54%.
---
Don't miss the next big story – join our free daily newsletter.