Global X Adds to Stack of Bitcoin ETFs Proposed to SEC
New York-based thematic fund issuer's filing comes a week after launching blockchain ETF.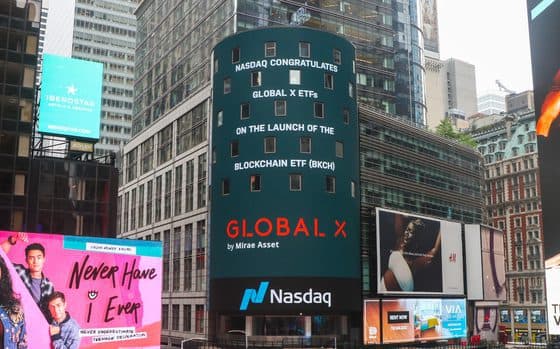 Global X launched a blockchain ETF on July 14. One week later, it filed for a bitcoin ETF with the SEC.
key takeaways
Thematic fund manager's filing follows Ark's similar proposal, SEC's postponement on decisions of bitcoin ETF approvals.
ETF research director at Zacks Investment Research says first-mover advantage could be wide if bitcoin ETFs not approved on same day.
The SEC's hesitation in greenlighting a bitcoin ETF is not stopping issuers from filing to launch them.
Global X, a New York-based fund group with more than $35 billion in assets under management across about 80 ETFs, is looking to bring to market the Global X Bitcoin Trust, according to a July 21 SEC disclosure.
The proposed ETF, which plans to hold bitcoin, would trade on the Cboe BZX Exchange, the filing states. There is no ticker or expense ratio yet listed for the product.
The fund becomes the latest such product added to the stack of proposed offerings that US regulators are considering. Ark Invest partnered with Switzerland-based 21Shares to file for a bitcoin ETF last month. The SEC has delayed its decision in recent weeks on the bitcoin ETF applications of earlier registrants, such as VanEck, Valkyrie Digital Assets and WisdomTree Investments.
Global X's plans come a week after the firm launched its Blockchain ETF (BKCH). The fund seeks to invest in companies involved in digital asset mining, blockchain transactions and applications, digital asset hardware and blockchain integration.
At the time of launch, Coinbase Global was BKCH's top holding, at about 13%, with Marathon Digital Holdings and Riot Blockchain following at about 11%. Voyager Digital carries a nearly 10% weighting in the fund.
"Sponsors continue to file for bitcoin ETFs and some like Global X and VanEck are doing both [bitcoin and blockchain]," Mishra said. "In case a bitcoin ETF is not approved, then at least they have one product which can have indirect exposure to crypto to their clients."
When could it be approved?
Optimism around the SEC approving a bitcoin ETF in 2021 led to firms filing to launch such a product, said Neena Mishra, director of ETF research for Zacks Investment Research.
Though the SEC this year added commissioner Gary Gensler, who has a background in blockchain technology, Gensler's recent comments around the lack of investor protections on crypto exchanges have led some to believe a bitcoin ETF won't be greenlit until 2022, Mishra added.
"I would never have imagined that I would be in this situation where we would not yet have approved one and other countries are moving ahead," SEC Commissioner Hester Peirce said during The B-Word's regulatory panel on Wednesday. "We should view it as trying to give people the widest range of options possible."
Several bitcoin ETFs hit the market in Canada earlier this year, and the first ETF in Latin America with 100% exposure to bitcoin launched in Brazil last month.
Mishra noted that issuers in the US also continue to file for bitcoin ETFs in the hope that the SEC will approve them all at the same time. If not, the first fund or funds will have a significant "first-mover advantage" above the others, she added, with the exception of Ark, which she said will likely be attractive to investors no matter when it launches. 
Canada's first bitcoin ETF by Purpose Investments, which launched in February has gathered $890 million in assets (CAD). Meanwhile Evolve Fund Group's bitcoin ETF, which launched a day later, holds about $68 million. 
"I think [the SEC] would want to appear impartial since they have been delaying and postponing the applications for such a long time," Mishra said.