Brinks Trucks to Bitcoin: Golden Egg Club is Hatching Ordinals
Physical golden eggs tied to NFTs are the latest bet placed via Bitcoin ordinals digital collectibles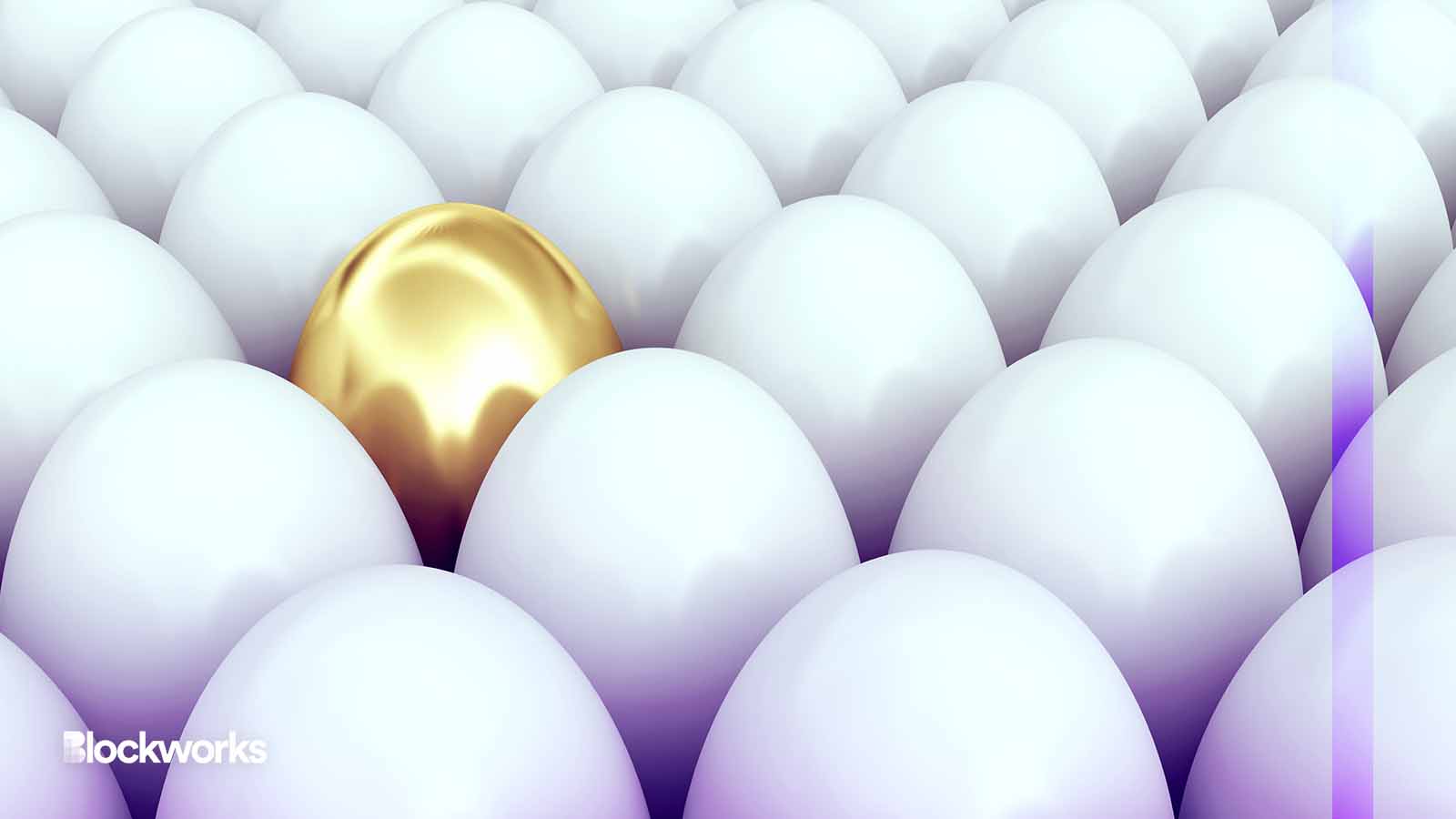 Malashevska Olena/Shutterstock modified by Blockworks
Let them eat digital gold.
That's the general consensus, at least in a Web3 sense, behind one of Jeremy Fall's latest NFT collaborations: Golden Egg Club, which bills itself on OpenSea as a "private membership inspired by the traditional country club." 
The club was created in partnership with the South African artist Johnathan Schultz, and it's bringing literal physical gold eggs to the blockchain war party. 
The collection on Tuesday is officially set to launch on Bitcoin via Ordinals, the NFT protocol that hit Bitcoin's mainnet in January. The first Bitcoin-powered digital collectible went up for sale on Monday, with a minimum bid of 3.1 million satoshis ($944). 
Golden Egg Ethereum NFTs had already been listed since September 2022. Those Ethereum tokens can each be redeemed for a 24 karat gold egg sculpture, but the 333 Bitcoin Ordinals won't be backed in the same way. Instead, the artists are raffling off three of the eggs for Ordinals buyers.
Ordinals went live to an ensuing dose of controversy fueled by debate between bitcoin maximalist factions — as well as cryptocurrency industry participants more broadly. And bitcoin's relationship to gold as a store of value has continued to make headlines. 
Now, the club is showing up on the Bitcoin NFT scene.
The community is pitched as the kind of place where buyers with means can chill in a "new age virtual club where chipped nail polish and designer sneakers live alongside suits and sweatpants." 
Floor prices for Ethereum-bound Golden Egg Club NFTs are around 1.05 ETH ($2,200).
The collection was co-created by Fall and Schultz, who is used to working with precious metal mediums. Schultz, now based in Miami, crafted the physical golden eggs that are tied to each NFT purchase. 
Fall and Schultz in separate interviews told Blockworks that driving home the community's networking capabilities is crucial to getting momentum behind in-person and online exclusive events — without coming off as a literal digital country club. 
The ecosystem has already put on a number of real world events, according to Fall, and has plans to get more of those on the books in the coming months. Some of those concepts include pickleball match get-togethers, "real life pop ups" and dinner parties. 
"It's a way to bring people together that are all connected through our creativity and Web3, and it's [driven by] people in Web3, like very involved founders, creators, artists — and it's also people who are interested and in the work from a business perspective or just collectors," Fall said. 
"You don't have to be deeply ingrained in Web3 to want to be a part of it. We wanted to create a club that welcomes people [who] are also trying to get in, but might have an interest in just connecting with people in that world. They might just be interested in art."
Gold on gold on gold 
One partner on the physical gold product's launch, Courtyard, struck its own partnership in February with Brink's Inc., the business behind the armored Brinks trucks that move mounds of cash (or eggs of gold?) from location to location. The Golden Egg NFT collection falls under Courtyard. 
If it all sounds like Web3-meets-vintage-Silicon Valley for a drink, joined by Hollywood, Wall Street and artists everywhere, well…maybe that's the point. 
The collection, Fall said, is one big effort to tie together a bunch of ambitious business lines the serial entrepreneur has become involved in over the years. 
Fall, who is based in Los Angeles, made his career in the restaurant industry, and then he started dabbling in all kinds of startups outside of the restaurant industry, ranging from entertainment to technology to fashion — all of which, he said, are sectors finding their own Web3 footing. 
Even as US public perception of the crypto industry more broadly has taken its fair share of regulatory bumps and bruises in 2023. 
Golden Egg Club NFTs were 222 in number when they were minted on Ethereum in the fourth quarter of last year. 
In the duration, 222 have been vaulted and tied one-to-one to a real world, physical egg crafted out of plated gold, which Fall pegged as worth $5,000 apiece in January in a tweet thread describing updates to the project.
'Never going to zero'
Schultz, who is also the artist behind NFT collection Gemesis, in a video interview said that formulating the Golden Egg Club started accidentally, "like an experimental joke." 
Pointing to the gold-plated hat he wore on his head that he designed, Schultz said that he started crafting physical gold-plated items after friends bet him he couldn't properly pull it off. 
Golden Egg Club was born later, he said, when Schultz became increasingly interested in exploring opportunities to tie physical gold to blockchain investments with actual utility behind each use case. 
And, beyond the investment thesis, Schultz said he's into the idea of a genuine Web3 community built with networking at its core. 
That community, according to the collections' OpenSea listing, is "a place where sipping mimosas with a sweater tied around your neck is the norm, as long as you're not an asshole."
Asked why he got behind this project to craft these physical and digital golden eggs in this most recent crypto cycle, Schultz said that there's "no better time than now to actually put physical [assets] and gold behind" Web3 projects.
"If you take a look at what's been happening in the past, even the blue-chip projects have been just folding," he said. "It's kind of crazy how they've dropped. And when you look at what the physical side brings — and especially if you're incorporating precious metals like gold — then I think that brings extra tangible assets, in a way…So, you're never going to go to zero."
Updated April 18, 2023 at 6:31 pm ET: Corrects the purity of the physical golden eggs, as well as the number of NFTs minted on Ethereum. Also clarifies the relationship of the company Courtyard to the NFT collection.
---
Get the day's top crypto news and insights delivered to your email every evening. Subscribe to Blockworks' free newsletter now.
Want alpha sent directly to your inbox? Get degen trade ideas, governance updates, token performance, can't-miss tweets and more from Blockworks Research's Daily Debrief.
Can't wait? Get our news the fastest way possible. Join us on Telegram and follow us on Google News.
---