L2s rooted in Bitcoin's PoW could bring global scalability to blockchain's core values
Merge-mining layer-2s with Bitcoin enables incredible network speeds to be achieved without sacrificing security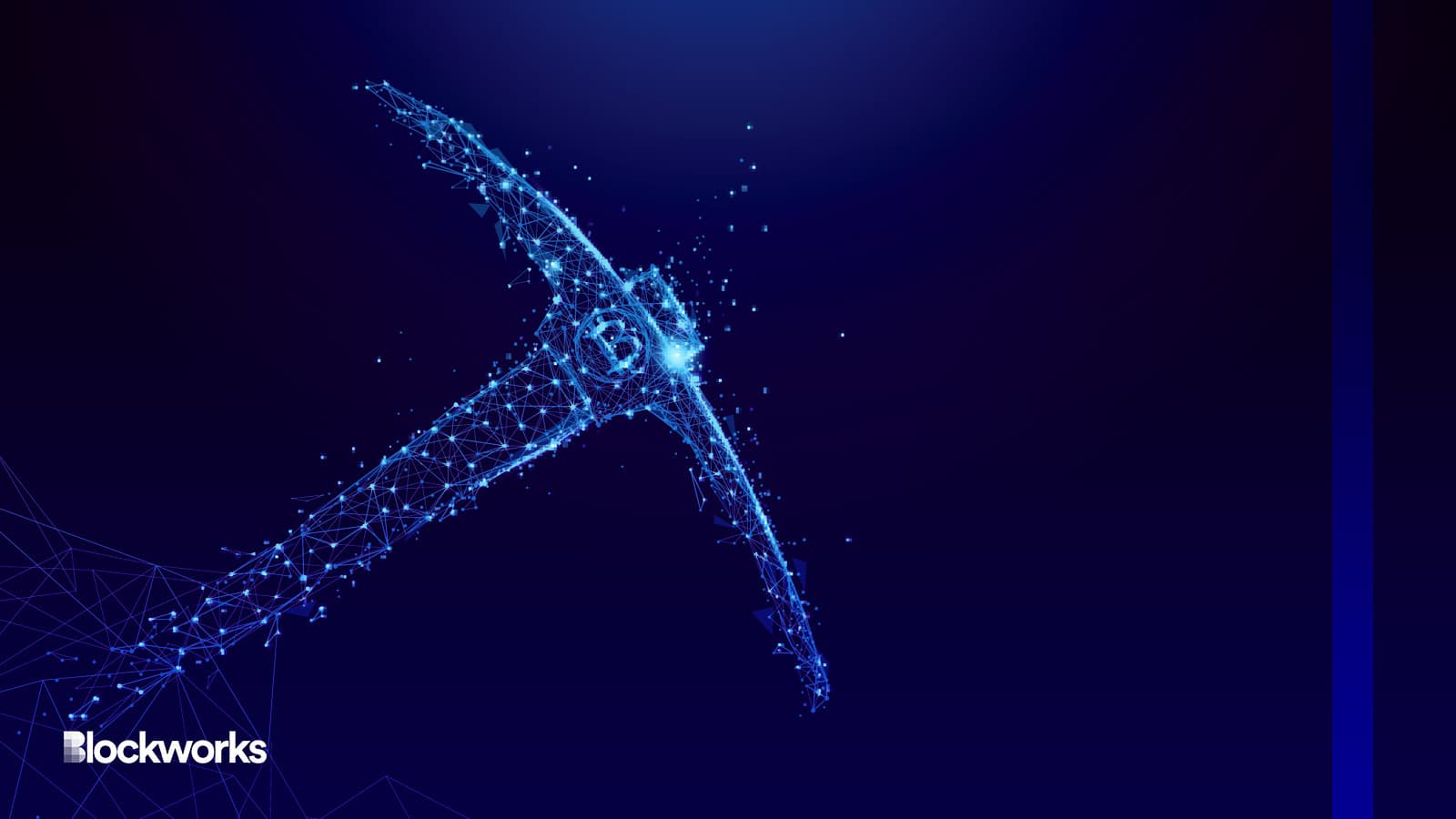 Illus_man/Shutterstock modified by Blockworks
Blockchain technology has the potential to revolutionize many industries, but scalability remains a major challenge that must be addressed. The growth of user count and transaction volume continues to demand increased capacity from networks, leading to congestion and high fees on many popular blockchains, rendering them impractical for mass adoption in their current form.
One now-emerging solution to the scalability problem is being pioneered by Syscoin, an OG crypto project that has been around since 2013 quietly building for the endgame of crypto. The Syscoin team holds the original core values of blockchain—first established by Satoshi Nakamoto—near and dear to their hearts, and they aim to scale them to meet the demands of a global population.
Syscoin is an open-source public project, protocol, and network that combines the best of both worlds from Bitcoin and Ethereum. It was the first blockchain to implement a proof of data availability (PoDA) solution on mainnet, making it a leading contender for the future of blockchain scalability. This approach involves using two separate blockchains in harmony, each with its own strengths and weaknesses. One chain can be optimized for security and decentralization, while the other can be optimized for speed and scalability.
The Syscoin network also features a number of other innovations that make it well-suited for mass adoption. These include:
Merged mining with Bitcoin: Syscoin is merge-mined with Bitcoin, which means that it shares Bitcoin's security without requiring any additional energy expenditure.
Rollux: Rollux is a layer-2 scaling solution that uses the industry's only layer-1 proof-of-data availability solution to achieve incredible speeds without sacrificing security and decentralization.
Cost-savings: Syscoin has achieved greater efficiency within its ecosystem because it has all been tailor-made by the same team, allowing them to offer more competitive, highly affordable cost-savings for users.
On June 28, Sycoin formally announced the launch of Rollux on mainnet, a major milestone in the project's history that delivers on its "promise of speed, decentralization, security, affordability, and scalability," according to CEO Jagdeep Sidhu.
---
Syscoin provides the foundation for Rollux to shine
Syscoin is a modular, dual-chain layer-1 that has been designed with security, decentralization, scalability, and interoperability in mind — doing so has resulted in the creation of a blockchain that could bring forth the metaverse, smart cities, and other core pillars of the future of technology.
The dual-chain layer-1 architecture of Syscoin provides incredible benefits that have built a strong foundation for developments like Rollux to be constructed upon, while also providing users with leading-edge tools of both primary blockchain paradigms (UTXO and EVM).
Syscoin solves the blockchain trilemma using the "most efficient negotiation" with the least trade-offs, as outlined below:
Security
By merge-mining, Syscoin lends greater utility to the Bitcoin network and further incentivizes miners while adding Bitcoin's leading security to the Syscoin network. The network is further safeguarded against attacks such as selfish mining through multi-quorum chainlocks. Miners and masternode operators are incentivized to contribute to the network by receiving rewards for providing valuable real-world services. Notably, merge-mining Syscoin with Bitcoin does not incur any additional energy costs. 
Network bloat 
Syscoin's modular architecture ensures scalability to cater to the needs of global mass adoption. It is specifically designed to optimize blockchain activity, resulting in ultra-efficiency and minimal data footprint. This design leads to increased capacity, higher throughput, and reduced costs across the board, especially with Layer 1 data availability.
Speed
Syscoin offers a range of tools that ensure speedy asset and smart contract functioning at a minimal cost. These tools are compatible with both blockchain paradigms – Rollux for EVM-based assets or contracts, and Z-DAG for UTXO-based assets. This compatibility enhances the versatility of the system, as users can choose the best blockchain paradigm for their specific needs.
---
Rollux brings the vision of Syscoin to life
Rollux is the culmination of years of R&D, providing unprecedented scalability that sets the stage for mass adoption and the future of the Syscoin ecosystem. It uses layer-2 rollups and the industry's only layer-1 proof-of-data availability solution to achieve incredible speeds without sacrificing security and decentralization. Each transaction costs a small fraction of a cent, so any developer can cheaply scale their dapp.
Rollux ensures high levels of security and decentralization through merged mining with Bitcoin, making it the only major rollup to follow this strategy. Its arrival is a monumental event for the blockchain industry, as it effectively tackles the persistent blockchain trilemma, paving the way for future growth and mass adoption while retaining the core principles that underpin the value of blockchain.
Prior to the mainnet launch of Rollux, and supplementing a wide selection of third-party dapps by partners, a cohort of incredible first-party projects from SYS Labs, the company behind Rollux, were already developing on it in order to provide a welcoming ecosystem for new users. Here are a few examples.
Luxy
Luxy is a Multichain NFT marketplace that allows users full functionality with NFTs (create, buy, sell, etc.), and also enables collection owners to set up automatic royalty distribution across stakeholders in the project. The platform is the first multichain NFT marketplace that is green, scalable, cheap, and fast, all while moving forward with a focus on 3D assets to power Web3 video games and the metaverse.
Pegasys
Pegasys is a DeFi protocol that enables users to earn interest on their crypto assets. It offers a variety of features that make it an attractive platform, including:
High yields: Pegasys offers high yields on crypto assets, up to 20% APY.
Low fees: Pegasys charges low fees for transactions, making it a cost-effective way to earn interest on crypto assets.
Yield Farming: Pegasys offers a variety of yield farming strategies, including single-asset staking, liquidity mining, and yield farming pools.
Liquidity: Pegasys is a liquid platform, meaning that users can easily buy and sell their assets.
Staking: Pegasys allows users to stake their SYS tokens to earn rewards.
Pali Wallet
Pali Wallet is a web and mobile (iOS & Android), non-custodial wallet similar to MetaMask, but custom-built to make the most of the Syscoin ecosystem, whether NFTs or its utility token, SYS, on any of the three blockchains (UTXO, NEVM, or Rollux). 
Additionally, SYS Labs has a number of products in the works set to make the most of Rollux. So far they have announced:
SuperDapp is an AI-enhanced social dapp akin to Telegram or WeChat with built-in non-custodial wallet, crypto on-ramps and off-ramps, and online retailers like Tryvium Travels. Powered by GPT 4, its AI personal assistant aims to make everyone's life simpler whether you're planning a vacation, shopping, or sending crypto to a friend.
DAOSYS is SYS Labs' solution for enterprise. Automate the hyper-efficient allocation of capital to streamline your organization to compete at any scale, from sole proprietor to international conglomerate.
Camada is a regulatory-compliant trading solution for individuals and institutions. Enjoy the promise of Web3 decentralization and self-custody within evolving legal frameworks automatically.
---
Rollux is set to drive the future of Syscoin
With the mainnet arrival of Rollux now completed, a new benchmark for EVM-rollup solutions has been established, one that surpasses all industry standards in terms of speed, scalability, and affordability. With unmatched throughput capacity and the fastest processing speeds, Rollux offers the most economical user experience, allowing for the lowest transaction fees. 
Click HERE to get started using Rollux, and be sure to join the Rollux Discord to connect with other ecosystem builders and participants. 
This content is sponsored by Syscoin.
---
Don't miss the next big story – join our free daily newsletter.