NFTs Are a 'Trojan Horse' Coming at Record Labels
News analysis: Everyone from a former Beats by Dre engineer to omgkirby is getting in on the NFT music game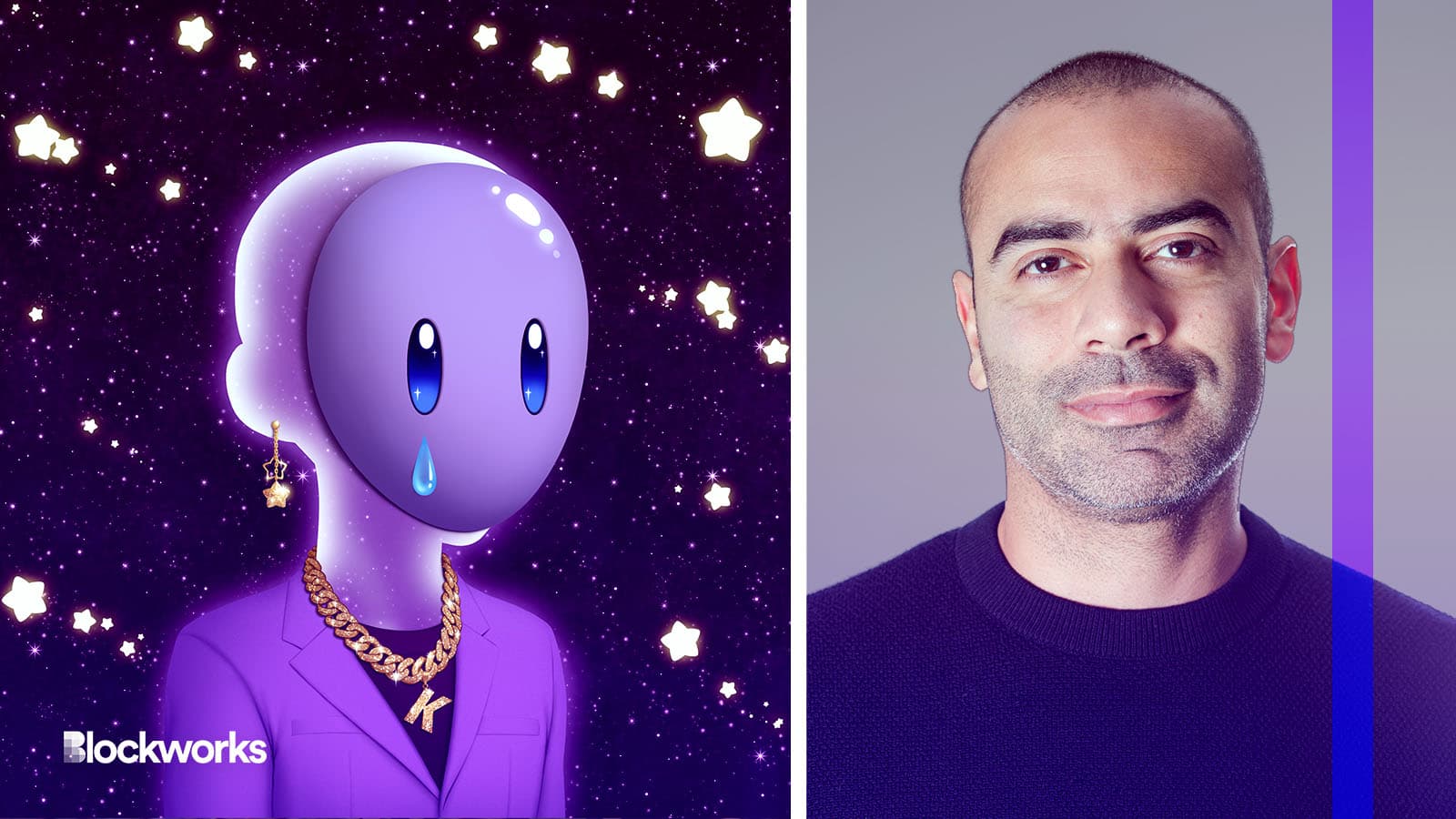 Kirby (of omgkirby) and Matt Colon; Source: Chapter 2 Agency
Web3 used to think it could take on Spotify.      
Scores of up-and-coming streaming services not so long ago genuinely believed their motley assortment of (often brilliant) degens had what it would take to unseat the legacy streaming giant, as well as its competitors: Apple Music, Tidal & Co. 
Such bold aspirations ought to be applauded, but they were never fit to last, really. 
Now, scratch a record, drop a beat and check today's top music NFT charts, err projects and startups.  
Early days of a revolution
They're finding niches and real world use cases, funneling down the big business of music into a few key areas that actually move the needle for consumers. They're after emerging artists and their would-be fans — they would be fans, that is, if they could actually find the tunes. 
See, here's the problem with our Spotify addiction. Here's the problem when you can cough up ten bucks a month and effortlessly access just about every song ever recorded. Here's the problem when you — the record label — pay unknown artists a pittance. And here's the problem when you — the streaming service — pay even Taylor Swift fractions of a cent every time "Shake It Off," well, shakes it off. 
Call it what you will, fellow fans. Inundation of choice. Decision-making paralysis. Music ADD. You know the feeling(s).    
It's tricky to speak for the likes of artists, emerging Web3 music platforms and traditional record labels (with NFT dealings) driving what is the early days of revolutionizing a stubborn, sometimes stuck industry. It's along the same lines of the advent, and ensuing mass adoption, of streaming services — which broke the mold of the music every bit as much as Steve Jobs introducing the iPod and the Walkman hitting the streets for the first time. 
No small number of the most innovative startups — the vanguard of what they hope will go down as a seismic shift in how we listen and to whom we tune in to — are embracing a model that isn't exactly Web3-or-bust (the same way it's Bitcoin-or bust-for maxis, and the same way it's crypto-or-bust for the crowd that can't stand Wall Street lifting one finger when it comes to digital assets.)  
One idea is, rather, to take the smarter elements of what we'll call Web2 music, refine them further for crypto's plugged-in masses and weave in a number of savvy blockchain-based applications to collectively power a genuinely new thing.
There's also the reverse approach: start with a Web3 base, then incorporate traditional artistic elements that have historically worked well (or at least worked OK) for both artists and fans, plus the growing number of counterparties that have increasingly crept between them. 
'Listen to earn' on up n' up
Here's one example of one of those promising ideas. SAN, an emerging "listen-to-earn" NFT platform with a hardware twist. Its founders are betting they can tackle one of those long-standing music industry dilemmas: how to discover the artists you've never heard of — and compensate those yet-to-make-it-big vocalists accordingly and appropriately. 
SAN also aims to incentivize its users and includes mechanisms to protect their privacy, an overture to growing concerns centered around Web3 safety. That hardware twist? High-end headphones crafted by David Leung, formerly a key engineering executive behind the original incarnation of Beats by Dre. 
Leung has pioneered shipping models to interested audiophiles and is preparing to ramp things up this year. For the hardware, it's the "little tech things" that are important, he said: ergonomics, for one, down to the "seal in the ear."   
But the headphones, bass-bumping as they may be, are still just "one single piece in our roadmap," Leung told Blockworks. 
There's a longer-term play, one that hinges upon aggressively going out and grabbing a significant slice of the burgeoning sector. Leung, who knows the likes of Dr. Dre and Jimmy Iovine, drew a snappy parallel for SAN's road ahead. 
Remember Pokémon Go? The app that took over the streets of Manhattan and most any big city you'd care to name, seemingly out of nowhere, going on a decade or so ago? 
SAN needs to "constantly update and build in more value over time" for both its headphones and its NFT-streaming platform as a whole, per Leung. One key way to do that — and one SAN is working on refining — is to get to the point where "you walk down the street, and you find sounds and find songs where you can only listen to the newest track in a certain area. Like Pokémon Go, no?"  
Put another way: "Take real-life music experiences and integrate them into what is typically a solo experience," Leung said. 
What Web3 Makes Possible
"A lot of people think that music NFTs are gonna' topple the big, bad giants of the music industry. And the reality is that that's going to take quite some time. As opposed to trying to take down … the labels in the traditional industry, the way that music NFTs are going to shape the industry is in the form of a Trojan horse."
Well said, Gino The Ghost — a pseudonym for a fellow who lives in Hollywood and has dabbled in a little bit of everything, music-wise. He's written for the Chainsmokers, produced for a number of big-name musicians, and has delved heavily into the music NFT world. 
It's all ultimately about what Web3 allows for, he said  — and whether the labels may as well be lobsters in a pot in front of a digital assets-driven steamroller, as well as how much of music now is like "fast fashion," how there's "a lot of it," how it's "here, then it's gone.'
"You know, it's built in shitty warehouses, and the fabric sucks, and that's polluting everything, right?" Gino said. "And, so, that trickles down from the very top to the very bottom. So, the fan experience is shit, too, because they're not actually connecting with the music or the artists." 
None of this is intended as an indictment or generalization of today's artists, by the way. In some ways, there's more truly needle-moving musicians dishing out unique sounds than ever. In others, those same innovators have been suppressed by record label culture and real struggles when it comes to figuring out how to scale Spotify's charts, crack the Top 40 or even just cultivate a following.
Speaking of Spotify, the streaming giant has reportedly explored its own NFTs, which would allow artists to display and sell digital collectibles to support their work. 
OMG to Music DAOs 
If you're looking for a real-life and related use case, look no further than omgkirby, one of the earlier — and, now, one of the more successful — melody-oriented DAOs. The decentralized collective, headed by an anonymous music industry veteran, pumps out synthy twists of popular tracks.
It's been a big business, supporting a slew of nascent artists and their fans. That's true in a number of Web3 ways, including spinning up a series of digital collectibles that have led to a newly sustainable business model. And omgkirby has struck a number of digital asset partnerships, including listing NFTs on OpenSea. 
The musician behind the venture said they started the entity after realizing that "music is still an industry that's run by a lot of archaic and old systems that are kind of clunky," adding that the sector is set up that way "kind of by design."
Still, there are Web3 problems aplenty. There are scams and bad actors, rug pulls and general malfeasance. 
Those have started to fade in a big way, though, over the last year or so. Even if, as omgkirby said, "We're still a while away from mass adoption." 
To get there — where and when industry titans either incorporate NFTs into their day-to-day dealings, or else lose their edge — the "fluff in the space," per omgkirby, is going to require momentum to keep building around use cases that are both (relatively) easy to grasp and easy enough to execute.  
A few of the more compelling such cases now include artists recouping royalty payouts on their NFTs; giving fans behind the scenes access to shows and meet and greets; fan-purchased digital collectibles that grant ownership rights (in part or in full) to a song or album's intellectual property. 
The latter is a key component of omgkirby's platform. 
"The idea of creating original music, with the song and dance and machine and algorithm, and fans and holders can own their own song of mine, that they fully own — and can do anything and everything they want to do with it — creates a much deeper connection to any of my fans than I could possibly imagine," omgkirby said. "In my opinion, it's probably the deepest connection you could create."  
Matt Colon, who has repped artists including Steve Aoki and has more than a decade under his belt when it comes to managing talent, first got into digital assets in 2017 or 2018. That's when a co-worker at what is now the talent agency YM&U Group got Colon, the firm's global president of music, into the basics: buying and selling bitcoin. 
Colon picked up on the potential for NFTs in music earlier than most. He read the writing on the wall as some of the earliest (and, in hindsight, most notable) instances — including tapping digital collectibles for ownership of physical cassettes and records — started gathering steam. And money. 
All of which added up to an unexpected curve ball.
"The labels were playing catch up, trying to understand how they missed this and trying to figure out what their [intellectual property] rights were," Colon said. "And they had no rights."
Don't fight them. Join them.

That's exactly what Colon did, kick-starting a metaverse that used NFTs as a means of "digital authentication of membership in a community network," a "membership club" meets "frequent flier miles," situation. 
He and his company had tried to do a Web2 version of that membership club that "didn't work out." Web3 iterations of Web2 blueprints have a bit of a branding problem. Colon is now engaged in talks with "one of the biggest bands in the world," which he declined to disclose. That band asked their fans if they wanted NFTs that could have given them a number of perks. 
Eighty percent of those fans said no when asked if they wanted NFTs. When the same question was phrased as "digital collectibles," 70% said yes.
The evolution that even got us to the point where the masses would seriously consider NFTs has been brewing for a while. As Linus Chung, vice president of product at Origin Protocol, put it, "you're always thinking about how to onboard the masses."
Chung has worked on multiple NFT music initiatives, and many of them have gone through a number of versions and incremental upgrades before becoming a defined product and finding product market fit. To start, they weren't even all NFT projects, which Chung rolled out in early 2021 via an app that auctioned off a "digital representation" of a top album by 3LAU, who is now a major player in the sector. 
"The original vision, actually, was like a gig economy, like a decentralized Uber or AirBNB," Chung said. "And we recognized that we were building it really, really early, but when NFTs came out, we really looked at that as a key to really accelerate our vision, right?" 
SAN's vision is an interesting one. 
Here's how it works: Users mint an NFT to gain access to the platform — SAN Sound — allowing authenticated listeners to tune in, without having to further reveal their identity. After the NFTs are minted, users can either trade the digital collectibles or "soulbind" them, essentially permanently binding the NFT to a wallet, which then functions as a SAN login. 
The initial batch of NFTs dropped earlier this quarter, and SAN's next steps are to get its music platform up and running and roll out physical, wireless headphones, which come with Web3 integrations. One of the Web3-enabled functions: a chip to recognize your wallet to facilitate certain real-world functions and related plug-and-play social features. 
SAN has already shipped out models. The general idea is to let fans accrue SAN governance tokens and voting power by listening to artists, which they can then use to promote their favorite musicians on the platform.
The project's whitepaper calls for rewards, earned by artists and their followers, that make use of zero knowledge proofs in a bid to preserve privacy. There's also a plan in place for fans to earn access to events with artists, as well as integrations with blockchain-based games. 
"So, now [emerging artists] have a new revenue model, right?" said James "Flu" Griffin, a former executive with the Harmony blockchain and SAN's head of partnerships. "They now have a way to reward their super fans, right? That's what we're trying to do."
An attempt to solve legacy streaming's problems
The startup is designed as a rebuttal of sorts to the legacy streaming industry, where artists earn fractions of a cent per play of their songs on the likes of Spotify and Apple Music. It can be especially tricky for new kids on the rock' n roll block to win over, and hang onto, loyal listeners.

And that sentiment doesn't take into account an even thornier problem: Getting paid. 
And, for the customer, traditional streaming services necessitate entrusting a company with personal data, which is where SAN's zero knowledge proofs come in. 
Also key for SAN is inking deals with promising musicians, including labels that represent emerging artists, according to Devin Marty, SAN's head of strategy. Marty also previously worked for Harmony. 
"We say, 'Hey, let's develop a relationship with your 1,600 independent musicians that you have under your roof to say, 'Hey, can we continue to expand that number?'" Marty said. "Or, can we take some of these lesser-known artists and pump them through [our platform] to get some more data on them to see if the democratizing taste-making service that we're offering is what people are looking for." 
Artists in SAN's pipeline include AYO SK3TCH, Flosstradamus, Madzilla and Megan Vice. The growing team's resumes include stints at BSMNT Labs, Monster and Rainmaker Games.
Finding what works for the artists
Michael Eckstein, the founder of AllCertified — a startup focused on authorizing digital signatures that have utilities for artists — echoed the sentiment when it comes to tamping down frauds and bad actors. Eckstein has been working with a bunch of indie artists who write their own music and are not represented by a label, such as street musicians — buskers. 
The utility for those up-and-coming artists, in Eckstein's estimation, is intellectual property rights — specifically, an alternative method to generate proceeds for them. 
The problem with the traditional route, as he (and Charles Dickens) put it, is that the industry as a whole is split between "the best of times and the worst of times." 
AllCertified works, in sum, by onboarding artists and authenticating "the fixing of their digital signature." A number of "the more creatives ones," he said, have been doing an additional layer of tokenization (the NFT version of TradFi's securitization), which has created an in for "backstage meet or greets" or a "front of the front row seat at a concert."
One up-and-coming artist, Valentina Cy, told Blockworks she's carved out a living via Web3, another instance of forgoing the traditional label route, which presented too many pitfalls.
"From very early on, you learn that this is not a business where you can be self-sustained, and you have to have this massive team and work your ass off," she said. "Even when you do that, you're not probably going to be able to pay rent, unless you're selling billions of records."
---
Don't miss the next big story – join our free daily newsletter.