Former friend of Sam Bankman-Fried takes the stand: Live updates
"One year ago, it looked like SBF was on top of the world," but it was "all built on lies," prosecutors said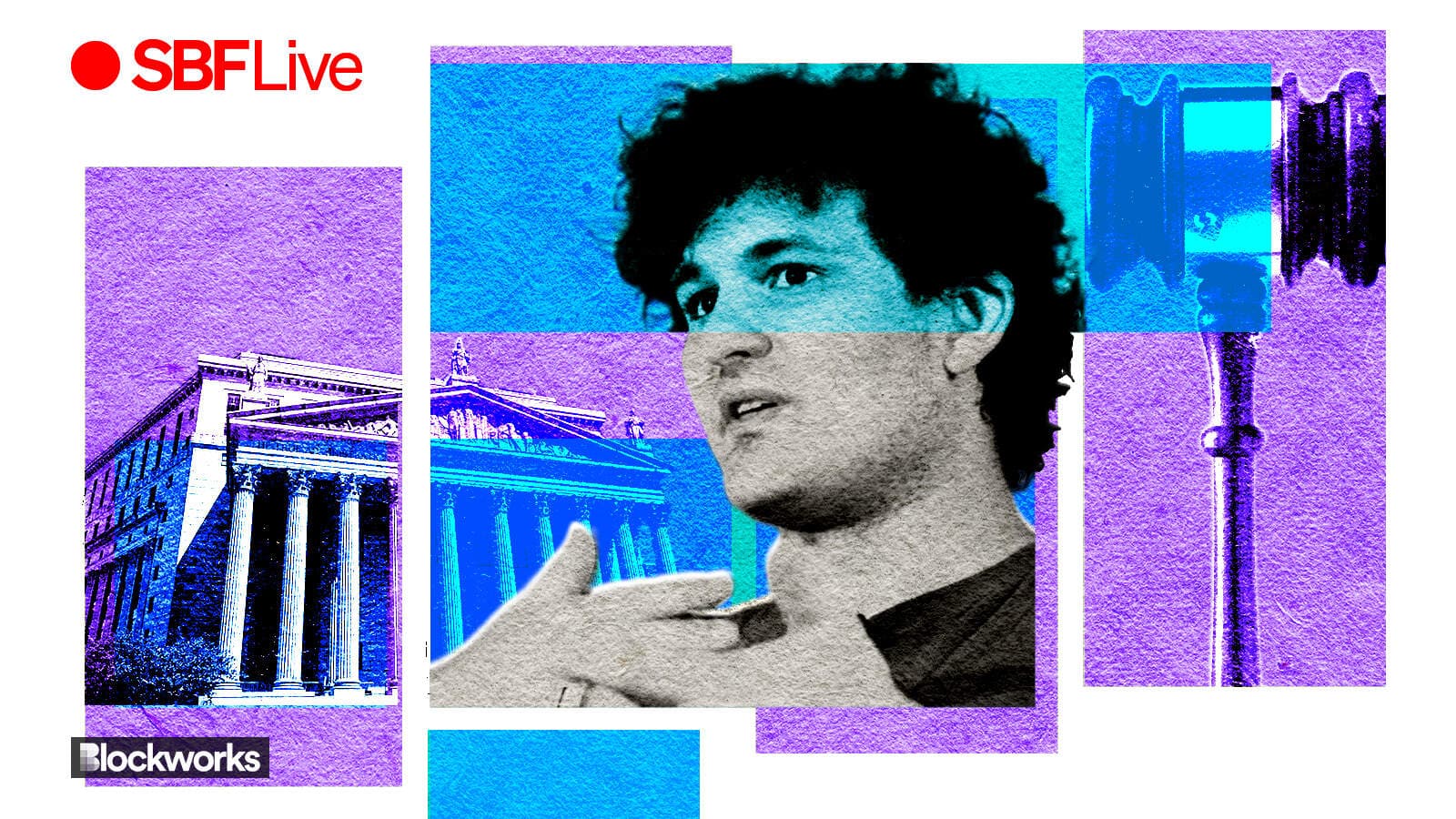 Opening statements and jury selection have both wrapped as the second day in the Sam Bankman-Fried trial proves to be a productive one. The court moved on to witnesses in the afternoon.
Blockworks reporters Casey Wagner and James Cirrone have decamped to the Manhattan courthouse to provide updates as they watch the slideshows provided by both the US government and the opening statements. 
---
5:15 pm ET: We have our first witnesses. 
The first, Marc-Antoine Julliard, a Frenchman living in London, bought and sold crypto on FTX. He said, at the time, that he followed both FTX and SBF on X — back when it was Twitter — because SBF "would come across as the leader of the industry."
The witness added that part of his trust in FTX came from the fact that he saw his FTX wallet balance daily and was of the belief that he could withdraw at any point, which was "essential." 
When asked, he told the prosecution that he knew crypto investing was risky but did not believe that FTX would "take" his money.
Julliard attempted multiple withdrawals in November 2022, and faced a failed bitcoin withdrawal worth around $20,000. The withdrawal was never processed.
Following Julliard, Adam Yedidia took the stand. Yedidia worked at both FTX as a developer and at Alameda as a trader for a brief time right after college. He moved to FTX in January 2021, he said. Yedidia was a "long time friend" of SBF. He had not spoken to or seen SBF since Nov. 2022. 
Yedidia lived in the Bahamas with SBF and nine others in a $30 million apartment, which was purchased by Alameda, but "at Sam's direction," Yedidia noted. The other apartment dwellers were FTX employees. 
He had been told by a separate FTX employee that customer funds from FTX were being used to pay Alameda creditors, which prompted him to quit in late 2022. He was not subpoenaed.
Yedidia was granted immunity as part of his deal, though he said that he "must tell the truth" in order to avoid prosecution.
Outside of the witnesses, the latter half of the day showed some of Judge Kaplan's spunk. At one point, the defense objected to an evidence photo showcasing his $30 million Bahamas apartment and a "large, luxury yacht," SBF's attorney said. 
Cohen tried to bar the photo from evidence, saying it unfairly painted Bankman-Fried as someone who purchased expensive things, which he didn't do. Kaplan denied the objection.
"Other than a $30 million condo," he added, in response to Cohen's attempt.
2:38 pm ET: "One year ago, it looked like SBF was on top of the world," prosecutor Thane Rhen said during his opening statement. "All of it was built on lies."
Opening statements have wrapped, with both sides making it clear where they stand and presenting what will, presumably, be some of the points they reiterate throughout the trial.  
Prosecutors started off by setting up what Bankman-Fried's life looked like before the glass castle was shattered, citing multiple celebrity hangouts and a lavish lifestyle that they allege was built on the backs of the customers due to reportedly misappropriated funds. 
The prosecutors also set the stage discussing how he lied to Congress about the billions the government alleges SBF stole, adding that Bankman-Fried "took money secretly."
"This man stole billions of dollars from thousands of people," Rehn said.
A lot of the details are similar to what has already been reported, which is that FTX reportedly used customer funds, with Alameda getting access to FTX customer money. The prosecution highlighted a "secret ability" in FTX's code which allowed money to be moved from FTX to Alameda.
To back all of this up, the prosecution explained that there's evidence — internal company documents as well as financial statements, etc — previous testimony from SBF, and testimonies from FTX employees, customers and investors. 
Don't miss a beat. Keep up with all SBF news coming from the courtroom.
There will be witness testimonies from the likes of Caroline Ellison -– though the prosecutors named her as the on-again-off-again girlfriend. 
And for those of you wondering, Bankman-Fried did not really react to the statement, according to our boots on the ground reporter, Casey Wagner. He kept typing as statements were exchanged, which is similar to his behavior yesterday.
On the flipside, the defense says Bankman-Fried "didn't defraud anyone, [SBF] didn't intend to defraud anyone."
"You'll learn that crypto was not for everyone," the defense added. Based on the jurors who admitted to losing money yesterday, maybe they'll agree with this point. At least we know that Gary Gensler feels this way.
They also added that Bankman-Fried was a "math nerd who didn't drink or party," an interesting note to add in a case where the defendant is on trial for fraud.
The defense added that Bankman-Fried tapped Ellison to hedge bets at Alameda because he was worried that crypto prices may fall. Ellison, they allege, never did it.
In summary, FTX was a start up that was just a "work in progress," according to the defense.
11:40 am ET: Outside of the courtroom, the US government and Sam Bankman-Fried's legal teams are attempting to flesh out what arguments can be used once jury selection is finalized. 
As part of that process, the two are exchanging barbs as SBF's legal team attempts to use an argument akin to 'but everyone else was doing it' when discussing the fund misappropriation allegations. 
Here's the deal: Lawyers for SBF said that it was "common" for crypto exchanges to pool or reallocate customer funds, which is a point that has come up in multiple bankruptcies, including Prime Trust. 
Read more: Former federal prosecutor says the US has a 'strong' case against SBF
Besides, it's not like there's crypto regulation anyway, the team essentially said. Thanks, Gary.
The argument being posed by Sam Bankman-Fried's team is missing the point, the government said in a late-night filing. 
Whether or not there is crypto regulation does not matter because the government is alleging that funds were misappropriated, the government said Wednesday.
The "evidence or argument about the absence of regulation is only likely to confuse the jury into believing that there must be a regulation imposing a duty for misappropriation to have occurred," lawyers wrote.
Read more: Sam Bankman-Fried faces an uphill battle in fraud case, former mentor Scaramucci says
Sidenote: We have to wonder how much sleep Judge Lewis Kaplan is getting through this process since he already commented on the "midnight" filings on day one of the trial.
"Anything else we can usefully accomplish tonight? Am I going to be expecting another midnight filing?" Kaplan asked the lawyers yesterday.  
10:30 am ET: The judge overseeing the case, Judge Lewis Kaplan, is hopeful that the remaining jury selection will happen fairly quickly this morning, though he was also optimistic that the court could have a "dash" of luck and a "strong wind at our back" to finalize jury selection before the court adjourned on Tuesday. 
The prosecution — the US government — said Tuesday that its statements will last roughly 20 to 25 minutes, while SBF's lawyers expect theirs to last roughly 30 to 45 minutes. Not only will the court in session listen to a group of lawyers talk for roughly an hour, but there's also a promise of slides for each of their presentations. Yay.
Before the judge excused the potential jurors yesterday, he asked that they go on an electronic quarantine due to the highly public nature of the case. Even as he excused the pool of potential jurors for lunch, he asked them to not "learn anything about the case. Try real hard."
Stay in the loop. Catch up on highlights from the first day of the trial.
Judge Kaplan's tone is dry, which led to some somewhat sassy exchanges throughout day one, though it's also important to note that he conducts his court with clear authority. 
Both during day one and in past hearings, the judge was fairly open in his reactions, which led to some interactions with jurors attempting to be excused from the case.
For example, on Tuesday, one woman explained that her husband's co-worker is getting married in Colombia, and when pressed on whether or not the tickets were refundable, she said that she'd need the internet to verify.
"Well, you're not going to have the internet for a while," Kaplan said in response.  
In another case, a potential juror expressed concern about representing a client on an audit, to which Kaplan noted that it had been a "long time" since he studied tax law.
"Well, I don't mean to be snippy or anything, but the number of cases on my docket that have been extended more than once is huge, as I'm sure you would imagine, and I suspect that may be true for the Internal Revenue Service," he added.
This is a developing story.
Blockworks reporters Casey Wagner and James Cirrone are covering Sam Bankman-Fried's trial from the courtroom in New York. Follow for instant trial updates on their X accounts.
---
Don't miss the next big story – join our free daily newsletter.