Crypto is tribal — let's just pit blockchains against each other once and for all
Crypto should probably all get along and support each other… or we can have major projects fight to the death — cage match style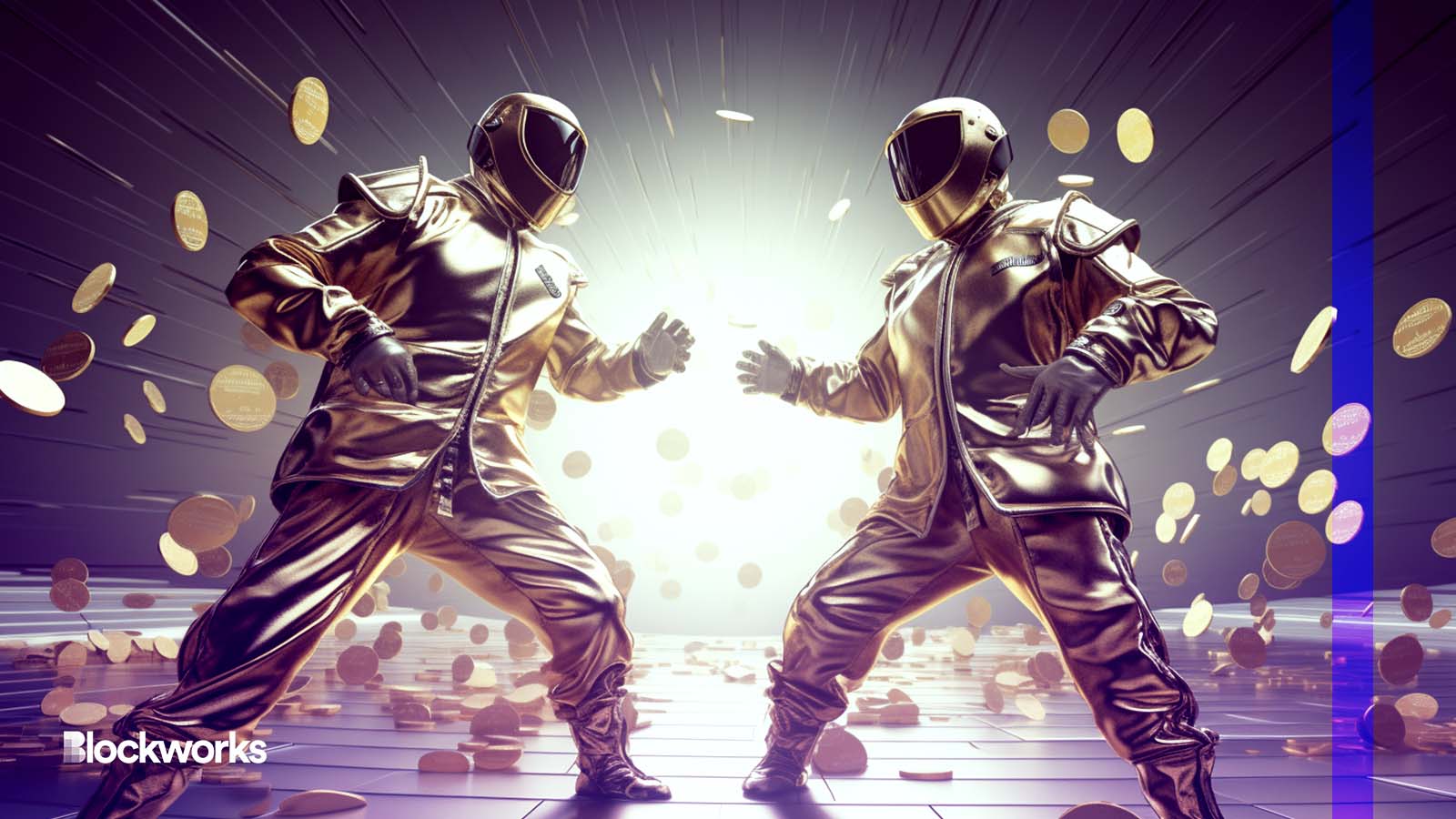 Midjourney modified by Blockworks
Some say investing is a lot like horse racing. "Fundamentals are how fast the horse runs and expectations are the odds."
If that's the case, then crypto markets must be more similar to MTV's Celebrity Deathmatch, a cartoonishly violent claymation bloodsport made especially for degenerate burnouts.
Call it tribalism, a fundamental difference in values or just plain bone-headedness. Whatever justification, crypto fans, when faced over questions of who is right or wrong, tend to split off into opposing camps, dig in and sling mud.
With all this in mind, directly comparing top crypto rivals over their entire histories may shed light on how seriously markets take their often opposing value propositions. 
These crypto fan favorites should just give up the niceties and duke it out, cage match style.
Solana vs Polygon
It's the Ethereum killer vs. the Ethereum scaler.
We all know Solana has had it tough since FTX blew up, on account that disgraced exchange executive Sam Bankman-Fried was one of its biggest fans.
The two networks aren't really considered rivals, but they probably should be. Polygon is widely mislabeled as a layer-2 protocol — it's more of a layer-1 considering its proof-of-stake chain boasts its own set of validators independent of the Ethereum network.  
In any case, Solana was valued more than Polygon across practically their entire shared existence, sans a short period in late 2020 when MATIC briefly flipped SOL.
Polygon again eclipsed Solana as markets punished the latter for its connection to Bankman-Fried last year. Until last month.
Bitcoin vs Ethereum
Ethereum fans have been prophesying its "flippening" of Bitcoin for nearly a decade. 
So far, ETH hasn't come close to surpassing BTC's market cap. The shortest gap between the two came in mid-2017, when the difference between the two was only 20% of BTC's valuation.
Today, bitcoin is valued at nearly $570 billion, whereas ether is $223 billion. The difference between the two represents more than 60% of BTC's cap.
But when you consider that potentially one-fifth of all BTC has been lost forever, the actual liquid difference could be much smaller (although estimates on how much ETH has been lost are scant).
The real question: whether Bitcoin and Ethereum are even competitors. Probably not, considering "digital gold" isn't really the same use case as "the world computer." Just don't tell that to either network's maxi cohort.
XRP vs Cardano
Ripple (yes, the tokens are called Ripples) isn't often pitted against Cardano. But it should be.
Crypto issuers can deploy tokens, fungible and non-fungible, on the XRP Ledger — just like Cardano. 
Both networks also have smart contracts (although Ripple's are a little different), and also DeFi protocols — although neither see much usage right now compared to Ethereum, Polygon or Solana.
On the surface, the two networks compete. But there's a simpler reason for the direct comparison: both networks have historically been the butt of jokes from jaded Bitcoiners and Ethereans eager to apply their purity tests.
All that aside: XRP (the name Ripple Labs uses these days) has been the clear winner for most of the time that Cardano has been around — except for most of 2021, after the SEC crashed Brad Garlinghouse's party with a nasty securities lawsuit that's still in play today.
Dogecoin vs Litecoin
A battle of the forks. Litecoin is a code fork of Bitcoin, while Dogecoin is a fork of a fork of Litecoin.
Unless you're hellbent on bikeshedding blockchain minutiae, these two networks are basically identical. 
Both networks still run on proof of work — in fact, they can be mined simultaneously — to the point they saw near-simultaneous transaction surges as users ported Ordinals-style hype over to their blockchains.
The difference comes down to branding. Litecoin is supposed to be "digital silver" to Bitcoin's digital gold, while Dogecoin is meant to be the blockchain for the people who still like memes from the start of the last decade.
Read more from our op-ed section: Bitcoin doesn't need to change, but…
For what it's worth, LTC's market cap had been nearly double DOGE since 2014 — right up until the monstrously frothy 2021 bull market, when Dogecoin gripped retail investors firmly by the scruff of their necks.
Binance Coin vs Tron
Another pair rarely pitted against each other, despite their similarities.
Aside from trading fee subsidies for the Binance crypto exchange, Binance Coin (BNB) powers the BNB Chain — a network notorious for low-quality tokens on account of infinitesimal fees anchored in inherent centralization.
Tron (TRX), on the other hand, was for years mostly useful for the myriad gambling and casino apps which made up the bulk of the network's traffic. Both networks are powered by kindred consensus mechanisms. And BNB memecoins are really just Tron's gambling apps, abstracted.
Gambling may have been Tron's early use-case, but today its primary sales pitch is that it's a cheap and accessible network on which to send Tether (USDT).
That hasn't been enough for TRX to flip BNB, however. BNB has sat far ahead of Justin Sun's retirement fund crypto ecosystem for years now, with little sign of giving up its lead.
---
---
Don't miss the next big story – join our free daily newsletter.