'Plain vanilla' PayPal stablecoin betting on user base
PayPal's stablecoin coin, PYUSD, is facing questions about its growth plan – as well as its prospects for competing with stablecoin incumbents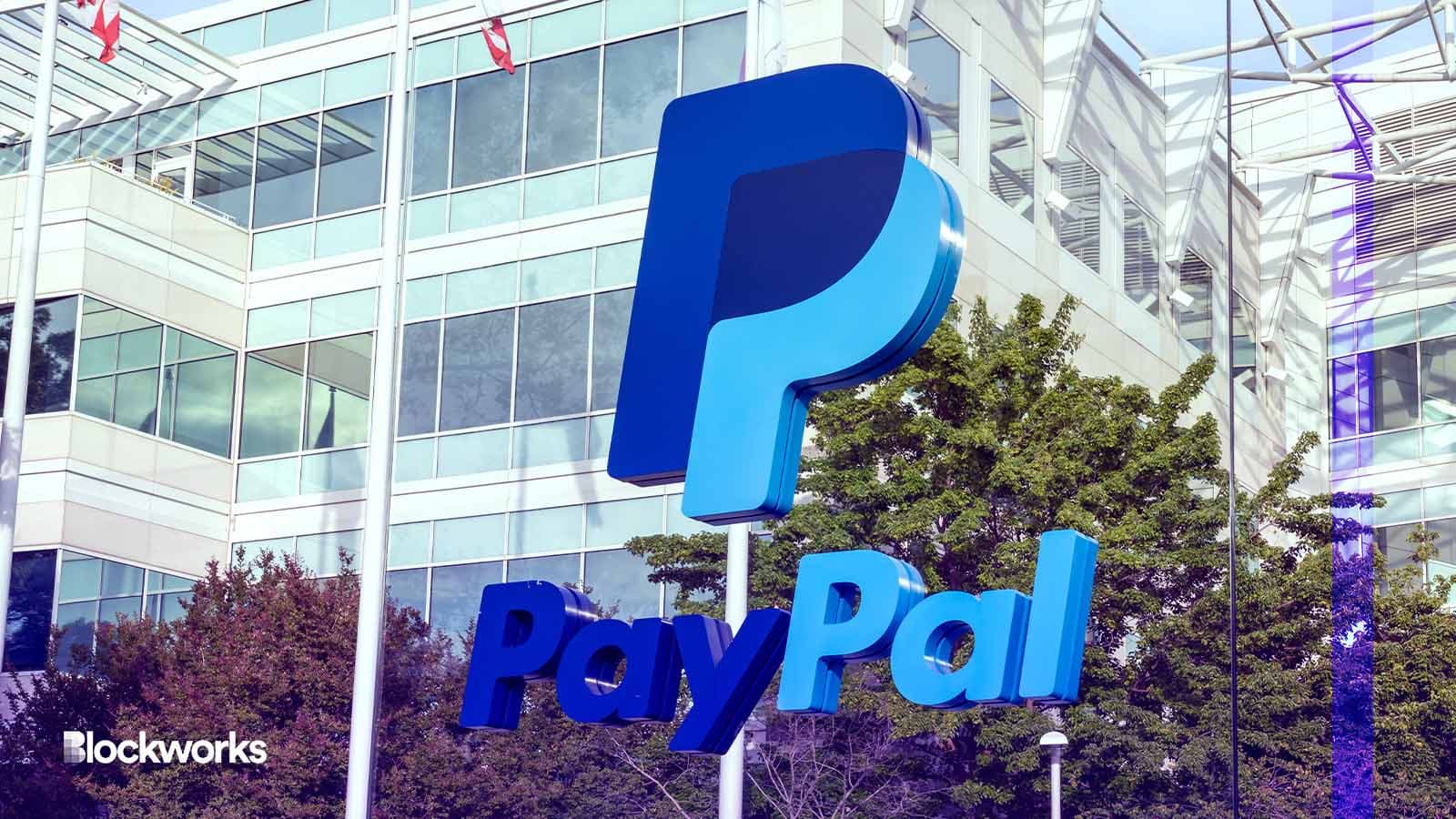 JHVEPhoto/Shutterstock modified by Blockworks
The early consensus from crypto industry participants on PayPal's emerging stablecoin: There's nothing quite like it.
The early consensus on the big question facing PYUSD out of the gate: What's the growth plan? 
PYUSD, which runs on Ethereum and is designed to be pegged one-to-one with the dollar, at its introduction on Monday represented the first time a major US company issued its own stablecoin outright. But PYUSD entered into a crowded and fiercely competitive stablecoin market, even if the sector has taken its lumps this year — including Circle's USDC bleeding assets. 
Though stablecoins tend to share common characteristics, such as their fiat backing mechanisms, different products have evolved to cater to different market needs and functions. 
Because PayPal's PYUSD just hit the market this week, traders said it remains to be seen exactly where the product fits between buckets including DeFi, centralized exchanges and peer-to-peer payments executed on PayPal's platform itself. 
Andrew Smith, founder of Versatus, a layer-1 blockchain, told Blockworks that a "major" concern around PYUSD's infrastructure is the potential for congestion on Ethereum. Backups on Ethereum layer-1, triggered by abnormally heavy usage, typically slow down transaction validation and bump up the gas fees that enable those transactions.
PayPal said its product is "100% backed by US dollar deposits, short-term US Treasurys and similar cash equivalent. It's issued by Paxos Trust Company, with PayPal hosting in-house wallets for its customers' PYUSD, which the US company said can be transferred to external wallets. 
Stablecoins are perceived to live and die on the financial prospects of their issuers. In years gone by, Tether was often criticized for a lack of transparency into UST's reserves, though it's now producing reports several times a year in the wake of a New York order. 
TrueUSD (TUSD), which was associated with the then-insolvent Prime Trust, unmoored from its own dollar pegging in July — one indicator that service providers, too, can impact stablecoins they are associated with. TUSD has since been sold to a consortium based in Asia. Prime Trust was acquired by Bitgo in a bailout deal. 
"I see this as sort of a KYC [know-your-customer] coin that enables PayPal to offer not exactly a banking service, but kind of a store of value service…they're storing it in a bank, really on-chain," Smith said. "Before they were just a third party in between you and the bank, but now their coin is what you're actually holding or storing."
Latest step in PayPal's crypto buildout
PayPal has been building out its crypto capabilities for the last several years, taking the step of opening up crypto transfers from customer crypto purchases to external, third-party wallets in June 2022. 
Jake Boaz, the founder and portfolio manager of Houston-based crypto hedge fund firm Crypto Yield Capital, told Blockworks that PayPal's first step — rather than concentrate on linking institutions onto its stablecoin — is to concentrate on building out millions of stablecoin users from its roster of millions of existing PayPal users. 
According to Boaz, it's clear that PayPal executives have drawn inspiration from the notable profit margins achieved by prominent stablecoin issuers like Circle and Tether.
"Everyone's starting to realize how profitable the industry is, right?" Boaz said. "Tether has more US Treasurys than Australia, for instance. It's an exceptionally profitable business model — very low touch, relatively low barriers to entry. To start, they're effectively banking on saying, 'We're PayPal. We can onboard as many users as we can into the space and get them on board with our stablecoin."
Onboarding users is one thing, ensuring ample liquidity to entice A-list crypto exchanges to list PYUSD is another. Additionally, attracting market makers and establishing a presence in DeFi lending pools are also vital tasks. Curve and Uniswap could be two possible prime destinations for traders to pair PYUSD with another cryptoasset in lending pools.
The latter proposition, according to Boaz, hinges not only on liquidity, but also on PayPal's tech stack holding up at scale, as well as successfully positioning the stablecoin as differentiated enough from core rivals USDCoin (USDC) and TerraUSD (UST).
PayPal's balance sheet of billions of dollars, and relationships with regulators, may position it to offer stability, according to David Wells, the chief executive of Enclave Markets.
Wells said that he doesn't think "liquidity will be an issue for [PayPal], because [they're] so large and are going to be able to establish relationships with any type of liquidity provider." 
Stablecoins under pressure
A number of financial events, including the demise of Silicon Valley Bank (SBV), eroded public trust in the stability of stablecoins earlier this year. But that's not necessarily true of PayPal. 
"Even with SVB, USDC was trading below par — I can't imagine that happening in a scenario with PayPal, because they're not going to just be beholden to one or two banks," Wells said. "They have relationships with all of the largest banks."
Why would a trader use PYUSD if USDC and UST can already handle whatever PayPal's offering is capable of handling? The company has "an advantage" with "PayPal users using it," Boaz said, but that can't be the product's only sustainable leg-up on a competitive market. 
"I am concerned regarding their ability to pull this off…they have to get centralized finance guys to use it," he said. "What advantage do I have using PayPal over USDC, for instance? Tether and DAI [have] massive liquidity. Why would I use PayPal when I have so many attractive options?" 
Michael Kong, the chief executive of the Fantom Foundation, a DeFi-focused smart contract platform, told Blockworks in a statement that PayPal's stablecoin entrance "could lead to an influx of new users both to PayPal and the blockchain industry."
"However, the stablecoin market is very concentrated in a few players, so it remains to be seen how much market share they will be able to get," Kong said. 
In a statement on Monday, PayPal's president and chief executive Dan Schulman said the company is committed to "responsible innovation and compliance," adding that the company has the "foundation necessary to contribute to the growth of digital payments through PayPal USD."
"The shift toward digital currencies requires a stable instrument that is both digitally native and easily connected to fiat currency like the US dollar," Schulman said. 
PayPal representatives did not return a request for comment. On the exchange front, a Kraken spokesperson said it does not disclose listings or "assets we have under consideration." 
Josip Rupena, the founder and chief executive of crypto loan financier Milo, told Blockworks that there may be some additional utilities for PYUSD that the market has yet to think much about. These include possible micro-loans that could be converted from the stablecoin into local currencies to facilitate cross-border payments. 
It's most likely that the stablecoin will develop around PayPal's core users, Rupena said, adding that it appears to have limited attractiveness for institutional asset managers already trading the stablecoins they prefer. 
"This is pretty plain vanilla," he said. "So, if you look at it, you might say, 'Why do I need another stablecoin?' If you're part of the PayPal network, you're going to have it, but if you're not part of the PayPal network, I don't see why people are going to line up and purchase it." 
---
Don't miss the next big story – join our free daily newsletter.