How Will UST Crash Impact Other Stablecoins?
Asset-backed stablecoins likely won't be hurt by Terra situation, crypto execs say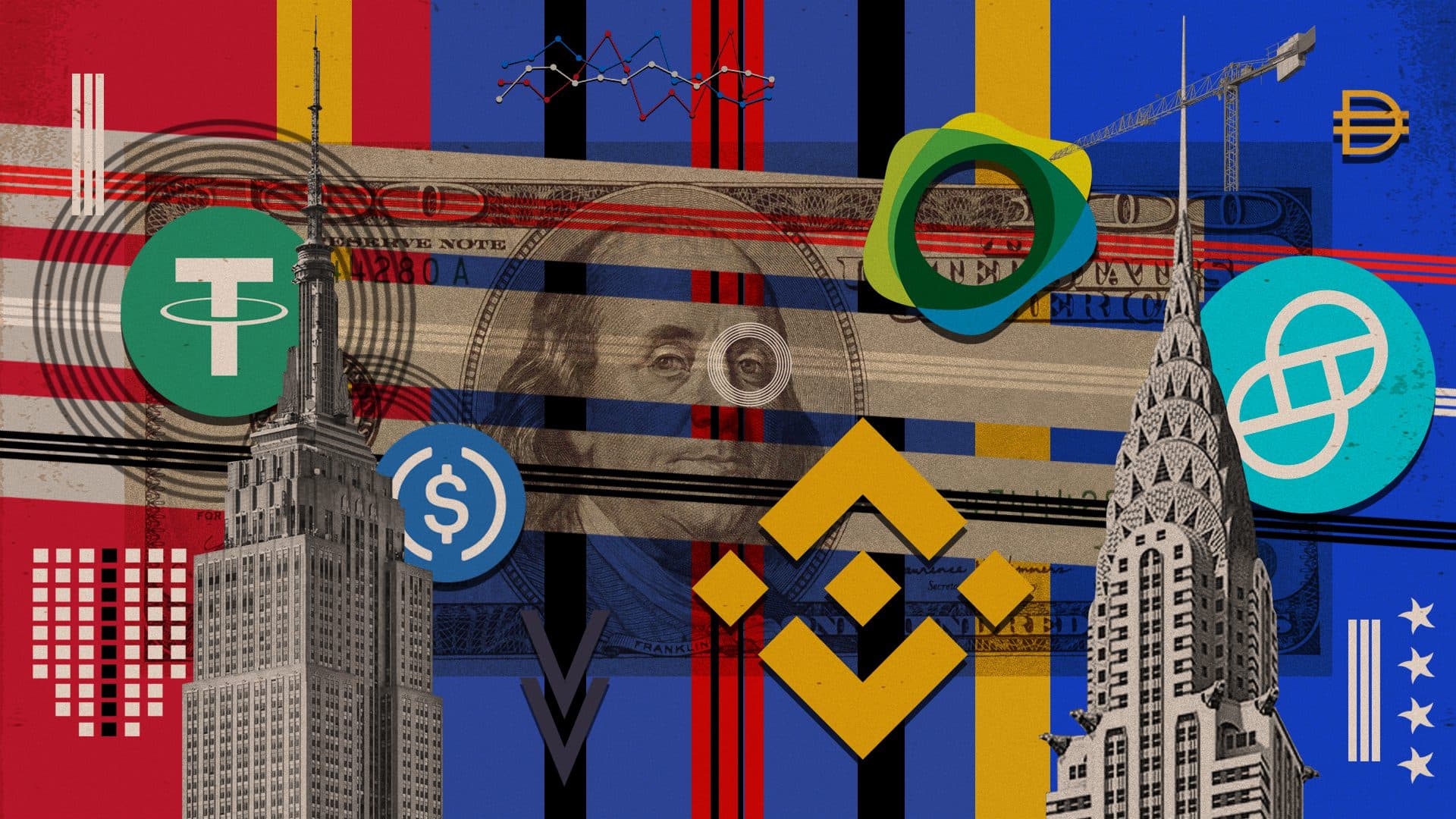 Blockworks Exclusive Art by Axel Rangel
key takeaways
Tether (USDT) and USD Coin (USDC) remained at right around $1 Wednesday afternoon
Some may be tempted to sell or short other algorithmic stablecoins, Trakx CEO says
Though Terra USD (UST) lost its peg to the dollar over the last few days, crypto executives said not all stablecoins are destined for the same fate.
Brad Yasar, CEO of DeFi platform EQIFI, noted that he does not believe the stablecoin market as a whole will suffer.
The prices of the largest stablecoin, Tether (USDT), and second-largest, USD Coin (USDC), remained at right around $1 Wednesday afternoon. Both are asset-backed, unlike UST, which attempts to maintain its stability by creating or destroying the supply of UST through a swap with the Terra blockchain's native token LUNA.
"The asset-backed stablecoins — as long as their reserves match the number of coins in circulation — are not prone to de-pegging by market movements," Yasar said. "Algorithmic stablecoins that are not asset-backed so far have been de-pegged by violent market movements."
UST, which now has a market capitalization of roughly $13.95 billion, was priced at about $0.68 at 2:30 pm ET Wednesday, according to data compiled by Terra and Flipside Crypto. LUNA was down 94% in the past 24 hours at that time.
About $350 million in UST was swapped for USDT using the Curve protocol, which left more UST available compared to other stablecoins, lowering its value, according to a blog by Grayscale Investments. 
The remaining portion of UST withdrawn from Anchor protocol was sold on centralized exchanges, driving down the value on those markets as well.
Terra founder Do Kwon said in a Twitter thread Wednesday that the only path forward will be to absorb the stablecoin supply that wants to exit before UST can start to repeg. 
"Terra's return to form will be a sight to behold," Kwon said.
A spokesperson for Tether noted that USDT is the most liquid stablecoin in the market, adding that the company does not believe UST's situation means anything for the centralized stablecoin market.
"Tether has withstood multiple 'black swan' events in cryptocurrency," the representative told Blockworks in an email. "The collapse of the UST peg is one of those events. We're proud to say that the 1:1 peg to the dollar on USDT has been successfully maintained, and Tether has never once failed to honor a redemption request from a verified user."
Tether's volume in the past 24 hours was about $140 billion, as of 2:30 pm ET.
Gabor Gurbacs, director of digital asset strategy at fund group VanEck, said in a tweet that bitcoin and USDT are the top reliable reserve assets for the crypto space.
"Tether markets, redemptions, trading, order-books and the peg look orderly and healthy," he told Blockworks. "I do not believe that Tether should be compared to UST."
Ryan Shea, a crypto economist at crypto index trading platform Trakx, said the stablecoin market should be "a zero-sum game." He noted that UST's dramatic price drop will likely create a shift away from algorithmic stablecoins to collateralized stablecoins as the market loses faith in the former's stability mechanisms.
"Some people might be tempted also to get rid of or even short other algorithmic stablecoins," Shea said. "It may benefit collateralized stablecoins and/or centralized exchanges."
Several new algorithmic stablecoins have been introduced into the market that mirror the seigniorage model used by UST, such as USN issued on the Near protocol, but the market cap of these is a fraction of UST's. The closest parallel is Waves' Neutrino USD (USDN) with a market cap of $830 million, which suffered a de-pegging of its own in April and is down about 9% over the past 24 hours, trading at $0.88 as of 2:30 pm ET.
Mark Basa, director at HOKK Finance, argued that stablecoins are the entry point for late adopters of the crypto space.
"I think this will have a ripple effect against other stablecoins, or at least push towards the adoption of 1:1 backers like USDC," he said. "The stablecoin market will react to this player leaving the space, and now more trusted and asset-backed coins and tokens can enter."
---
Get the day's top crypto news and insights delivered to your email every evening. Subscribe to Blockworks' free newsletter now.
Want alpha sent directly to your inbox? Get degen trade ideas, governance updates, token performance, can't-miss tweets and more from Blockworks Research's Daily Debrief.
Can't wait? Get our news the fastest way possible. Join us on Telegram and follow us on Google News.
---