Market Recap: BTC Steady Ahead of Crypto Hearing and Jobs Report
Tomorrow's congressional hearing and jobs report could finally push Bitcoin out of its consolidation range between $44,200 and $40,500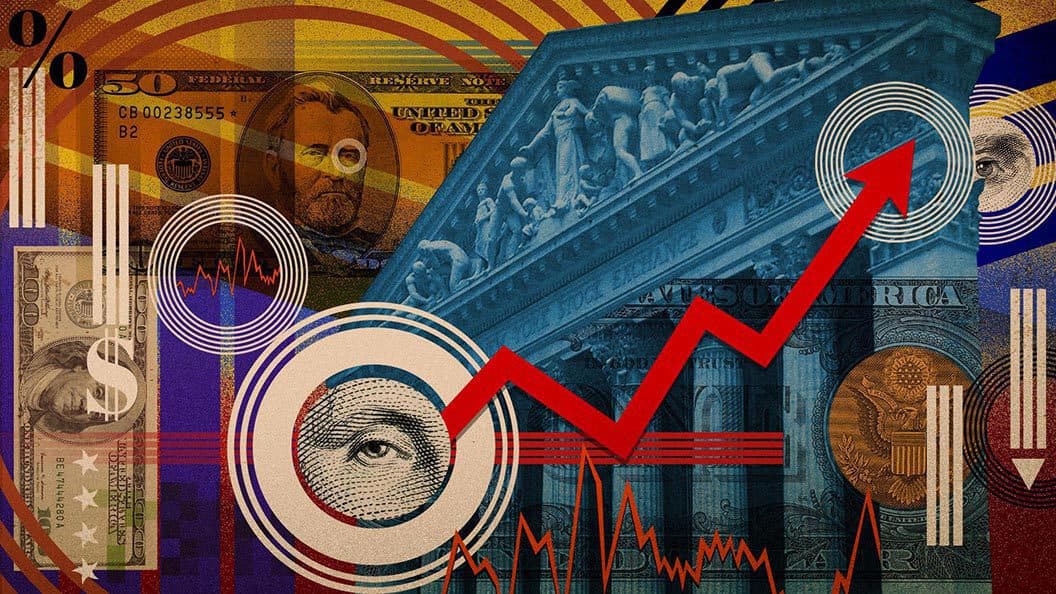 Blockworks exclusive art by Axel Rangel
key takeaways
Bitcoin continues trading sideways becoming tighter and tighter between $44,200 and $40,500
Uncertainty builds before tomorrow's initial jobless claims report and the congressional hearing on the energy impact of blockchains
A touted use-case of bitcoin (BTC) is its use as an inflation hedge, though new data showing the UK at its highest inflation rate in 30 years had little to no effect on bitcoin's price.
New initial and continuing jobless claims reports are scheduled for release tomorrow which could sway markets if negative.
The House Committee on Energy and Commerce is scheduled for a hearing tomorrow on blockchain's impact on the environment. Positive or negative comments during the hearing could be reflected in the markets.
Range-bound bitcoin
Bitcoin has remained in a sideways trend between the range of $44,200 and $40,500. Previous moments of similar consolidation have generally resulted in large volatile moves in either direction.
So far, bearish sentiment has pushed bitcoin to test support lines more than bulls have pushed it to test resistance. In fact, the digital asset has tested the $40,200 support line three times and fallen through once, showing more downward pressure than up, and has since formed an even tighter range between roughly $42,700 and $41,200.
Exchange balances
Exchange balances have mostly reflected price action and have been steady with a slight uptick. Bitcoin sent to exchanges typically represents the action of selling whereas exchange outflows may represent the purchase of cryptocurrency and the removal from the exchange to a personal wallet.
UK inflation highest in 30 years
While bitcoin is typically considered a hedge against inflation and generally performs well in inflationary periods, the asset barely reacted to the report on inflation in the UK that revealed the highest consumer price inflation in 30 years, reaching 5.4% year-over-year.
Paul Dales, the chief UK economist at the independent economic research consultancy Capital Economics, said that the most noticeable rise in the UK's inflation has come in food prices but that there's more to come.
Dales told The Times that he expects inflation to rise as much as 7% by April and that "the largest contribution to the increase in inflation came from a rise in food price inflation from 2.4 percent to a nine-year high of 4.5 percent. It's no secret that inflation is going to rise even further."
Despite record numbers of inflation in both the US and the UK, bitcoin has had a troubled past few months with a nearly 40% drop from its all-time high. Perhaps the largest driving factor of bitcoin's poorer performance is the threat of reduced inflation from Federal Reserve rate hikes. The increase in rates has historically dropped traditional markets and poor markets generally lead investors to reduce exposure to risky assets, including cryptocurrency.
Omicron and initial jobless claims
With cases of the new Covid-19 Omicron variant surging, worries have mounted about how it can affect the unemployment rate and tomorrow's initial and continuing jobless claims report. The previous initial jobless claims report showed a jump in reaction to the increase in Covid-19 cases.
While the median forecast for tomorrow has initial jobless claims dropping from 230,000 to 225,000, the spread of Omicron could prevent a positive report from happening. Should tomorrow's initial jobless claims show an even greater loss, it could reveal a worsening trend for the economy and have a deeper effect on the markets and, in turn, bitcoin and cryptocurrency.
Congressional hearing on blockchain energy use
The House Committee on Energy and Commerce is having a hearing tomorrow called "Cleaning Up Cryptocurrency: The Energy Impacts of Blockchains." The hearing has the potential to disrupt markets should positive or negative comments come up. Witnesses include the CEO of BitFury, Brian Brooks, the CEO of Soluna Computing, John Belizaire and more in fields ranging from computer science to law.
One of the more notable witnesses is Brian Brooks, the CEO of the well-known bitcoin mining company Bitfury. This isn't his first time at a crypto-related congressional hearing. In early December, Brooks was a witness in the House Committee on Financial Service's hearing on digital asset regulation and stablecoins.
During the December hearing, Brooks was asked about how much crypto companies are willing to tolerate current regulatory models in the country before leaving the country for more favorable environments. The question ties into much of the political debate regarding cryptocurrencies and the attempt to not stifle innovation.
Then, Brooks showed his disappointment with the lack of clarity on crypto regulation in the US. "In some aspects of the industry, the line is super clear. There are some products that are legal in other countries and just not legal here," he said. "So I take some of the investment products like ETFs, for example, one of the things that makes crypto risky is that consumers may not understand the difference between one token and another token and so they might want to diversify, much as I own an S&P mutual fund."
He added, "We don't allow that in the United States. We do allow that in Canada. We allow it in Germany, Singapore, Portugal and a number of other places. So if you are a developer of those products there's no fuzzy line, it is super clear. You can't do that here so you have to go abroad."
The nature of the hearing, and even its title "Cleaning up Cryptocurrency," is likely to be a point of contention between the bitcoin mining company CEO Brian Brooks and committee members.
Tomorrow
Investors should expect bitcoin and crypto markets to move on the results of the new initial jobless claims report as well as comments during tomorrow's hearing on the energy use of blockchains. Should the jobs report show mostly neutral figures and news out of the hearing is limited, bitcoin could continue trading sideways.
---
Get the day's top crypto news and insights delivered to your inbox every evening. Subscribe to Blockworks' free newsletter now.
---