Cell phone records reveal possible SBF meetings: SBF trial live updates
In his testimony, former FTX engineering head Nishad Singh touched on Serum and FTX spending in the months before the collapse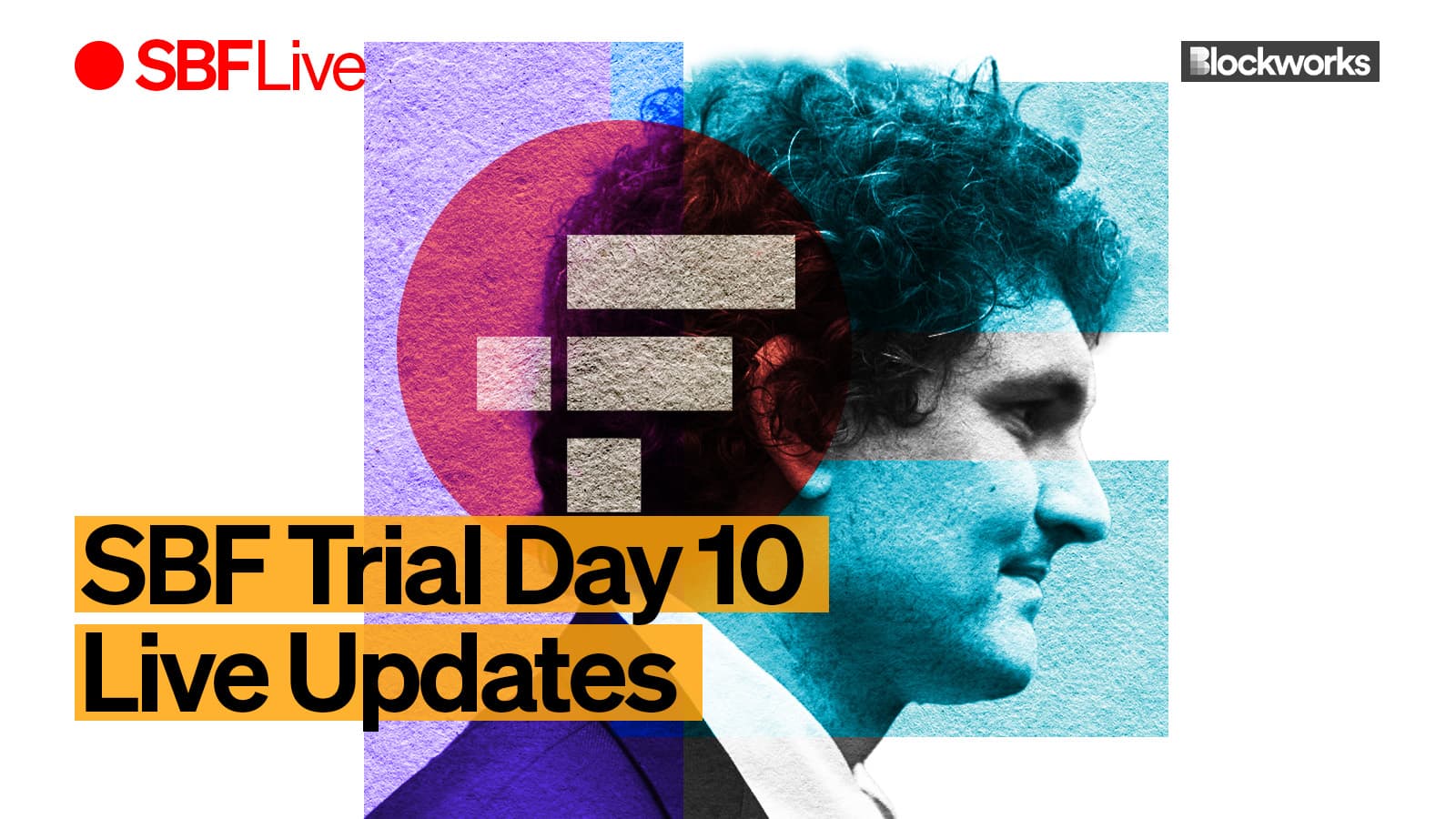 FTX co-founder Sam Bankman-Fried faces seven federal charges in a criminal trial taking place in Manhattan. The former crypto exchange exec is accused of misappropriating billions of dollars of customer funds for real estate, donations, political contributions and investments. 
The current state of play: FTX's former head of engineering, Nishad Singh, is expected to take the stand again this morning, with the defense telling Judge Lewis Kaplan that they expect to spend roughly four to five hours cross-examining him. The prosecution is then expected to tap another ex-Alameda employee, an FBI agent and an FTX customer. Read more here.
---
5:35 pm ET: And hello, FBI
During his testimony, FBI Agent Richard Busick displayed a somewhat matter-of-fact facial expression as the prosecution went through the cell phone records of Sam Bankman-Fried.
The jury, however, kept their eyes on the agent, who directed all of his responses to the jury box. Our resident napper in the box was snoozing off and on.
The US government was able to identify SBF's number from an email exchange with the Prime Minister of the Bahamas after the PM's son asked to speak to SBF about an NFT project. The full phone number is in the court transcript, but there's probably no use in calling it at this point.
The AT&T cell phone data that Busick analyzed from Bankman-Fried's number ranged from 2021 to 2022 in New York City.
The prosecution essentially lined up the dates and times of emails sent to Bankman-Fried and other FTX employees with maps of where SBF's phone was in Manhattan during those times. 
The emails usually contained dinner invitations for Bankman-Fried, here's a sneak peek of who he met up with.
On March 3, 2022, Bankman-Fried's phone was in the vicinity of Osteria La Baia, a restaurant where he had dinner with New York Mayor Eric Adams. 
In mid-September 2022, the government was able to establish that Bankman-Fried was invited to a meeting with New York Governor Kathy Hochul at the Capital Grille. 
According to another email four days later, Bankman-Fried was off to meet with "President Clinton" — presumably meaning Bill Clinton — at the New York Hilton Midtown. 
Skybridge's Anthony Scaramucci also got a mention, having reached out to SBF to invite him to a Pittsburgh Steelers game on Nov. 20, 2022. I have a feeling that SBF was a little tied up by then…
The government showed correspondence a day later, with FTX representatives discussing a possible meetup between Bankman-Fried and the Saudi Minister of Investment at the Pierre hotel in Manhattan. 
On the cross-examination of Busick, SBF attorney Christian Everdell countered all of this with a rather obvious and straightforward defense.
Despite the fact that the number belongs to Bankman-Fried, Busick's cell site analysis cannot reveal who was using the cell phone at the dates, times and locations the phone pinged nearby cell towers. It also doesn't reveal the exact location of the phone, only an estimate.
Busick agreed with all of this, and Everdell quickly wrapped up his cross.
The next potential witness from the government is professor Peter Easton, an expert on accounting. If called to testify, Easton will be the prosecution's second expert witness. 
Notes from the courtroom: SBF's mom left at some point after Nishad Singh's testimony.
4:00 pm ET: Bye-bye, Singh
Cohen closed his cross-examination of Nishad Singh Tuesday afternoon, wrapping up the major witnesses for the prosecution.
Singh repeatedly had to answer for a $3.7 million house he bought on Orcas Island off the coast of the state of Washington. Which was, well, purchased after that September 2022 conversation with SBF on the balcony of the Orchid penthouse in the Bahamas. Hm. 
However, Singh did, in his cross-examination, admit that he thought about resigning a few times – once in 2018 and a handful of other times after distressing convos with SBF and FTX co-founder Gary Wang. 
He didn't resign, though. He didn't move out of the Bahamas apartment until November 2022.
This leads back to the house, which had a closing date of the first week of November according to Cohen — only a few days before FTX would eventually collapse. Impeccable timing.
Back to the balcony meeting…this was the one where Singh expressed worry over the $13 billion that was missing from FTX's balances. Bankman-Fried apparently wasn't too worried about this, according to Singh, because it was only costing the former FTX boss "some 5-10%" of his productivity.
Cohen asked Singh multiple times why he bought the house. The answer Singh eventually settled on was that at the time he was being "selfish" because he knew he was "drawing on customer funds" to buy the property he thought would be a great place for his friends and family to kick back and relax. 
He further called his decision to buy the property "unnecessary" and "egregious," which is where Cohen ended his cross-examination.
Singh, during the redirect from prosecutor Nicolas Roos, admitted that he was OK with putting himself before customers in September 2022.
After Singh was dismissed, FBI Special Agent Richard Busick took the stand. Busick is an expert on cellular site data analysis.
The government has presented more than 14,000 pages of cellular data from AT&T that Busick scraped together into an exhaustive report. Exciting stuff. 
How this specifically relates to Bankman-Fried isn't yet clear. But we'll keep you updated…
2:15 pm ET: An interesting cross-examination puts a juror to sleep
And we're back to the political donations. More specifically, Nishad Singh's role in donating to political causes — from his point of view.
Cohen asked Singh at one point whether he thought he was required to be the face of political donations.
"Not required," Singh responded. 
Leading up to Singh's cross-examination, the government narrative made it seem as if Singh was essentially bullied by Gabriel Bankman-Fried and his associates into being the flow-through point for massive amounts of money to Democratic candidates and causes. 
Cohen also pointed out that most of the donated money came from loans. While Singh attempted to push back on the characterization, he eventually caved and agreed with it.
Then, Cohen asked — at least four times — whether Singh thought he was on the hook for the loans. Singh said he "wanted to pay them back" but he didn't know if there was an explicit understanding that he had to pay them back. Generally, those who make loans do tend to want the money back, it's a real bummer.
Read more: SBF scores rare victory in Singh cross-examination
Cohen tried to bring up transcripts from Singh's January and February meetings with the prosecutors, leading to the government reclaiming a little ground. A successful objection from the government barred the jury from seeing what happened at the meetings. Supposedly, Singh told the government in those meetings that he was expected to pay back these loans at some point. 
All good streaks have to come to an end, however. While Cohen was able to gain some momentum with the campaign finance questioning, it was shortly lost after he misstated what happened with FTX charging ECO Serum for Serum staking fees in 2021. 
ECO Serum was first brought up Monday, and Singh told the jury he backdated staking fees throughout the year — worth about $50 million — so it would appear as though FTX had $1 billion in revenue.
Despite that, Cohen tried to confirm that Singh didn't backdate the fees.
"I did," Singh said, contradicting Bankman-Fried's lead defense counsel.
And, finally, Cohen picked up on a new topic: auto-deleveraging events (exciting stuff, we know).
These events occurred on FTX when no established backstop liquidity providers (BLPs) were eligible to cover other customers' losses on risky positions. During these instances, auto-deleveraging transferred those positions to other customers, who received a more favorable market value. However, these customers hadn't been specifically selected by FTX to shoulder such risks.
This was evident in the late summer of 2020 when an auto-deleveraging incident occurred. Singh recalled that Bankman-Fried labeled this as "undesirable." Instead, Bankman-Fried favored having designated BLPs—entities that had consented to assume increased risks—to step in when accounts on FTX had to be liquidated.
According to Singh, Gary Wang surmised that the cause of the auto-deleveraging event in 2020 was Alameda — a backstop liquidity provider — having zero available collateral because of the sheer amount of open orders it had at the time. Having sufficient collateral was one of the requirements to be a backstop liquidity provider.
Read more: Hot take: Someone at Alameda was actually good at their job
Singh said Bankman-Fried's solution was to change the code so Alameda could act as a BLP during auto-deleveraging events — even when it didn't have available collateral. 
Cohen tried to portray this as a responsible move because it would essentially prevent "random customers" from taking on the losses of others. Singh appeared to agree with that view. 
Meanwhile, live from the courtroom: Judge Kaplan remained feisty Tuesday.
Throughout cross-examination, Singh displayed a habit of providing answers to questions he wasn't specifically asked. He appeared to want to give context to his testimony or simply speculate on things beyond what Cohen was asking him. 
Kaplan finally told him to "stick to answering the questions you're asked." 
Singh looked over at the judge, smiled and gave him a thumbs up.
12:15 pm ET: Just land the plane
Former FTX head of engineering Nishad Singh is being cross-examined by Sam Bankman-Fried's lawyer Mark Cohen. 
To absolutely no one's surprise, a portion of the cross-examination was devoted to discussing the $8 billion bug first brought up by former FTX employee Adam Yedidia two weeks ago. 
Cohen pursued a line of questioning in an effort to ascertain whether individuals at Alameda and/or FTX were tracking the size of the error in Alameda's fiat liability or simply just the fiat liability itself with the bug included. However, Judge Kaplan felt the need to step in and referee, stating on the record that he was confused about what Cohen was pursuing. 
While this was all playing out in open court, Bankman-Fried was seen frantically gesturing to Cohen who was still up at the lectern trying to get an answer out of Singh on discussions related to the bug in June 2022. 
Singh finally clarified that he didn't recall the size of the error caused by the bug being tracked. 
However, it did come out that SBF, in a meeting about said bug, said it was "amazing" that an $8 billion balance break could be caused by a bug.
In a separate line of questioning, Cohen sought to distance SBF from the loans granted by FTX and Alameda to employees — including Singh, SBF, and FTX co-founder Gary Wang. Singh was given a $477 million loan from FTX which Singh used to buy his first equity in FTX. 
He focused on Singh conferring with multiple lawyers — including SBF's alleged personal "fixer," Dan Friedberg.
Speaking of lawyers… Singh confirmed that he also spoke to Joe Bankman and some of SBF's personal tax attorneys about the structure of the loans.
Going back to 2019, Singh admitted he didn't — "at the time" — see an issue with Alameda using customer funds but, obviously, Singh's perspective changed.
He did, however, admit that he did something wrong after he doctored the Serum staking fees in December 2021, a topic discussed in this morning's update.
Live from the courtroom: Blockworks reporter Casey Wagner also pointed out that Cohen doesn't seem to be landing the plane, so to speak. As in, he'll repeatedly ask a question to a witness — right now Nishad Singh — and he'll be dogged by constant objections by the government, to which Judge Kaplan frequently responds with "sustained."
But right when Cohen seems to be narrowing on something juicy, he'll often redirect to the witness's meetings with prosecutors, according to Wagner.
For example, this happened Tuesday when Cohen was asking Singh about whether he ever thought it was appropriate for Alameda to borrow from FTX. When Singh said he didn't think it was appropriate in all cases, Cohen abandoned the line of questioning, redirected to a meeting Singh had with the government this past week.
10:30 am ET: A look at Monday's revelations
If you were hankering for more drama with Samcoins, Nishad Singh delivered it Monday.
One such Samcoin, Serum (SRM), was allegedly used falsely to boost FTX's revenue in 2021 — around $950 million — to $1 billion, the magic number.
To do that, Singh was told by Sam Bankman-Fried to charge ECO Serum, the foundation connected to the cryptocurrency, $50 million for Serum staking. To make it even more legit, Singh was also told to backdate the fee transactions in the books so it appeared as though FTX had been charging all throughout 2021 for this service.
A spreadsheet detailing these "erroneous" transfers was shared with auditors and FTX investors, according to Singh.
Singh apparently learned from Bankman-Fried's alleged strategy of "backdating" transfers and suggested doing it again while FTX was mid-collapse in November 2022.
Over on Signal, Singh asked the FTX founder if he could make "some fictitious trades" throughout 2022 to cover some $80 million in loans he still owed to Alameda.
Bankman-Fried said, "I think that's probably fine."
Though, ultimately, this did not happen, according to Singh.
A common theme throughout Monday's testimony was Singh's concern around spending. He specifically discussed the lack of discipline Bankman-Fried had when it came to FTX spending in September 2022.
More spending usually isn't the prudent course of action, especially when there was a $13 billion shortfall in FTX's balance sheet (funds Gary Wang told Singh in September 2022 that Alameda borrowed).
Given the massive debt, which he referred to as "the hole," Singh was particularly concerned with Bankman-Fried's plans to increase spending on endorsement deals and acquisitions.
Counting all the endorsement deals with Tom Brady, Larry David, the Miami Heat and others, Singh said "there was a billion dollars headed out the door" which made him "really upset."
And, finally, the Adderall issue continues. Yesterday, Judge Kaplan was informed that the extended-release dose of Adderall sought by the defense would not be ready until Thursday, leaving the defense seeking an adjournment. Judge Kaplan seemed reluctant to grant an adjournment or break from the court. 
"And with all due respect to everybody's good faith, I have not observed a problem with the defendant in this period of time," he said. 
Kaplan later told both the prosecution and the defense, "I can't write the prescription, I can't authorize the Marshals to give him pills brought in here by counsel, whom I trust entirely, but it's not up to me. I can't have lawyers coming in and giving drugs to people on trial because somebody says they need it. I just can't do it."
---
Don't miss the next big story – join our free daily newsletter.