MANA, SAND, AXS Explode on Facebook's Meta News; ETH Beats ATH: Markets Wrap
MANA, SAND, and AXS rally on Facebook's rebranding endorsing the metaverse, the market is torn on how to value the Ethereum network.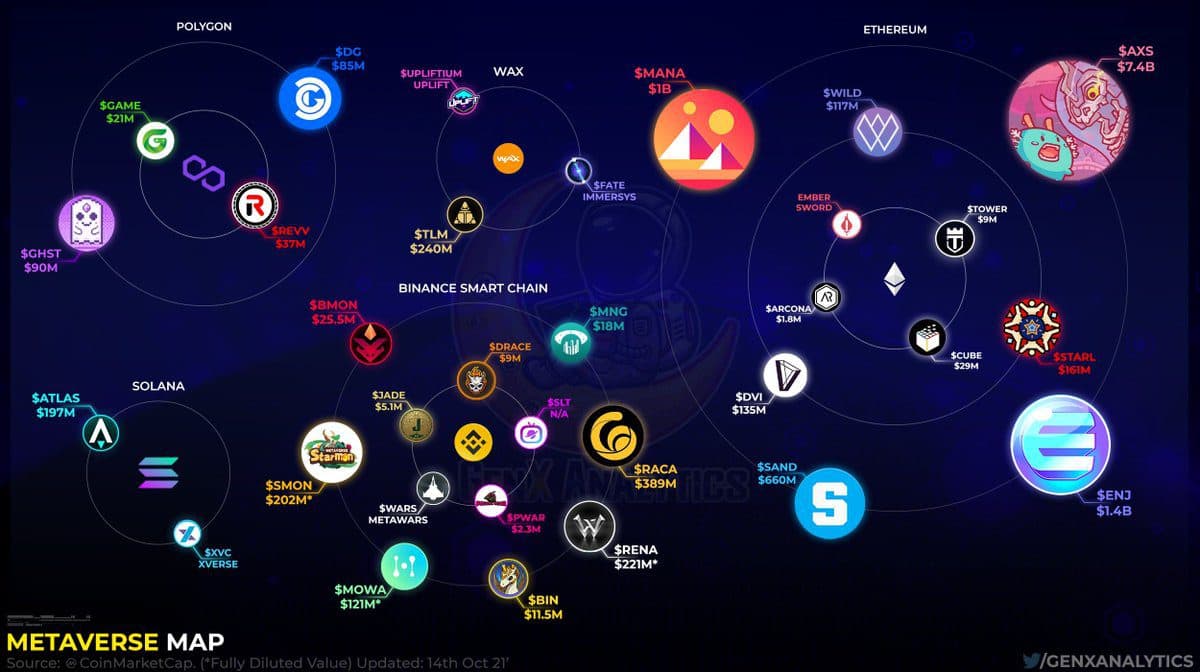 key takeaways
MANA, SAND, and AXS explode higher as Facebook commits $10 billion to metaverse development
Ethereum is reaching new heights as investors seem confused on how to fairly value the network
Mark Zuckerberg's Facebook is rebranding itself as Meta, as it tries to build out its metaverse business.
Facebook's push into the metaverse has Web3 builders more determined than ever before.
MANA, SAND and AXS rallied as investors view Facebook's rebranding as a huge endorsement for metaverse projects.
Ethereum surpasses all-time highs (ATHs) after a huge year of growth.
Investors seem torn on the appropriate way to value the Ethereum network.
Latest in Macro:
S&P 500: 4,605, +.19%
NASDAQ: 15,498, +.33%
Gold: $1,784, -.87%
WTI Crude Oil: $83.39, +.70%
10-Year Treasury: 1.564%, -.005%
Latest in Crypto:
BTC: $62,544, +.86%
ETH: $4,413, +3.24%
ETH/BTC: .0706, +.31%
BTC.D: 44.52%, -.12%
Facebook rebrands to Meta
Facebook (FB), the seventh-largest company in the world, will be rebranding to Meta, trading under a new ticker (MVRS) come the beginning of December.
They will be investing heavily in hardware, software and content related to virtual and augmented reality. 
"We expect our investment to reduce our overall operating profit in 2021 by approximately $10 billion. We are committed to bringing this long-term vision to life and we expect to increase our investments for the next several years," the company's Q3 2021 financial results stated.
CEO and founder Mark Zuckerberg added, "This is not an investment that is going to be profitable for us anytime in the near future. However, [the metaverse will be] the holy grail of social experiences."
A lot of NFT, gaming and metaverse enthusiasts within the Web3 community have expressed varying opinions on the Meta rebrand:
The ethos of web3 is decentralization and restoring the power of technology to its users from bureaucratic counterparts such as Facebook/Meta. 
Zuckerberg has 2.91 billion monthly active users under his purview and a seemingly endless backing of capital. The trillion-dollar question is which will win in the metaverse race: a closed-loop, bureaucratic entity or open-source protocols governed by its users?
MANA, SAND and AXS race higher on Meta news
Decentraland (MANA) is a decentralized virtual reality platform powered by the Ethereum blockchain. Within the Decentraland platform, users can create, experience and monetize their content and applications, according to their official website.
Sandbox (SAND) is a virtual world where players can build, own and monetize their gaming experiences on the Ethereum blockchain using the platform's utility token SAND. Players can create digital assets in the form of non-fungible tokens (NFTs), upload them to the marketplace, and integrate them into games with Game Maker, according to their official website.
Famous American rapper, Snoop Dogg, recently held a private event in the sandbox metaverse. Users were able to buy tickets to the event and connect with Snoop Dogg virtually.
Axie Infinity leads the way
Axie Infinity (AXS) is a Pokémon-inspired universe where anyone can earn tokens through skilled gameplay and contributions to the ecosystem, according to their whitepaper . Players can battle, collect, raise, and build a land-based kingdom for their pets. All art assets and Axie genetic data can be easily accessed by third parties, allowing community developers to build their own tools and experiences in the Axie Infinity universe.
Axie Infinity is without a doubt the most successful blockchain-based game/metaverse to date. It has amassed over 2.6 million daily active users and $980 million in lifetime revenue.
The current market capitalization remains under $10 billion, but when we multiply the current token price by the maximum supply, we arrive at a roughly $41.5 billion fully diluted value (FDV).
The below image shows the market values of some of the world's largest game studios in comparison to AXS on a FDV basis. The chart was produced by Messari on October 1, 2021, so today AXS is actually larger than EA.
The Ronin bridge, a gateway where users that play Axie Infinity can transfer their ETH to Ronin in the form of WETH in order to purchase Axies and SLP to play the game, is the largest bridge in the entire Ethereum ecosystem in terms of total value locked (TVL).
Digital asset investors are viewing Zuckerberg's Meta brand and focus on the metaverse as an endorsement for decentralized projects that are trying to build out similar visions. The following chart shows price performance of MANA, SAND, AXS and FB over the past 24 hours.
ETH surpasses all-time highs
ETH hit an all-time high of $4,462 earlier today, surpassing previous highs of $4,384 seen on May 12, 2021. The dominant layer-1 blockchain has seen incredible year-over-year growth:
TVL has grown from $12.46 billion to $164.27 billion, according to data from DefiLlama. TVL is a good proxy for liquidity and network effects. Protocols with deep liquidity and network effects develop a competitive advantage because more application developers are incentivized to build and innovate on top of Ethereum for its rich user base, liquidity and security. It becomes rather reflexive.
This feedback loop where liquidity attracts developers, said development attracts more users, and more users increases Ethereum's network effects, thus attracting more users and liquidity to start the cycle anew can be illustrated by looking at decentralized exchange volume over the past few years:
The number of daily transactions on Ethereum continues to become more robust as seen in the chart below. It is also worth noting that the amount of TVL in bridges that was referenced earlier is another sign of Ethereum adoption by other chains and scaling solutions.
Investors don't yet know how to value ETH
A year ago, EIP-1559 was just an idea, but since it was implemented over $5 billion of ETH has been burned as a direct result, per watchtheburn.com.
It would be interesting to hear what the "father of value investing," Benjamin Graham, would have to say about ETH if he were still around to comment today. The following chart from Token Terminal shows the cumulative protocol revenue since August 6 as well as its price-to-earnings ratio (40.56):
While a P/E of 40.56 wouldn't typically fall into a value investors bucket, the picture looks different if we look at some of the year-over-year growth rates compiled by Bankless.
It is worth noting that ETH issuance is down thanks to EIP-1559 and has the potential to become a deflationary asset thanks to the upcoming merge.
Non-Fungible Tokens (NFTs)
Trading data from OpenSea and Solanalysis of some of the top Solana and Ethereum projects can be found in the photos below:
If you made it this far, thanks for reading! I am looking forward to catching up Monday, my friends.
---
Are you a UK or EU reader that can't get enough investor-focused content on digital assets? Join us in London on November 15th and 16th for the Digital Asset Summit (DAS) London. Use code ARTICLE for £75 off your ticket. Buy it now.
---